Arsenal FC
VS
Leicester City
Betting tips & odds comparison 13.08.2022 Arsenal FC – Leicester City FC
Matchday 2 in the Premier League features the clash between Arsenal FC and Leicester City at Emirates Stadium. In our preview of Arsenal FC vs. Leicester City, you will receive all the important details and facts about this Premier League fixture. We will begin with an analysis of the current form of the two teams. After that, we provide you two promising predictions for the game as well as some nice promotions, like a free bet and boosted odds.
Here, you have all English premier league betting tips at a glance. We provide you with detailed forecasts for every matchday. In addition to that, you can also find a comprehensive odds comparison.
Arsenal will hope to make it 2 wins out of 2 when they face Leicester City on Saturday. Having wowed fans with a 2-0 win at Selhurst Park last Friday, the Gunners averted consecutive opening day loss, extending their unbeaten run to 8 including pre season games.
For Leicester, they are hoping to do better than last season's 8th place finish; their worst since ending 2018/19 season 9th on the table. A trip to the Emirates is always a tricky one for the foxes and looking at the Gunners' current form, Rodgers' men have a lot of work here.

As we approach week 2 of the EPL, you can get a detailed insight into what lies ahead and the best market to adopt for bigger returns through our detailed preview backed by odds on Konfambet and Worldsportsbetting. Meanwhile, for info on the latest offers, you can learn all about the Konfambet bonus and read the World Sports Betting Kenya review.
ARSENAL
Mikel Arteta is, by virtue of his recent acquisitions, seeking to rejig his side and make them more formidable than last season. Although Arsenal secured a 5th place finish, last season wasn't considered a success given how the Gunners capitulated when it mattered the most thereby missing out on the race for top four.
With Jesus, Zinchenko and co, Arsenal look to be on a steady path towards re-establishing themselves as top contenders in England. As they continue to integrate the new additions, the London side will be counting on their current run which has seen them remain without defeat since losing 2-0 to Newcastle back in May.
Furthermore, Arsenal's confidence will be bolstered by an impressive record against Leicester. In their last 25 meetings, the Gunners have won 16 with Leicester managing just 4.
In fact, the last 3 meetings have all ended in favor of Arsenal. This, almost certainly, guarantees all three points for the Londoners.
LEICESTER
Leicester's new season seem to be shrouded in a lot of uncertainty at the moment. The departure of Kasper Scheimchel after 11 years at the club, the rumored exit plans of Harvey Barnes, Madison, Tielemans and others, lend credence to this fact.
Also, Leicester's current situation has further been compounded by the fact that they are the only side in the Premier League that are yet to sign a player this window.
In addition, the inherent issues in Leicester became evident when they blew a 2 goal lead at home to Brentford last time out. To get back to their 2019/20 or 2020/21 level where they finished 5th back to back, Leicester have a lot to work on this season.
POSSIBLE LINE UP
ARSENAL
Ramsdale
Zinchenko
Gabriel
Saliba
White
Xhaka
Thomas
Odegaard
Martinelli
Saka
Jesus
MISSING PLAYER Tomiyasu (Muscle), Smith-Rowe (Muscle) Vieira (Foot)
LEICESTER
Ward
Fofana
Evans
Amartey
Castagne
Tielemans
Ndidi
Dewsbury-Hall
Justin
Maddison
Vardy
MISSING PLAYER Barnes (Knee), Periera (Achilles Tendon) Bertrand (Knee)
OUR PREVIEW AND BETTING PREDICTION FOR ARSENAL Vs LEICESTER
Arsenal's dominance in past fixtures against Leicester, their goals scoring prowess and all round quality, set this up for another fantastic day at the office.
We believe the Gunners's power of front cannot be stopped by what seems like an ailing Leicester back line.
As a result we are backing Arsenal to win here. Interestingly, WSB Kenya has boosted odds of 1.46 for this market. 🚀
Basically, your winnings are BIGGER with WSBKenya's boosted odds. Visit the Boosted Odds section under SPORT for more games that are boosted or you can:
In their last 3 clashes, Arsenal have won 3-1, 2-0 and 2-0 respectively. Also, in each of these games, the Gunners scored at least a goal in each half.
Given their strength and quality upfront, we believe Arsenal will score in both halves of this match. Konfambet has odd of 2.00 for this second betting tips for today.
KONFAMBET EPL N1,000 FREEBET
Are you an ardent follow of the EPL? Are you looking to expand your winning potential this season? Then, you can Place a minimum bet of N100 to get the Premier League N1000 Freebet via Konfambet. To grab the offer, follow the steps below:
Select games
Click on the PREMIER LEAGUE N1000 FREEBET icon
Click on KonfamBet PREMIER LEAGUE N1000 FREEBET registration (the icon must change from blue to green)
Click on the X icon to close
Click on place bet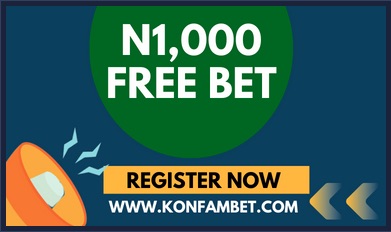 Meanwhile, it is important to note that Freebet can only be placed on tickets that have total odds greater than or equal to 3.0. In addition, the current FREEBET Promotion is valid from from 5th August 2022 to 21st August 2021.
PREMIER BET PL CASH DROPS
As the new PL season unfolds, you can make your betting decisions with our well curated football tips for tomorrow. At the same time, you can boost your winnings with the latest cash drop offer on Premierbet.
Basically, you will need to register a new account, make your first deposit and place your bets on Premier League matches being played from the 5th to 14th August. Afterwards, you can enter the draw for exciting cash gifts.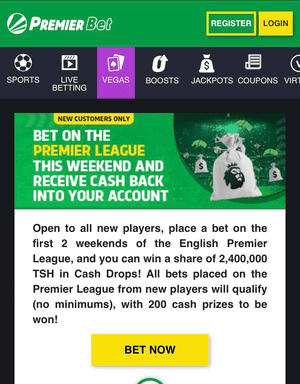 How it works
The Premierbet PL offers is designed as follows:
It runs from Monday 25th July to Sunday 14th August
It is divided into 2 random draws for each of the first 2 weekends of the English Premier League
The offer is open to newly registered users
As a new user, you will need to place a bet on any Premier League matches
Get a ticket to win a cash prize for the draw
All bets will be entered into the draw
In this case, there are no minimum odds or stake to qualify. However, your bets must be placed during the period of the promo.
Since we are entering week 2 of the EPL, all Premier League bets played till 14th August are eligible for:
Prize pool = 74,250 GHS in Ghana. 1,200,000 TSH in Tanzania
Cash Prizes = 8,250 GHS in Ghana. 240,000 TSH in Tanzania

Performance
Arsenal FC
Last games
Arsenal FC performance of the last 5 home matches
Leicester City
Last games
Leicester City performance of the last 5 away matches
Current Standing
| POS | TEAM | PTS | MP | W | D | L | GF | GA | GD |
| --- | --- | --- | --- | --- | --- | --- | --- | --- | --- |
| 1 | | 3 | 1 | 1 | 0 | 0 | 4 | 1 | 3 |
| 2 | | 3 | 1 | 1 | 0 | 0 | 2 | 0 | 2 |
| 2 | | 3 | 1 | 1 | 0 | 0 | 2 | 0 | 2 |
| 2 | | 3 | 1 | 1 | 0 | 0 | 2 | 0 | 2 |
| 2 | | 3 | 1 | 1 | 0 | 0 | 2 | 0 | 2 |
| 6 | Brighton & Hove Albion FC | 3 | 1 | 1 | 0 | 0 | 2 | 1 | 1 |
| 6 | | 3 | 1 | 1 | 0 | 0 | 2 | 1 | 1 |
| 8 | | 3 | 1 | 1 | 0 | 0 | 1 | 0 | 1 |
| 9 | | 1 | 1 | 0 | 1 | 0 | 2 | 2 | 0 |
| 9 | | 1 | 1 | 0 | 1 | 0 | 2 | 2 | 0 |
| 9 | | 1 | 1 | 0 | 1 | 0 | 2 | 2 | 0 |
| 9 | | 1 | 1 | 0 | 1 | 0 | 2 | 2 | 0 |
| 13 | | 0 | 1 | 0 | 0 | 1 | 1 | 2 | -1 |
| 13 | Wolverhampton Wanderers FC | 0 | 1 | 0 | 0 | 1 | 1 | 2 | -1 |
| 15 | | 0 | 1 | 0 | 0 | 1 | 0 | 1 | -1 |
| 16 | | 0 | 1 | 0 | 0 | 1 | 0 | 2 | -2 |
| 16 | | 0 | 1 | 0 | 0 | 1 | 0 | 2 | -2 |
| 16 | | 0 | 1 | 0 | 0 | 1 | 0 | 2 | -2 |
| 16 | | 0 | 1 | 0 | 0 | 1 | 0 | 2 | -2 |
| 20 | | 0 | 1 | 0 | 0 | 1 | 1 | 4 | -3 |