Atlético Madrid
VS
CA Osasuna
Cívitas Metropolitano
Madrid
Atlético de Madrid - C. A. Osasuna betting tip & odds comparison 16.05.2021
In gameweek 37 of Primera División, Atlético Madrid will host CA Osasuna at Cívitas Metropolitano. Kick-off is scheduled for 6:30 PM on May 16, 2021 With our match prediction and odds comparison for Atlético Madrid vs. CA Osasuna you are guaranteed to get all the important facts and details for this fixture. First and foremost, we will take a close look at the teams' recent performances.
You can't get enough of betting tips for La Liga? We provide you with betting tips for every matchday fixture, and additionally, we offer a comprehensive odds comparison.
Atlético Madrid have won 3 of their last 5 league matches (3 wins, 1 draw, 1 defeat. In the previous 18 home games in the Primera División season 2020/2021, Atlético Madrid have won 14 matches, 3 games ended in a draw, and 1 game in defeat. (Goal difference 39:10).
Out of their last 5 Primera División fixtures, CA Osasuna have won 2 games (2 wins, 1 draw, 2 defeats). The away record in the current Primera División season reads as follows: 4 wins, 6 draws und 8 defeats - Goal difference 15:23.
In their last five Primera División encounters, Atlético Madrid managed to get 5 wins against CA Osasuna, while Osasuna scored 0 wins. On 0 occasions, there was no winner. If we focus exclusively on the home games that Atlético Madrid played against CA Osasuna in the Primera División, we get the following record: 4 wins for Atlético Madrid, 1 draw and 0 wins for CA Osasuna.
Have you heard of the Betway deposit bonus yet? This offer, which is available to all customers who register for the first time, will allow you to start off with some extra credit.
Atletico Madrid vs Osasuna, La Liga, 16.05.2021
As long as Atletico Madrid wins their final two games, they will secure their first league title since 2014. Therefore, we foresee a very interesting and entertaining match.
Osasuna, on the other hand, has little to play for but modesty. It is one of only two teams remaining in the league that can take points away from Atletico Madrid and giving the title contenders a shot to overtake Los Rojiblancos. Osasuna is 11th in La Liga and has won four of their last six games. At place 11, they are ineligible for Europe and have been on the verge of relegation for some time.
1Xbet welcome Bonus offers good prices for our betting tips and you can take full advantage of it and win big.
ATLETICO MADRID
Atletico Madrid were impressive in their midweek victory over Real Sociedad. Yannick Carrasco and Angel Correra scored to give them a 2-1 victory. Real Sociedad's goal came in the final seven minutes of the contest.
Los Rojiblancos took 13 of the last 18 points available in the season. Over the course of those six games, the club scored 11 goals and conceded only three. They are undefeated in three games, with two victories and one loss.
Simeone's squad is La Liga's finest at home, with Atletico Madrid conceding just 10 points at the Wanda Metropolitano Stadium. Behind their excellent form, Atletico Madrid cannot afford to relax now against a team that has the potential to demolish them.
OSASUNA
Osasuna are still in fine shape. They took 10 of the last 18 points available in La Liga, having scored 11 goals while allowing nine to their rivals over the span of six games. Los Rojillos drew 2-2 with Athletic Bilbao prior to their 3-2 victory over Cadiz.
Osasuna boss Jagoba Arrasate has one player on the injured as they head into this weekend's match. Ruben Martinez, the goalkeeper, has a finger injury that may hold him out of the game. Ante Budimir of Osasuna leads the team in goals this season with ten on his name. He scored Los Rojillos' goal against Atletico Madrid earlier this season. This season, he is the only player on the team with 10 or more goals.
Possible Line Ups
ATLETICO MADRID
OSASUNA

Oblak
Trippier
Savic
Felipe
Hermoso
Llorente
Koke
Saul
Correa
Suarez
Carrasco
Coach: Diego Simeone

Juan
Vidal
Garcia D
Garcia R
Sanchez
Calvo
Torro
Oier
Garcia
Avila
Budimir
Coach: Jagoba Arrasate

Injured: Lemar (Hamstring) and Martinez (Finger)
ATLETICO MADRID VS OSASUNABETTING TIPS
Atletico Madrid aren't supposed to throw all of their hard work away against Osasuna now that they've gotten this far. La Liga title is on the line, Atletico Madrid needs to play a tight defensive game against Osasuna and manage to in the match as well…
Atletico Madrid has won three of the last five meetings between the two teams. Under 2.5 goals have been scored in two of Osasuna's last six La Liga matches. Atletico Madrid can play a good defensive game at the Wanda Metropolitano Stadium, with a low number of goals scored. We are therefore backing an under 2.5 goals scored @2.02 as our first betting tip.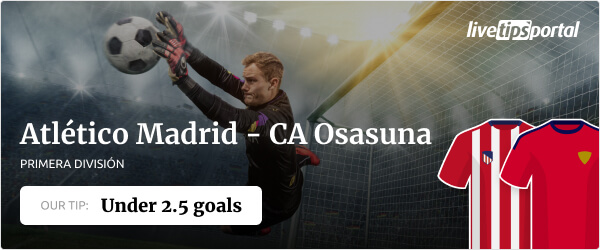 © Livetipsportal
In recent weeks, Simeone's men have failed to retain their consistency, and the chasing pack has narrowed the gap. Nonetheless, with just two games left this season, Atletico are in pole place to win their first top-flight title since 2013/14. As our final second call for this tie, we are backing Atletico to Win at 1.29 with 1Xbet bookie.
Our expert team has arranged more sure wins for tomorrow. Take a look and prepare for a massive payout!
BETTING TIP TODAY: Under 2.5 Goals @ 2.02 odds
Our tips
Performance
Atlético Madrid
Last games
Atlético Madrid performance of the last 5 home matches
CA Osasuna
Last games
CA Osasuna performance of the last 5 away matches
Current Standing
| POS | TEAM | PTS | MP | W | D | L | GF | GA | GD |
| --- | --- | --- | --- | --- | --- | --- | --- | --- | --- |
| 1 | | 86 | 38 | 26 | 8 | 4 | 67 | 25 | 42 |
| 2 | | 84 | 38 | 25 | 9 | 4 | 67 | 28 | 39 |
| 3 | | 79 | 38 | 24 | 7 | 7 | 85 | 38 | 47 |
| 4 | | 77 | 38 | 24 | 5 | 9 | 53 | 33 | 20 |
| 5 | | 62 | 38 | 17 | 11 | 10 | 59 | 38 | 21 |
| 6 | | 61 | 38 | 17 | 10 | 11 | 50 | 50 | 0 |
| 7 | | 58 | 38 | 15 | 13 | 10 | 60 | 44 | 16 |
| 8 | | 53 | 38 | 14 | 11 | 13 | 55 | 57 | -2 |
| 9 | | 46 | 38 | 13 | 7 | 18 | 47 | 65 | -18 |
| 10 | | 46 | 38 | 11 | 13 | 14 | 46 | 42 | 4 |
| 11 | | 44 | 38 | 11 | 11 | 16 | 37 | 48 | -11 |
| 12 | | 44 | 38 | 11 | 11 | 16 | 36 | 58 | -22 |
| 13 | | 43 | 38 | 10 | 13 | 15 | 50 | 53 | -3 |
| 14 | | 41 | 38 | 9 | 14 | 15 | 46 | 57 | -11 |
| 15 | | 38 | 38 | 9 | 11 | 18 | 28 | 43 | -15 |
| 16 | | 38 | 38 | 9 | 11 | 18 | 36 | 57 | -21 |
| 17 | | 36 | 38 | 8 | 12 | 18 | 34 | 55 | -21 |
| 18 | | 34 | 38 | 7 | 13 | 18 | 34 | 53 | -19 |
| 19 | Real Valladolid Club de Futbol | 31 | 38 | 5 | 16 | 17 | 34 | 57 | -23 |
| 20 | | 30 | 38 | 6 | 12 | 20 | 29 | 52 | -23 |
Legend
Champions League

Europa League

Europa League Quali.

Abstieg

Europa Conference League