Birmingham City
VS
Derby County
St Andrew's Ground
Birmingham
Betting tips & odds comparison 10.09.2021 Birmingham City FC - Derby County FC
Betting Tip for matchday 6 of the 2021/2022 Championship between Birmingham City FC and Derby County FC. The game will be played at St Andrew's Ground (Birmingham, England) on 10.09.2021 at 21:00.
Birmingham vs Derby County, Championship, 10.09.2021
With the international break concluding on Thursday, Championship football will resume in earnest on Friday night with an intriguing game pitting Birmingham City against Wayne Rooney's Derby County.
Both of these teams haven't quite lit up the league but they have been quite solid in their five games, with each side losing just a single game thus far.
This is likely to be a tough battle here. 1xBet have a host of interesting options for the game though and we will turn the spotlight on a couple of them in this preview.
BIRMINGHAM
Birmingham veteran striker Lukas Jutkiewicz's first-half equalizer helped the Blues claim a share of the points in their last match before the break at Barnsley. They dominated the 2nd half of that game but couldn't get the breakthrough.
That draw took them to eight points from their five matches which is good enough to keep them in the top half of the table as they are in 8th place.
They ended a 9 match winless run with a 2-1 away win over Derby and they will be looking for a repeat performance here.
DERBY
Like the hosts, Derby also drew their last game before the international break, conceding a late equalizer at home against Nottingham.
Derby has had a tough summer as a transfer ban meant they could only sign players on free transfers. They have however performed better than most pundits had expected but they are still in the bottom half with just one win in their 5 matches. Another win could however see them jump all the way to 6th ahead of the weekend Championship games.
Possible Line Ups
BIRMINGHAM
DERBY

Sarkic
Roberts
Dean
Pedersen
Colin
Woods
Sunjic
Bela
Chong
Hogan
Jutkiewicz
Coach: Lee Bowyer

Roos
Forsyth
Davies
Jagielka
Byrne
Shinnie
Bird
Jozwiak
Morrison
Sibley
Lawrence
Coach: Wayne Rooney

Injured: Etheridge (Illness) and Kazim-Richards (Achilles), Knight (Ankle), Bielik (ACL)
BIRMINGHAM VS DERBY MATCH FORECAST AND BETTING PREDICTIONS
A closer examination of Derby's games shows they have generally played well, controlling possession and creating chances but the final product has been disappointing. With the team coming from the break, we feel they will come in with new energy and try and make the most of some of these opportunities. Their up-tempo game has seen them win 5 or more corners in 4 of their 5 games. 1xBet app has a price of 1.75 for them to get at least 4 corners in this game and we feel this is a good deal to pick for our initial tip here.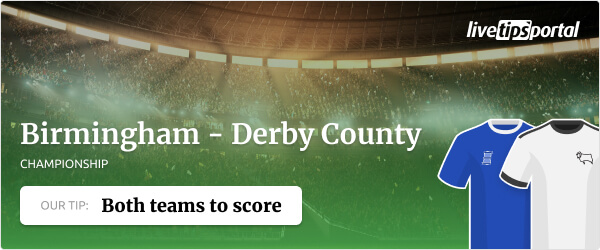 © Livetipsportal
Given the relative struggles both of these teams have had to start the season, bookies don't quite fancy goals to be scored here. However, these teams always have a go at each other whenever they meet. Their last 7 straight meetings have had Over 2.5 goals scored, with five seeing goals either way. We feel this game will be very much in keeping with the tradition given how desperate both teams are to get a win. We are therefore backing both to find the back of the net @ 2.18 as final football betting tip today.
1xBet has a foothold in many African countries. Find out how it compares to other top bookies by reading our review of the best betting sites in Africa.
Our tips
Performance
Birmingham City
Last games
Birmingham City performance of the last 4 home matches
Derby County
Last games
Derby County performance of the last 6 away matches
Current Standing
| POS | TEAM | PTS | MP | W | D | L | GF | GA | GD |
| --- | --- | --- | --- | --- | --- | --- | --- | --- | --- |
| 1 | | 90 | 46 | 27 | 9 | 10 | 106 | 43 | 63 |
| 2 | | 88 | 46 | 25 | 13 | 8 | 74 | 39 | 35 |
| 3 | | 82 | 46 | 23 | 13 | 10 | 64 | 47 | 17 |
| 4 | | 80 | 46 | 23 | 11 | 12 | 73 | 40 | 33 |
| 5 | | 75 | 46 | 21 | 12 | 13 | 63 | 45 | 18 |
| 6 | | 75 | 46 | 21 | 12 | 13 | 63 | 55 | 8 |
| 7 | | 70 | 46 | 20 | 10 | 16 | 59 | 50 | 9 |
| 8 | Blackburn Rovers Footbal & Athletic | 69 | 46 | 19 | 12 | 15 | 59 | 50 | 9 |
| 9 | | 69 | 46 | 18 | 15 | 13 | 53 | 45 | 8 |
| 10 | | 67 | 46 | 18 | 13 | 15 | 52 | 45 | 7 |
| 11 | | 66 | 46 | 19 | 9 | 18 | 60 | 59 | 1 |
| 12 | | 64 | 46 | 17 | 13 | 16 | 60 | 59 | 1 |
| 13 | | 64 | 46 | 16 | 16 | 14 | 52 | 56 | -4 |
| 14 | | 62 | 46 | 17 | 11 | 18 | 57 | 52 | 5 |
| 15 | | 61 | 46 | 16 | 13 | 17 | 58 | 68 | -10 |
| 16 | | 60 | 46 | 16 | 12 | 18 | 54 | 58 | -4 |
| 17 | | 55 | 46 | 14 | 13 | 19 | 45 | 53 | -8 |
| 18 | | 55 | 46 | 15 | 10 | 21 | 62 | 77 | -15 |
| 19 | | 53 | 46 | 15 | 8 | 23 | 50 | 68 | -18 |
| 20 | | 51 | 46 | 14 | 9 | 23 | 41 | 54 | -13 |
| 21 | | 47 | 46 | 11 | 14 | 21 | 50 | 75 | -25 |
| 22 | | 47 | 46 | 13 | 8 | 25 | 54 | 87 | -33 |
| 23 | | 37 | 46 | 9 | 10 | 27 | 43 | 87 | -44 |
| 24 | | 30 | 46 | 6 | 12 | 28 | 33 | 73 | -40 |
Legend
Aufstieg

Playoffs

Abstieg