Chelsea FC
VS
Manchester City
Chelsea FC - Manchester City betting tip & odds comparison 25.09.2021
In gameweek 6 of Premier League, Chelsea FC will host Manchester City at Stamford Bridge. Kick-off is scheduled for 1:30 PM on Sep 25, 2021 With our match prediction and odds comparison for Chelsea FC vs. Manchester City you are guaranteed to get all the important facts and details for this fixture. First and foremost, we will take a close look at the teams' recent performances.
You can't get enough of english Premier League betting tips? We provide you with betting tips for every matchday fixture, and additionally, we offer a comprehensive odds comparison.
Chelsea FC have won 4 of their last 5 league matches (4 wins, 1 draw, 0 defeats. In the previous 2 home games in the Premier League season 2021/2022, Chelsea FC have won 2 matches, 0 games ended in a draw, and 0 games in defeat. (Goal difference 6:0).
Out of their last 5 Premier League fixtures, Manchester City have won 3 games (3 wins, 1 draw, 1 defeat). The away record in the current Premier League season reads as follows: 1 win, 0 draws und 1 defeat - Goal difference 1:1.
In their last five Premier League encounters, Chelsea FC managed to get 4 wins against Manchester City, while Man City scored 1 win. On 0 occasions, there was no winner. If we focus exclusively on the home games that Chelsea FC played against Manchester City in the Premier League, we get the following record: 3 wins for Chelsea FC, 0 draws and 2 wins for Manchester City.
Have you heard of the bonus of Melbet yet? This offer, which is available to all customers who register for the first time, will allow you to start off with some extra credit.
Chelsea vs Manchester City, EPL, 25.09.2021
The pick of the bunch of this weekend's Premier League matches is the early kickoff at Stamford Bridge on Saturday afternoon where league leaders Chelsea hosts the defending champions Manchester City in what promises to be an intriguing match.
Chelsea have had the better of the visitors in their recent encounters and with the early battle lines for this title fight drawn, this game has significant ramifications in the race.
We will focus on 1xBet app prices for our betting tips in this preview.
CHELSEA
It's still early days as far as the title race and Premier League standings are concerned but there is no denying that Chelsea have by far had the most impressive start when you factor in the schedule and the results. They have won four and drawn one of their five matches to top the table with 13 points.
The scary part is when you look at who they have played. The Blues comprehensively beat Tottenham and Arsenal on their travels and picked up a point at Anfield in a 1-1 draw despite playing with 10 men for the better part of the 2nd half after Reece James was given his marching orders.
The capital outfit will be looking to send out a memo to the rest of the league. They are already tipped by most pundits to win their 7th title. A win here will cement that school of thought and put them above the other title challengers, including the visitors.
MANCHESTER CITY
The Champions have not had the best of starts to the season. They lost on opening weekend to Tottenham and after winning the next three games, they dropped points again last weekend in a dour goalless draw against Southampton, which the coach Pep Guardiola blamed on fatigue.
The gap between them and the leaders is only three points and with plenty of games still left to play, the alarm bells are not ringing at the Etihad yet. After all, they did start slow last season too before flipping on the switch and won it all when all was said and done.
That said, there is some concern about their inability to land a center-forward in the summer after their efforts to sign Harry Kane failed. They are also facing a rough slate of fixtures in short order with PSG and Liverpool coming up after this. How they navigate through all these could potentially make or break them.
Possible Line Ups
CHELSEA
MANCHESTER CITY

Arrizabalaga
Rudiger
Silva
Christensen
Alonso
Azpilicueta
Kante
Jorginho
Havertz
Mount
Lukaku
Coach: Thomas Tuchel

Ederson
Walker
Dias
Ake
Cancelo
Fernandinho
Silva
De Bruyne
Grealish
Sterling
Jesus
Coach: Pep Guardiola

Injured: Mendy (Knock), Pulisic (Ankle) and Larpote (Groin), Mendy (Suspended), Stones (Muscle), Gundogan (Knock), Rodri (Knock), Zinchenko (Knock)
CHELSEA VS MANCHESTER CITY BETTING PREDICTIONS
This is a massive game for both teams. Although it's still early in the season, both teams will treat this game like another final. We, therefore, expect a tense and cagey affair from start to finish with neither side willing to cede too much ground. City will come in here with vengeance on their minds following their recent losing streak against the hosts. They have a lot more at stake but on their day, they have the capacity to pay the Blues with their pound of flesh. We are backing them here on the double chance @ 1.49 as the first of our two Chelsea vs ManCity betting tips.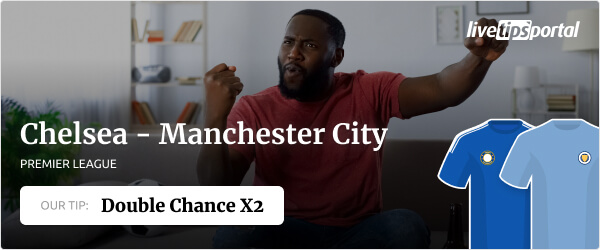 © Livetipsportal
Despite both teams' wealth of attacking talent, it is on the other end of the pitch where they hang their hats. They have both only conceded one goal in their five matches this season. We feel the defenses will stand out again here particularly to start the game and we are backing Under 1.5 first-half goals @ 1.35 with 1xBet as our final tip.
Our tips
Performance
Chelsea FC
Last games
Chelsea FC performance of the last 6 home matches
Manchester City
Last games
Manchester City performance of the last 4 away matches
Current Standing
| POS | TEAM | PTS | MP | W | D | L | GF | GA | GD |
| --- | --- | --- | --- | --- | --- | --- | --- | --- | --- |
| 1 | | 93 | 38 | 29 | 6 | 3 | 99 | 26 | 73 |
| 2 | | 92 | 38 | 28 | 8 | 2 | 94 | 26 | 68 |
| 3 | | 74 | 38 | 21 | 11 | 6 | 76 | 33 | 43 |
| 4 | | 71 | 38 | 22 | 5 | 11 | 69 | 40 | 29 |
| 5 | | 69 | 38 | 22 | 3 | 13 | 61 | 48 | 13 |
| 6 | | 58 | 38 | 16 | 10 | 12 | 57 | 57 | 0 |
| 7 | | 56 | 38 | 16 | 8 | 14 | 60 | 51 | 9 |
| 8 | | 52 | 38 | 14 | 10 | 14 | 62 | 59 | 3 |
| 9 | Brighton & Hove Albion FC | 51 | 38 | 12 | 15 | 11 | 42 | 44 | -2 |
| 10 | Wolverhampton Wanderers FC | 51 | 38 | 15 | 6 | 17 | 38 | 43 | -5 |
| 11 | | 49 | 38 | 13 | 10 | 15 | 44 | 62 | -18 |
| 12 | | 48 | 38 | 11 | 15 | 12 | 50 | 46 | 4 |
| 13 | | 46 | 38 | 13 | 7 | 18 | 48 | 56 | -8 |
| 14 | | 45 | 38 | 13 | 6 | 19 | 52 | 54 | -2 |
| 15 | | 40 | 38 | 9 | 13 | 16 | 43 | 67 | -24 |
| 16 | | 39 | 38 | 11 | 6 | 21 | 43 | 66 | -23 |
| 17 | | 38 | 38 | 9 | 11 | 18 | 42 | 79 | -37 |
| 18 | | 35 | 38 | 7 | 14 | 17 | 34 | 53 | -19 |
| 19 | | 23 | 38 | 6 | 5 | 27 | 34 | 77 | -43 |
| 20 | | 22 | 38 | 5 | 7 | 26 | 23 | 84 | -61 |
Legend
Champions League

Europa League

Europa Conference League Quali.

Relegation