Leeds United
VS
Liverpool FC
Betting tips & odds comparison 12.09.2021 Leeds United FC - Liverpool FC
Betting Tip for matchday 4 of the 2021/2022 Premier League between Leeds United FC and Liverpool FC. The game will be played at Elland Road (Leeds, England) on 12.09.2021 at 17:30.
Leeds United vs Liverpool, Premier League, 12.09.2021
Leeds United will host Liverpool in the current Premier League 2021-22 for their GW 4 match. Liverpool is down the right lane from its captain, Virgil van Dijk. They are unbeaten in their last 7 matches. Leeds was followed by two draws after succumbing 5-1 to rival Manchester United in their opening league match. Things aren't going to get any easier for them this weekend as they face the Reds.
In our preview of this game, we encourage the Betfox bonus. It is the best in the Ghanian market. Get to know how to go through the registration, the deposit and everything else in our review about Betfox Ghana.
Not from Ghana? Read more about the biggest African betting sites and benefit from their welcome incentives.
LEED UNITED
Leeds United will play the game behind a 1-1 Premier League match against Burnley. They drew Everton with 2-2 as well. Therefore, they perform their best in spite of the severe loss in their opening encounter. They are only shaky at the back and have managed to keep a clean sheet in only 2 games in their last 10 matches.
When he presented his extremely vigorous Leeds side to the Premier League last season, Marcelo Bielsa impressed everyone. Leeds gained a good leading position as they finished 9th after 16 years in their debut PL season. Nevertheless, in the season Leeds has not yet won a single game. In their quest for the first win in the league, Leeds will give it all and with the support of the home fans, we expect an entertaining match from them.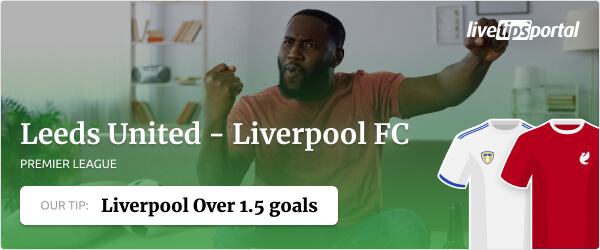 © Livetipsportal
LIVERPOOL
As a result of their key players' return, Liverpool began the season on a strong note. Dutch champion Virgil Van Dijk's comeback has without a doubt strengthened the trust of the Merseyside club. Liverpool is presently sixth with this season's two victories and a draw. At home, they pulled 1-1 against Chelsea, 10-man. Liverpool will be fighting the out-of-sorts Leeds strongly.
The Reds struggled to keep up with Chelsea at home, who took the lead through Kai Havertz's strike. On the half-time stroke, Reece James was condemned to handball and Mohamed Salah turned the subsequent penalty into a 1-1 tie for his club. The Reds, this time will not want to waste another 3 point game for them and they will play all their best, backing up with the greatest attackers in front we expect them to score some goals.
Possible Line Ups
LEEDS
LIVERPOOL

Meslier
Ayling
Struijk
Cooper
Dallas
Llorente
Shackleton
Moreno
Phillips
Harrison
Bamford
Coach: Marcelo Bielsa

Kellerher
Robertson
Van Dijk
Matip
Alexander-Arnold
Keita
Oxlade-Chamberlain
Henderson
Mané
Jota
Salah
Coach: Jurgen Klopp

Injured: Raphinha (FIFA ban), Klich (COVID-19), Firpo (COVID-19), Koch (Groin) and irmino (Muscle), Milner (Knock)
OUR TIP
In only one of its last 22 encounters with Leeds, Liverpool failed to win all the contests to find the net against the whites at each of its last 15. The preceding match of the Premier League ended at Leeds United 1-1 Liverpool and was Premier League Day 32.
Liverpool has granted just 1 goal in three games and Leeds 8. Taking the aforesaid statistics into account, we predict that Liverpool scores Over 1.5 goals and Betfox provide a market price of 1.64 for that tip. Up for a bit more risk? Then bet on "Liverpool scores Over 2.5 goals" @ 2.92 odds.
BET TIP TODAY: Liverpool Over 1.5 goals @ 1.64 odds.
Our tips
Performance
Leeds United
Last games
Leeds United performance of the last 3 home matches
Liverpool FC
Last games
Liverpool FC performance of the last 7 away matches
Current Standing
| POS | TEAM | PTS | MP | W | D | L | GF | GA | GD |
| --- | --- | --- | --- | --- | --- | --- | --- | --- | --- |
| 1 | | 29 | 12 | 9 | 2 | 1 | 30 | 4 | 26 |
| 2 | | 28 | 13 | 8 | 4 | 1 | 39 | 11 | 28 |
| 3 | | 26 | 12 | 8 | 2 | 2 | 25 | 6 | 19 |
| 4 | | 23 | 12 | 7 | 2 | 3 | 23 | 14 | 9 |
| 5 | | 23 | 13 | 7 | 2 | 4 | 15 | 17 | -2 |
| 6 | Wolverhampton Wanderers FC | 20 | 13 | 6 | 2 | 5 | 12 | 12 | 0 |
| 7 | | 19 | 12 | 6 | 1 | 5 | 11 | 17 | -6 |
| 8 | Brighton & Hove Albion FC | 18 | 13 | 4 | 6 | 3 | 12 | 14 | -2 |
| 9 | | 17 | 12 | 5 | 2 | 5 | 20 | 21 | -1 |
| 10 | | 16 | 13 | 3 | 7 | 3 | 19 | 19 | 0 |
| 11 | | 16 | 13 | 5 | 1 | 7 | 18 | 21 | -3 |
| 12 | | 15 | 12 | 4 | 3 | 5 | 16 | 19 | -3 |
| 13 | | 15 | 12 | 4 | 3 | 5 | 16 | 21 | -5 |
| 14 | | 14 | 13 | 3 | 5 | 5 | 11 | 18 | -7 |
| 15 | | 13 | 12 | 3 | 4 | 5 | 16 | 17 | -1 |
| 16 | | 13 | 12 | 4 | 1 | 7 | 16 | 20 | -4 |
| 17 | | 12 | 13 | 2 | 6 | 5 | 12 | 20 | -8 |
| 18 | | 9 | 12 | 1 | 6 | 5 | 14 | 20 | -6 |
| 19 | | 9 | 13 | 2 | 3 | 8 | 7 | 27 | -20 |
| 20 | | 6 | 13 | 0 | 6 | 7 | 15 | 29 | -14 |
Legend
Champions League

Europa League

Abstieg