Liverpool FC
VS
Manchester City
Liverpool FC - Manchester City betting tip & odds comparison 03.10.2021
In gameweek 7 of Premier League, Liverpool FC will host Manchester City at Anfield. Kick-off is scheduled for 5:30 PM on Oct 3, 2021 With our match prediction and odds comparison for Liverpool FC vs. Manchester City you are guaranteed to get all the important facts and details for this fixture. First and foremost, we will take a close look at the teams' recent performances.
You can't get enough of english Premier League betting tips? We provide you with betting tips for every matchday fixture, and additionally, we offer a comprehensive odds comparison.
Liverpool FC have won 3 of their last 5 league matches (3 wins, 2 draws, 0 defeats. In the previous 3 home games in the Premier League season 2021/2022, Liverpool FC have won 2 matches, 1 game ended in a draw, and 0 games in defeat. (Goal difference 6:1).
Out of their last 5 Premier League fixtures, Manchester City have won 4 games (4 wins, 1 draw, 0 defeats). The away record in the current Premier League season reads as follows: 2 wins, 0 draws und 1 defeat - Goal difference 2:1.
In their last five Premier League encounters, Liverpool FC managed to get 1 win against Manchester City, while Man City scored 3 wins. On 1 occasion, there was no winner. If we focus exclusively on the home games that Liverpool FC played against Manchester City in the Premier League, we get the following record: 2 wins for Liverpool FC, 1 draw and 2 wins for Manchester City.
Have you heard of the Betway deposit bonus yet? This offer, which is available to all customers who register for the first time, will allow you to start off with some extra credit.
Liverpool vs Manchester City, EPL, 03.10.2021
The pick of the bunch of this weekend's Premier League fixtures takes place at Anfield when two heavyweight contenders, Liverpool and current champions Manchester City square up on Sunday evening in what promises to be a fantastic clash.
The Reds lead the table after 6 rounds, but they are only a point ahead of the Citizens who have put up impressive results in the league lately.
Our preview here will turn the spotlight on 1xBet app prices for our betting predictions.
LIVERPOOL
Liverpool have started the season with the kind of form that saw them walk away with the title a couple of seasons ago. They have won four and drawn two of their 6 league games to lead the table with 14 points which is just a point of a chasing pack of 5 teams that includes Man City.
They have also been brilliant in the Champions League and winning their opening two games including a 5-1 thrashing of Porto this midweek with their feted trio of Salah, Mane and Firminho all getting in on the act to remind everyone they still have enough gas left in the tank. This was the sixth successive match in which they scored three or more goals which is impressive and historic in itself, being only the third time they have done it in their history.
Jurgen Klopp will be hoping to carry some momentum from these performances into this game.
MANCHESTER CITY
Manchester City have had mixed results in their attempt to build some spine through their toughest week of the season yet. They impressed at Stamford Bridge last weekend where they confirmed their title credentials with a well-deserved 1-0 win thanks to a Jesus effort early in the 2nd half. They however failed to replicate that performance in Paris as PSG won 2-0 to hand them their 2nd defeat of the season.
The football gods haven't been kind to them and they now have to make the short trip to Anfield in what perhaps will now be their biggest challenge in the league thus far if Liverpool's results are anything to go by.
Despite the disappointment, City are known to come up with the goods when need arises. They have had the better of Liverpool in recent encounters, including a thrilling 4-1 win at Anfield last season which they can draw inspiration from.
Possible Line Ups
LIVERPOOL
MAN CITY


Alisson
Alexander-Arnold
Matip
van Dijk
Robertson
Henderson
Fabinho
Jones
Salah
Mane
Firminho
Coach: Jurgen Klopp

Ederson
Walker
Dias
Stones
Cancelo
B. Silva
Fernandinho
De Bruyne
Mahrez
Torres
Grealish
Coach: Pep Guardiola

Injured: Alcantara (Calf), Elliott (Ankle) and Mendy (Suspended), Gundogan (Knock), Zinchenko (Knock)
LIVERPOOL VS MANCHESTER CITY BETTING TIPS
Liverpool not only leads the table on points, but they have also been the best attack in the league with a return of 15 goals in their 6 games. Their attack has been clicking on all cylinders. City on the other hand have the best backline in the league. Since conceding a goal to Spurs on opening day, they have kept clean sheets in every other game. Liverpool will be out for vengeance having been thrashed 4-1 the last time these teams met. We fancy them to attack relentlessly as they are want to and we are backing them to either draw or win the 1×2 corners @ 1.76 as our opening betting tips today. So it's a special kind of double chance.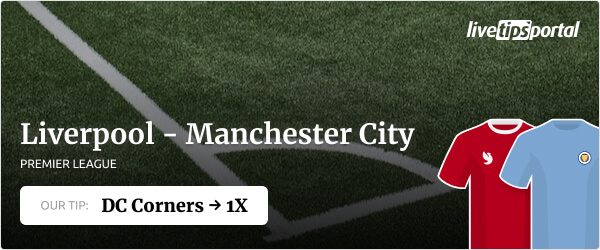 © Livetipsportal
With the early battle lines already drawn, this game carries a significant sway in the title arithmetic. As such, both teams will give it everything they've got. We have had 4 or more bookings in three of their last 4 encounters and a repeat of the same here pays @ 1.78 at 1xBet. We feel there is value in going with this for our final tip.
Our tips
Performance
Liverpool FC
Last games
Liverpool FC performance of the last 5 home matches
Manchester City
Last games
Manchester City performance of the last 5 away matches
Current Standing
| POS | TEAM | PTS | MP | W | D | L | GF | GA | GD |
| --- | --- | --- | --- | --- | --- | --- | --- | --- | --- |
| 1 | | 93 | 38 | 29 | 6 | 3 | 99 | 26 | 73 |
| 2 | | 92 | 38 | 28 | 8 | 2 | 94 | 26 | 68 |
| 3 | | 74 | 38 | 21 | 11 | 6 | 76 | 33 | 43 |
| 4 | | 71 | 38 | 22 | 5 | 11 | 69 | 40 | 29 |
| 5 | | 69 | 38 | 22 | 3 | 13 | 61 | 48 | 13 |
| 6 | | 58 | 38 | 16 | 10 | 12 | 57 | 57 | 0 |
| 7 | | 56 | 38 | 16 | 8 | 14 | 60 | 51 | 9 |
| 8 | | 52 | 38 | 14 | 10 | 14 | 62 | 59 | 3 |
| 9 | Brighton & Hove Albion FC | 51 | 38 | 12 | 15 | 11 | 42 | 44 | -2 |
| 10 | Wolverhampton Wanderers FC | 51 | 38 | 15 | 6 | 17 | 38 | 43 | -5 |
| 11 | | 49 | 38 | 13 | 10 | 15 | 44 | 62 | -18 |
| 12 | | 48 | 38 | 11 | 15 | 12 | 50 | 46 | 4 |
| 13 | | 46 | 38 | 13 | 7 | 18 | 48 | 56 | -8 |
| 14 | | 45 | 38 | 13 | 6 | 19 | 52 | 54 | -2 |
| 15 | | 40 | 38 | 9 | 13 | 16 | 43 | 67 | -24 |
| 16 | | 39 | 38 | 11 | 6 | 21 | 43 | 66 | -23 |
| 17 | | 38 | 38 | 9 | 11 | 18 | 42 | 79 | -37 |
| 18 | | 35 | 38 | 7 | 14 | 17 | 34 | 53 | -19 |
| 19 | | 23 | 38 | 6 | 5 | 27 | 34 | 77 | -43 |
| 20 | | 22 | 38 | 5 | 7 | 26 | 23 | 84 | -61 |
Legend
Champions League

Europa League

Europa Conference League Quali.

Relegation