Manchester United
VS
Leeds United
Manchester United - Leeds United FC betting tip & odds comparison 14.08.2021
Matchday 1 in the Premier League features the clash between Manchester United and Leeds United at Old Trafford. The referee for this fixture (Aug 14, 2021 at 1:30 PM) will be Paul Tierney. In our preview of Manchester United vs. Leeds United, you will receive all the important details and facts about this Premier League fixture. We will begin with an analysis of the current form of the two teams.
Looking for more Premier League betting tips? In our overview, you can find the entire matchday with individual betting tips for each game.
A head-to-head comparison of the two teams in their last five Premier League clashes shows that Manchester United managed to get 3 wins, while in 1 match, Leeds United snatched the three points. In 1 encounter between the two teams, the points were shared. If we solely focus on the home record of Manchester United against Leeds Utd, the stats are as follows: 3 wins Manchester United, 0 draws and 2 wins for Leeds United.
You want to place a bet at a bookie you haven't signed up with yet? In this case, we can recommend the Melbet first deposit bonus for newly customers. We have already tested this offer for you.
Manchester United vs Leeds, Premier League, 14.08.2021
Having finished 12 points behind winners Manchester City last season, and having already spent a lot of money to enhance their team, Manchester United will be looking to go one step further this year.
A 16-year hiatus from the Premier League paid off well for Leeds, who played some exciting football on their way to ninth place in the table.
As you read this match preview, we'll take a look at the Cyber.bet welcome bonus.
See what the top bookies have to offer in terms of bonus promotions.
MANCHESTER UNITED
Despite finishing second in the Premier League and losing in the Europa League final, United showed indications of development under Ole Gunnar Solskjaer last season. On Saturday, they face their arch-rivals Leeds United at home in the Premier League opener. After beating Everton 4-0 in their last pre-season encounter, the hosts will be feeling confident after last season's 6-2 demolition of Leeds. Jadon Sancho from Borussia Dortmund and Raphael Varane from Real Madrid has been acquired.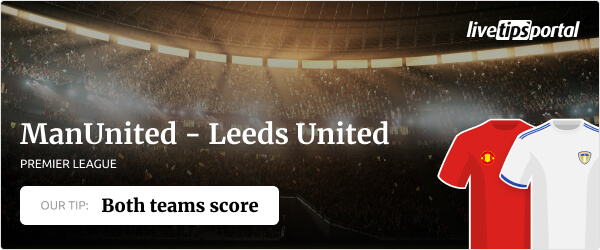 © Livetipsportal
LEEDS
Leeds United's ninth-place finish in the Premier League thrilled manager Marcelo Bielsa. Although Junior Firpo has been signed by Leeds United from Barcelona, his availability for this game is in doubt after suffering from injury throughout the preseason. Their preseason campaign started well, with a victory and a tie, but they have lost their last four games. Villarreal drew with them 2-2 in their final preseason game after they had lost three in a row. Their previous four games have all ended in a loss, and they haven't kept a clean sheet in seven. One of Leeds' last ten matches has seen them fail to score a goal, while in those nine encounters, they've scored nine goals.
Possible Line Ups
MANCHESTER UNITED
LEEDS

De Gea
Wan-Bissaka
Lindelof
Maguire
Shaw
Pogba
McTominay
Fernandes
Greenwood
James
Martial
Coach: Ole Gunnar Solskjaer

Meslier
Cooper
Struijk
Dallas
Ayling
Koch
Harrison
Klich
Rodrigo
Raphinha
Bamford
Coach: Marcelo Bielsa

Injured: Cavani (Rest), Lingard (Illness), Rashford (Shoulder), Telles (Ankle) and None
OUR TIP
There were plenty of goals in last season's rematch, and both teams have their major strengths in the attack. For the previous four games, Manchester United has scored at least two goals in each of those games. Two or more goals have been scored in seven of Leeds United's previous ten encounters.
One clean sheet has been recorded in the past 12 matches for Manchester United.
You may learn more about betting by visiting our page on betting strategies.
As both teams will be looking to start with some points and considering their high-scoring match we expect both teams to score.
BETTING TIP TODAY: Bet on both teams to score @ 1.65 odds in Cyber.bet.
Our tips
Performance
Manchester United
Last games
Manchester United performance of the last 6 home matches
Leeds United
Last games
Leeds United performance of the last 4 away matches
Current Standing
| POS | TEAM | PTS | MP | W | D | L | GF | GA | GD |
| --- | --- | --- | --- | --- | --- | --- | --- | --- | --- |
| 1 | | 93 | 38 | 29 | 6 | 3 | 99 | 26 | 73 |
| 2 | | 92 | 38 | 28 | 8 | 2 | 94 | 26 | 68 |
| 3 | | 74 | 38 | 21 | 11 | 6 | 76 | 33 | 43 |
| 4 | | 71 | 38 | 22 | 5 | 11 | 69 | 40 | 29 |
| 5 | | 69 | 38 | 22 | 3 | 13 | 61 | 48 | 13 |
| 6 | | 58 | 38 | 16 | 10 | 12 | 57 | 57 | 0 |
| 7 | | 56 | 38 | 16 | 8 | 14 | 60 | 51 | 9 |
| 8 | | 52 | 38 | 14 | 10 | 14 | 62 | 59 | 3 |
| 9 | Brighton & Hove Albion FC | 51 | 38 | 12 | 15 | 11 | 42 | 44 | -2 |
| 10 | Wolverhampton Wanderers FC | 51 | 38 | 15 | 6 | 17 | 38 | 43 | -5 |
| 11 | | 49 | 38 | 13 | 10 | 15 | 44 | 62 | -18 |
| 12 | | 48 | 38 | 11 | 15 | 12 | 50 | 46 | 4 |
| 13 | | 46 | 38 | 13 | 7 | 18 | 48 | 56 | -8 |
| 14 | | 45 | 38 | 13 | 6 | 19 | 52 | 54 | -2 |
| 15 | | 40 | 38 | 9 | 13 | 16 | 43 | 67 | -24 |
| 16 | | 39 | 38 | 11 | 6 | 21 | 43 | 66 | -23 |
| 17 | | 38 | 38 | 9 | 11 | 18 | 42 | 79 | -37 |
| 18 | | 35 | 38 | 7 | 14 | 17 | 34 | 53 | -19 |
| 19 | | 23 | 38 | 6 | 5 | 27 | 34 | 77 | -43 |
| 20 | | 22 | 38 | 5 | 7 | 26 | 23 | 84 | -61 |
Legend
Champions League

Europa League

Europa Conference League Quali.

Relegation