Newcastle United
VS
Everton FC
Newcastle United FC - Everton FC betting tip & odds comparison 08.02.2022
Matchday 24 in the Premier League features the clash between Newcastle United and Everton FC at St James' Park. In our preview of Newcastle United vs. Everton FC, you will receive all the important details and facts about this Premier League fixture. We will begin with an analysis of the current form of the two teams.
Looking for more free Premier League predictions? In our overview, you can find the entire matchday with individual betting tips for each game.
Newcastle United emerged the winner in 1 of their last 5 league games (1 win, 2 draws, 2 defeats. In 11 games on home turf in the current Premier League season 2021/2022, Newcastle United have won 1 times, with 6 matches ending in a draw, and 4 games ending in defeat (Goal difference 14:23).
In their last 5 Premier League fixtures, Everton FC have won 0 games (0 wins, 1 draw, 4 defeats). In all previous Premier League matches away from home, Everton FC have a negative record: 1 win, 3 draws and 6 defeats - Goal difference 9:18.
A head-to-head comparison of the two teams in their last five Premier League clashes shows that Newcastle United managed to get 3 wins, while in 1 match, Everton FC snatched the three points. In 1 encounter between the two teams, the points were shared. If we solely focus on the home record of Newcastle United against Everton, the stats are as follows: 2 wins Newcastle United, 0 draws and 3 wins for Everton FC.
You want to place a bet at a bookie you haven't signed up with yet? In this case, we can recommend the Betway welcome bonus for newly customers. We have already tested this offer for you.
Newcastle United will face Everton in a Premier League match on Tuesday at St. James' Park. The Magpies are looking to capitalize on the recent slight 1-0 victory over Leeds United.
Newcastle United now sits in 19th place in the Premier League table and will be hoping to make the most of their new recruits in order to avoid relegation this season.
This preview will focus on 22bet and the Betpesa wagering markets and odds for our Premier League tips today.

NEWCASTLE UNITED
Newcastle United are presently in the relegation zone (19th position) in the Premier League and will be hoping to improve. In the January transfer window, they made a few new acquisitions. Bruno Guimaraes and Matt Targett, who they purchased, are expected to make their debuts today against Everton.
The Magpies will have to work hard to keep their Premier League hope this season, as they are only one point above bottom-placed Norwich City. As a result, the newcomers will need to get up and running quickly, and we can't wait to see them in action.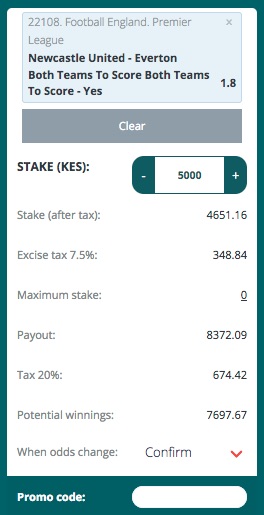 EVERTON
Everton is now in 16th place in the Premier League and has not performed well this season. Frank Lampard's side are now only four points ahead of the relegation zone, so they'll be trying to win the game in Newcastle.
The Merseysiders cruised over Brentford 4-1 in the FA Cup this weekend, and they will be optimistic coming into this match. They'll also want to end a five-game losing streak in the league that began in mid-December (4L,1D). Lampard, Everton's new manager, is expected to restore the club's glory days.
POSSIBLE LINEUPS
NEWCASTLE UNITED
Woodman
Manquillo
Schar
Lascelles
Krafth
Longstaff
Longstaff
Hendrick
Gayle
Almiron
Joelinton
MISSING PLAYERS: Fernandez (Knock), Hayden(Knee Injury),Wilson (Calf)
EVERTON
Pickford
Coleman
Holgate
Keane
Digne,
Townsend
Gomes
Doucoure
Gray
Iwobi
Richarlison.
NEWCASLE UNITED VS EVERTON PREDICTIONS
Under Frank Lampard, Everton have shown indications of optimism and will try to move farther out the relegation zone. The Toffees have a deep squad and have made a few notable transfers this summer.
Newcastle did, however, win back-to-back games against Everton during the 2020-21 season, winning 2-1 at St James' Park with a much more convincing 2-0 victory at Goodison Park later.
Each team is hungry for a win, thus we expect each team to score at least one goal. In fact, three of the Magpies' previous five games have witnessed goals from both sides, with the visitors scoring four times.
As our first betting tip today, we're backing both teams to score at 1.80 with the 22Bet app.
As Everton prepares for their first Premier League match under Frank Lampard, we expecta a different plan from him. He managed the Toffees' FA Cup victory over Brentford this weekend, and he should be able to repeat the feat against the Magpies.
With Betpesa Registration Bonus, we're anticipating an Everton win @ 2.82, which will be our final tip.
Performance
Newcastle United
Last games
Newcastle United performance of the last 4 home matches
Everton FC
Last games
Everton FC performance of the last 6 away matches
Current Standing
| POS | TEAM | PTS | MP | W | D | L | GF | GA | GD |
| --- | --- | --- | --- | --- | --- | --- | --- | --- | --- |
| 1 | | 93 | 38 | 29 | 6 | 3 | 99 | 26 | 73 |
| 2 | | 92 | 38 | 28 | 8 | 2 | 94 | 26 | 68 |
| 3 | | 74 | 38 | 21 | 11 | 6 | 76 | 33 | 43 |
| 4 | | 71 | 38 | 22 | 5 | 11 | 69 | 40 | 29 |
| 5 | | 69 | 38 | 22 | 3 | 13 | 61 | 48 | 13 |
| 6 | | 58 | 38 | 16 | 10 | 12 | 57 | 57 | 0 |
| 7 | | 56 | 38 | 16 | 8 | 14 | 60 | 51 | 9 |
| 8 | | 52 | 38 | 14 | 10 | 14 | 62 | 59 | 3 |
| 9 | Brighton & Hove Albion FC | 51 | 38 | 12 | 15 | 11 | 42 | 44 | -2 |
| 10 | Wolverhampton Wanderers FC | 51 | 38 | 15 | 6 | 17 | 38 | 43 | -5 |
| 11 | | 49 | 38 | 13 | 10 | 15 | 44 | 62 | -18 |
| 12 | | 48 | 38 | 11 | 15 | 12 | 50 | 46 | 4 |
| 13 | | 46 | 38 | 13 | 7 | 18 | 48 | 56 | -8 |
| 14 | | 45 | 38 | 13 | 6 | 19 | 52 | 54 | -2 |
| 15 | | 40 | 38 | 9 | 13 | 16 | 43 | 67 | -24 |
| 16 | | 39 | 38 | 11 | 6 | 21 | 43 | 66 | -23 |
| 17 | | 38 | 38 | 9 | 11 | 18 | 42 | 79 | -37 |
| 18 | | 35 | 38 | 7 | 14 | 17 | 34 | 53 | -19 |
| 19 | | 23 | 38 | 6 | 5 | 27 | 34 | 77 | -43 |
| 20 | | 22 | 38 | 5 | 7 | 26 | 23 | 84 | -61 |
Legend
Champions League

Europa League

Abstieg