Stade Brest
VS
Paris Saint-Germain
Stade Brestois 29 - Paris Saint-Germain FC betting tip & odds comparison 23.05.2021
Gameweek 38 in the Ligue 1 will see the clash between Stade Brest and Paris Saint-Germain at Francis-Le Blé. Kick-off time is at 9:00 PM on May 23, 2021. In our preview of Stade Brest vs. Paris Saint-Germain we will provide you with all the important facts and stats for this Ligue 1 fixture. Let's start by having a look at the current form of the two teams involved.
Looking for sure wins for tomorrow? Livetipsportal sports betting and football data is your source of analytical and stats-based betting predictions for the most popular leagues and international competitions.
Stade Brest were victorious in 1 of their previous 5 league matches (1 win, 2 draws, 2 defeats. In the current Ligue 1 season 2020/2021, Stade Brest were able to win 8 of their 18 games at home, with a total of 4 draws, and 6 defeats (Goal difference 32:31).
Paris Saint-Germain have won 4 of their last 5 Ligue 1 encounters (4 wins, 1 draws, 0 defeats. The away record in this year's Ligue 1 season for Paris Saint-Germain reveals the following stats: 12 wins, 3 draws and 3 defeats - Goal difference 40:14.
Out of the last five Ligue 1 encounters between the two teams, Stade Brest won 0. In 1 match the points between the two sides were shared, and 4 times Paris Saint-Germain got the win. If we look at the home record of Stade Brest against Paris Saint-Germain, the stats are as follows: 0 wins Stade Brest, 0 draws and 5 wins Paris Saint-Germain.
Naturally, you can follow our advice and place the same bet free of charge. If you decide to do so at a new bookie, you can benefit from the Betway signup bonus. We have already tested the offer for you in detail.
Stade Brest vs PSG, Ligue 1, 23.05.2021
This is an important game for both teams and there is no doubt each one will fight fiercely for victory. For Brest, it is a matter of survival while for PSG the league title is on the line. Brest need a win to ensure they survive relegation and remain in the French top division for another season. PSG are still chasing the title as we go into the last round of matches. If they can win here and Lille fails to win their last match against Angers, the Parisians will lift their 8th league title in nine seasons. We will look at odds from Helabet our analysis for this tip.
Read more about bonus promotions from the leading bookmakers in the game.
STADE BREST
After managing only 1 point out of a possible 9 in their last 3 league matches, Brest find themselves just 1 point above the relegation zone and could go down as the third team to be relegated if they lose in this game. They badly need a win to ensure that their fate is in their own hands rather than rely on the outcomes of other matches. A win against PSG may not be easy though. Brest have never beaten PSG in the league and have lost all the last 8 H2H league meetings. Furthermore, Brest have suffered poor form in the league recently and have now gone 4 home games without a win.
PSG
PSG will be hoping to get lucky on the last day of the season as they are still in position to win the league if Lille falter. First, they have to secure victory here andd then hope Lille do not win. PSG are the form team of the league at the moment with 4 wins and 1 draw in their last 5 matches. They have also come from winning the French Cup in midweek and would be delighted to crown it all with a league title on the last day. A victory against Brest should not be hard if previous results are anything to go by. PSG have won each of the last two meetings with a 3-0 scoreline and a repeat of the same is very possible here.
Possible Line Ups
STADE BREST
PSG

Larsonneur
Perraud
Duverne
Chardonnet
Faussurier
Honorat
Belkebla
Magnetti
Faivre
Charbonnier
Mounie
Coach: Olivier Dall'Oglio

Navas
Florenzi
Marquinhos
Kimpembe
Bakker
Herrera
Paredes
Di Maria
Neymar Jr
Draxler
Mbappe
Coach: Mauricio Pochettino

Injured: Oliveira (Head), Philippoteaux (Hamstring), Lasne (ACL), Herelle (Knee) and Kurzawa (ankle), Verratti (Knee), Letellier (finger), Bernat (ACL)
OUR TIP
Brest are hoping thing go their way on the last day of the league; if not in this match then in other matches involving their competitors. Nevertheless, teams are most dangerous when they are threatened and Brest may pull an upset here, but it is just difficult to see how. You can read our betting strategies page for more insights into betting.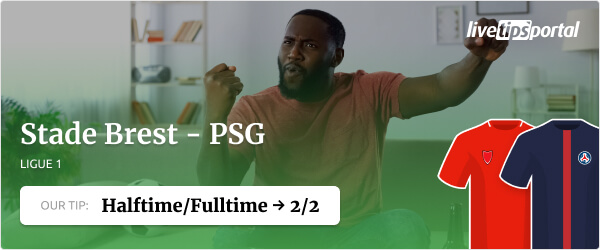 © Livetipsportal
PSG are going to start the game guns blazing and will not want to leave anything to chance. The H2H stats and recent form both favour them and the possibility of winning the league title will provide extra motivation to go for a big win here.
BETTING TIP TODAY: We go for Halftime/Fulltime PSG/PSG (HT/FT 2/2) @ 1.74 as our prediction for this game.
Our tips
Performance
Stade Brest
Last games
Stade Brest performance of the last 3 home matches
Paris Saint-Germain
Last games
Paris Saint-Germain performance of the last 7 away matches
Current Standing
| POS | TEAM | PTS | MP | W | D | L | GF | GA | GD |
| --- | --- | --- | --- | --- | --- | --- | --- | --- | --- |
| 1 | | 83 | 38 | 24 | 11 | 3 | 64 | 23 | 41 |
| 2 | | 82 | 38 | 26 | 4 | 8 | 86 | 28 | 58 |
| 3 | | 78 | 38 | 24 | 6 | 8 | 76 | 42 | 34 |
| 4 | | 76 | 38 | 22 | 10 | 6 | 81 | 43 | 38 |
| 5 | | 60 | 38 | 16 | 12 | 10 | 54 | 47 | 7 |
| 6 | | 58 | 38 | 16 | 10 | 12 | 52 | 40 | 12 |
| 7 | | 57 | 38 | 15 | 12 | 11 | 55 | 54 | 1 |
| 8 | | 54 | 38 | 14 | 12 | 12 | 60 | 62 | -2 |
| 9 | | 52 | 38 | 15 | 7 | 16 | 50 | 53 | -3 |
| 10 | | 47 | 38 | 12 | 11 | 15 | 44 | 48 | -4 |
| 11 | | 46 | 38 | 12 | 10 | 16 | 42 | 54 | -12 |
| 12 | | 45 | 38 | 13 | 6 | 19 | 42 | 56 | -14 |
| 13 | | 44 | 38 | 12 | 8 | 18 | 40 | 58 | -18 |
| 14 | | 42 | 38 | 9 | 15 | 14 | 42 | 50 | -8 |
| 15 | | 42 | 38 | 11 | 9 | 18 | 49 | 58 | -9 |
| 16 | | 42 | 38 | 11 | 9 | 18 | 50 | 68 | -18 |
| 17 | | 41 | 38 | 11 | 8 | 19 | 50 | 66 | -16 |
| 18 | | 40 | 38 | 9 | 13 | 16 | 47 | 55 | -8 |
| 19 | | 35 | 38 | 9 | 8 | 21 | 40 | 71 | -31 |
| 20 | | 21 | 38 | 4 | 9 | 25 | 25 | 73 | -48 |
Legend
Champions League

Champions League Quali.

Europa League

Europa Conference League Quali.

Relegation play-off

Relegation