Valencia FC
VS
FC Barcelona
Estadio de Mestalla
Valencia
Valencia CF - FC Barcelona betting tip & odds comparison 02.05.2021
Gameweek 34 in the Primera División will see the clash between Valencia FC and FC Barcelona at Estadio de Mestalla. Kick-off time is at 9:00 PM on May 2, 2021. In our preview of Valencia FC vs. FC Barcelona we will provide you with all the important facts and stats for this Primera División fixture. Let's start by having a look at the current form of the two teams involved.
Here, you have all spanish La Liga betting tips at a glance. We provide you with detailed forecasts for every matchday. In addition to that, you can also find a comprehensive odds comparison.
Valencia FC were victorious in 0 of their previous 5 league matches (0 wins, 3 draws, 2 defeats. In the current Primera División season 2020/2021, Valencia FC were able to win 6 of their 16 games at home, with a total of 7 draws, and 3 defeats (Goal difference 25:19).
FC Barcelona have won 3 of their last 5 Primera División encounters (3 wins, 0 draw, 2 defeats. The away record in this year's Primera División season for FC Barcelona reveals the following stats: 11 wins, 1 draw and 4 defeats - Goal difference 34:13.
Out of the last five Primera División encounters between the two teams, Valencia FC won 2. In 2 matches the points between the two sides were shared, and 1 time FC Barcelona got the win. If we look at the home record of Valencia FC against FC Barcelona, the stats are as follows: 1 win Valencia FC, 2 draws and 2 wins FC Barcelona.
Naturally, you can follow our advice and place the same bet free of charge. If you decide to do so at a new bookie, you can benefit from the Melbet welcome bonus. We have already tested the offer for you in detail.
Valencia – Barcelona, La Liga, 02.05.2021
Barcelona lost its chance of being the La Liga leaders after losing to Granada in their last match. This was so unfortunate for them as their coach was sent out after being red-carded. As it stands all remaining matches are a must-win for them to keep their hopes of winning the title.
Valencia hasn't had a decent run in recent La Liga games. They either ended in a draw or in a defeat. They are currently 14th in the standings far away from the relegation zone. They have nothing much to fight for and we are sure they are happy being in the middle of the table. We hope for another high-scoring match affair as well as an entertaining one.
The Betwinner welcome bonus is linked to our betting tips for this match.
Get to know more about bonus promotions from the leading bookmakers in the industry and take full advantage of them.
VALENCIA
Valencia has not won in their last five games at this stage. The dry spell was comprised of three draws and two losses. They were just beaten 3-1 away to Osasuna and only made a point when hosting Alaves last Saturday, ending 1-1.
Valencia CF is undefeated in their last eight La Liga home games. They have not been defeated at home in 31 of their last 35 La Liga matches. Their home record is very appealing and their man to watch is Carlos Soler, Valencia's top scorer, we hope he will have an impact on this tie.
BARCELONA
Barcelona lost yet another chance to top the league after being beaten 1-2 by Granada in their previous match. In the game, Granada actually came from behind after Messi scoring to snatch the 3 points. Barcelona have no other option but to win their remaining matches.
They are vying for the league crown with Atletico Madrid and Real Madrid. As it is we foresee the final few games of the season will be tough, with no clear frontrunners. It will come down to which team will maintain their cool.
Possible Line Ups
VALENCIA
BARCELONA

Domenech
Wass
Gabriel
Guillamon
Gaya
Musah
Racic
Soler
Guedes
Gomez
Gameiro
Coach: Javi Gracia

Stegen
Dest
Mingueza
Lenglet
Alba
Busquets
De Jong
Pedri
Messi
Griezmann
Dembele
Coach: Ronald Koeman

Injured: Correia (Knee), Cillessen (Knee) and Braithwaite (Ankle), Coutinho (Meniscus), Fati (Meniscus)
OUR TIP
Valencia has little to play within the upcoming games and is in a slump. Barcelona is currently the form team despite the recent loss and is challenging for the league title. This game has a greater significance for Barcelona, and the result will show that. However, all of the attention is on the other team, and Valencia having a good home record will give Barcelona a hard time. Valencia will not win the championship, but their influence over which team does will be important.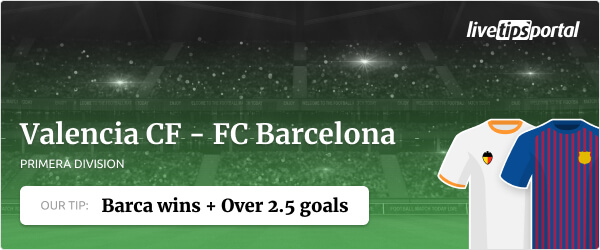 © Livetipsportal
You can read our betting strategies page for more insights into betting.
Los Che have gone winless in their last five games, and Barcelona will have all their guns blazing and we expect more goals from the match. We predict a Barcelona victory with a decent number of goals, of over 2.5 goals scored in the match.
Our tips
Performance
Valencia FC
Last games
Valencia FC performance of the last 4 home matches
FC Barcelona
Last games
FC Barcelona performance of the last 6 away matches
Current Standing
| POS | TEAM | PTS | MP | W | D | L | GF | GA | GD |
| --- | --- | --- | --- | --- | --- | --- | --- | --- | --- |
| 1 | | 86 | 38 | 26 | 8 | 4 | 67 | 25 | 42 |
| 2 | | 84 | 38 | 25 | 9 | 4 | 67 | 28 | 39 |
| 3 | | 79 | 38 | 24 | 7 | 7 | 85 | 38 | 47 |
| 4 | | 77 | 38 | 24 | 5 | 9 | 53 | 33 | 20 |
| 5 | | 62 | 38 | 17 | 11 | 10 | 59 | 38 | 21 |
| 6 | | 61 | 38 | 17 | 10 | 11 | 50 | 50 | 0 |
| 7 | | 58 | 38 | 15 | 13 | 10 | 60 | 44 | 16 |
| 8 | | 53 | 38 | 14 | 11 | 13 | 55 | 57 | -2 |
| 9 | | 46 | 38 | 13 | 7 | 18 | 47 | 65 | -18 |
| 10 | | 46 | 38 | 11 | 13 | 14 | 46 | 42 | 4 |
| 11 | | 44 | 38 | 11 | 11 | 16 | 37 | 48 | -11 |
| 12 | | 44 | 38 | 11 | 11 | 16 | 36 | 58 | -22 |
| 13 | | 43 | 38 | 10 | 13 | 15 | 50 | 53 | -3 |
| 14 | | 41 | 38 | 9 | 14 | 15 | 46 | 57 | -11 |
| 15 | | 38 | 38 | 9 | 11 | 18 | 28 | 43 | -15 |
| 16 | | 38 | 38 | 9 | 11 | 18 | 36 | 57 | -21 |
| 17 | | 36 | 38 | 8 | 12 | 18 | 34 | 55 | -21 |
| 18 | | 34 | 38 | 7 | 13 | 18 | 34 | 53 | -19 |
| 19 | Real Valladolid Club de Futbol | 31 | 38 | 5 | 16 | 17 | 34 | 57 | -23 |
| 20 | | 30 | 38 | 6 | 12 | 20 | 29 | 52 | -23 |
Legend
Champions League

Europa League

Europa League Quali.

Abstieg

Europa Conference League