Werder Bremen
VS
Hannover 96
Wohninvest Weserstadion
Bremen
SV Werder Bremen - Hannover 96 SV betting tip & odds comparison 24.07.2021
Gameweek 1 in the 2. Bundesliga will see the clash between Werder Bremen and Hannover 96 at Wohninvest Weserstadion. Kick-off time is at 8:30 PM on Jul 24, 2021. In our preview of Werder Bremen vs. Hannover 96 we will provide you with all the important facts and stats for this 2. Bundesliga fixture. Let's start by having a look at the current form of the two teams involved.
Looking for tomorrow's betting tips? Livetipsportal sports betting and football data is your source of analytical and stats-based betting predictions for the most popular leagues and international competitions.
Out of the last five 2. Bundesliga encounters between the two teams, Werder Bremen won 5. In 0 matches the points between the two sides were shared, and 0 times Hannover 96 got the win. If we look at the home record of Werder Bremen against Hannover 96, the stats are as follows: 4 wins Werder Bremen, 1 draw and 0 wins Hannover 96.
Naturally, you can follow our advice and place the same bet free of charge. If you decide to do so at a new bookie, you can benefit from the bonus of Melbet. We have already tested the offer for you in detail.
Werder vs Hannover, 2. Bundesliga, 24.07.2021
Werder Bremen starts their road back to the top division as they host the opening game Hanover 96.
Werden Bremen will play in the 2 Bundesliga soccer league, for the first time since 1981, after sliding to the 17th place finish the previous season. It is the third straight season outside the first flight for Hannover and they hope for a better season this time around. They both had a strong preseason time leading up to the first game and they will definitely aim to get off to a fast start.
We have recommended betting predictions for other major leagues check it out.
WERDER
Werder Bremen were demoted from the Bundesliga last season following a disappointing season performance. They begin their Bundesliga 2 campaign at home against Hannover, following a defeat away to Feyenoord in their final preseason game. Their lone clean sheet in the past four games came against Oberneuland, which they defeated 12-0. They've surrendered at least two goals in each of the other three, but they've scored in four of their past five games, including three with two or more goals.
Markus Anfang has taken over for Florian Khofeldt, and with a quality team at his disposal, the new manager will undoubtedly see Werder as a contender for promotion back to the top flight.
Wedner lost a few key players, like Milot Rashica, Theodor Gebre Selassi, and Niklas Moisander, but their current squad is still competitive and the coach has a decent side for a strong season.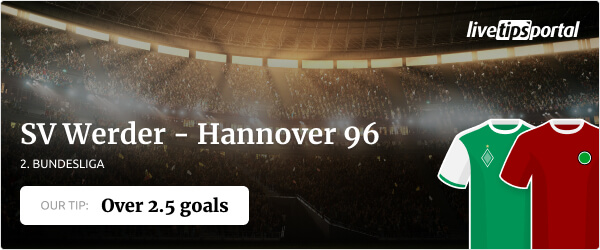 © Livetipsportal
HANNOVER
Hannover had a terrible season last season, coming 13th, just 11 points above the relegation zone, which was far worse than their previous season, when they finished 6th.
They are coming off a four-game losing streak, and they have only one win in six preseason games. They do have defensive concerns to overcome coming into this game, as they have only kept one clean sheet in their past 19 games.
They have a new signing in Jannik Dehm, but we don't anticipate him to play because he hasn't had enough training sessions Franck Evina, who has a muscular ailment, will be out for their first encounter.
They had allowed eight goals in their previous two games but had scored in four of their previous five and will definitely hope a better season as they kick off their campaign.
Possible Line Ups
WERDER
HANNOVER

Zetterer
Agu
Toprak
Mai
Mbom
Mohwald
Eggestein
Schmidt
Schmid
Sargent
Eggestein
Coach:Markus Anfang

Zieler
Hult
Falette
Franke
Muroya
Ernst
Muslija
Kerk
Maina
Stolze
Ducksch
Coach: Jan Zimmermann

Injured: Bittencourt, Nankishi, Jacobsen and Evina
WERDER vs HANNOVER BETTING TIPS AND PREDICTIONS
Both clubs have prepared for strong results this season, and we anticipate a high-scoring contest, as over 2.5 goals have been scored in three of the pair's past six meetings. Werder Bremen has scored in each of their previous five matches, while four of Hannover's last five league matches, as well as Werder Bremen's last four, have generated over 2.5 goals. We favor this to produce over 2.5 goals on 1xBet at an odd of 1.66 based on the goals witnessed in their recent games.
You can check out our betting tactics to aid you with your betting strategies and know of various ways to continue winning big with your bets.
Our tips
Performance
Werder Bremen
Last games
Werder Bremen performance of the last 5 home matches
Hannover 96
Last games
Hannover 96 performance of the last 5 away matches
Current Standing
| POS | TEAM | PTS | MP | W | D | L | GF | GA | GD |
| --- | --- | --- | --- | --- | --- | --- | --- | --- | --- |
| 1 | | 65 | 34 | 20 | 5 | 9 | 72 | 44 | 28 |
| 2 | | 63 | 34 | 18 | 9 | 7 | 65 | 43 | 22 |
| 3 | | 60 | 34 | 16 | 12 | 6 | 67 | 35 | 32 |
| 4 | | 60 | 34 | 18 | 6 | 10 | 71 | 46 | 25 |
| 5 | | 57 | 34 | 16 | 9 | 9 | 61 | 46 | 15 |
| 6 | | 52 | 34 | 15 | 7 | 12 | 43 | 45 | -2 |
| 7 | | 51 | 34 | 13 | 12 | 9 | 56 | 44 | 12 |
| 8 | | 51 | 34 | 14 | 9 | 11 | 49 | 49 | 0 |
| 9 | | 45 | 34 | 12 | 9 | 13 | 46 | 54 | -8 |
| 10 | | 44 | 34 | 11 | 11 | 12 | 45 | 42 | 3 |
| 11 | | 42 | 34 | 11 | 9 | 14 | 35 | 49 | -14 |
| 12 | | 41 | 34 | 9 | 14 | 11 | 54 | 55 | -1 |
| 13 | | 41 | 34 | 10 | 11 | 13 | 41 | 52 | -11 |
| 14 | | 41 | 34 | 10 | 11 | 13 | 42 | 54 | -12 |
| 15 | | 40 | 34 | 10 | 10 | 14 | 50 | 51 | -1 |
| 16 | | 32 | 34 | 7 | 11 | 16 | 33 | 46 | -13 |
| 17 | | 26 | 34 | 6 | 8 | 20 | 32 | 72 | -40 |
| 18 | | 21 | 34 | 4 | 9 | 21 | 30 | 65 | -35 |
Legend
Promotion

Relegation play-off

Relegation play-off

Relegation