Bayern München
vs.
Paris Saint-Germain
International
Champions League
Odds tip & odds sammenligning 07.04.2021 Bayern München - Paris Saint-Germain.
Odds tip til kampen mellem Bayern München og Paris Saint-Germain i runde 1 af Champions League 2020/2021. Kampen spilles på ukendt den 07.04.2021 kl 21:00.
Bayern er favoritter i finale-revanchen
Det bliver ikke meget større i Champions League-kvartfinalen, når sidste sæsons to finalister tørner sammen.
Her er Bayern München favoritter til at tage sejren med odds 1.93, når vi kigger odds tips hos Unibet. De tyske Champions League-mestre er dog handicappet, da topscorer Robert Lewandowski må se til fra tribunen grundet en skade.
For otte kampe siden oplevede den velkørende tyske maskine noget så sjældent som pointtab to kampe i træk. Siden har Bayern dog atter tromlet alt ned – blandt andet Lazio i Champions League-ottendedelsfinalen og Dortmund og Leipzig i Bundesligaen.
Kan PSG få deres revanche?
Odds 3.90 på et hold med Neymar og Mbappé er ikke hverdagskost, men det er, hvad du får, hvis du sætter dine penge på PSG via en af dine betting apps.
Var det bare en smutter i Champions League-finalen – og er PSG klar til at vise, at de kan slå Bayern München i kampen om Europas krone? Et godt udgangspunkt forud for returkampen kan blive altafgørende derfor, så PSG skal fra Sydtyskland med et fornuftigt resultat.
Fokus vil uden tvivl være på både Neymar og Mbappé, der i den grad skal levere en storkamp mod Bayern München, hvis du som spiller skal have ombyttet din Unibet bonus til en gevinst og finalefiaskoen erstattes af et nyt forsøg på at tage trofæet.
Mulige Line-Ups
Bayern München
PSG

Neuer
Pavard
Süle
Alaba
Davies
Kimmich
Goretzka
Sané
Müller
Coman
Choupo-Moting
Træner: Hans-Dieter Flick

Navas
Kehrer
Marquinhos
Kimpembe
Diallo
Gueye
Herrera
Di Maria
Neymar
Mbappé
Kean
Træner: Mauricio Pochettino

Mangler: Tolisso, Costa, Lewandowski og Bernat, Kurzawa, Florenzi, Pereira, Paredes, Verratti, Icardi
Bayern München – PSG odds tips
Går vi de forskellige odds igennem hos bookmakerne, så ser man, at bookmakerne forventer tre mål i kampen, hvoraf de to bliver scoret af Bayern München. Placerer du en odds bonus derpå, så giver en 2-1 sejr til Bayern München odds 8.00.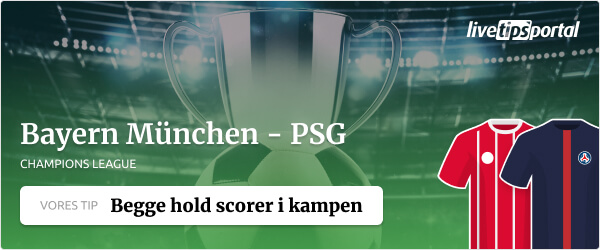 © livetipsportal.com
Det kan dog virke lidt risikabelt, men der må næsten forventes offensive seværdigheder i sådan en kamp. Et lidt mere forsigtigt odds er odds 1.50 på at begge hold scorer i kampen. Med Lewandowski ude ses der i retning af Eric Maxim Choupo-Moting hos Bayern München. Her er der odds 2.70 at hente på en scoring, mens Mbappé er bookmakernes favorit til odds 2.75.
Vores tips
Præstation
Bayern München
Seneste kampe
Bayern München præstation i de sidste 5 hjemmekampe
Paris Saint-Germain
Seneste kampe
Paris Saint-Germain præstation i de sidste 5 udekampe