Paris Saint-Germain
vs.
Bayern München
International
Champions League
Odds tip & odds sammenligning 23.08.2020 Paris Saint-Germain - Bayern München.
Odds tip til kampen mellem Paris Saint-Germain og Bayern München i runde 0 af Champions League 2019/2020. Kampen spilles på ukendt den 23.08.2020 kl 21:00.
PSG er en sejr fra det store mål
Det har været den helt store ambition for PSG i mange år. Chancen har på mange måder heller aldrig været større for PSG, der nu blot er en sejr fra at vinde Champions League og blive det første franske hold siden Marseille til at vinde Champions League siden 1993. Modstanderen er dog langt fra en drømmemodstander, da Bayern München har kørt alt og alle over på deres vej. Det er på mange måder lagt op til en kamp, hvor det er nu, at Neymar skal steppe op og for alvor træde ud af Messi og Ronaldos skygge og spille sig ind på scenen som den absolutte verdensstjerne.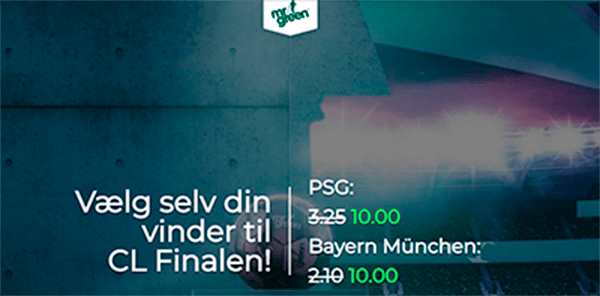 © Mr. Green
Bayern jagter the treble
Overfor Neymar og co stå Champions League-topscoreren Robert Lewandowski og Bayern München. De tyske mestre og pokalmestre vil uden tvivl gerne sikre sig the treble for anden gang i klubbens historie. Bayern München kørte stille og roligt finalepladsen i hus med en 3-0 sejr over Lyon, men især øretæven til Barcelona viste, at de tyske mestre i den grad er et godt bud på Europa og måske endda verdens bedste klubhold lige for tiden. De går også ind til kampen som favoritter – og det er bestemt ikke uden grund.
Mulige Line-Ups
PSG
Bayern München

Navas
Kehre
Silva
Kimpembe
Bernat
Verratti
Marquinhos
Paredes
Di Maria
Mbappe
Neymar
Træner: Thomas Tuchel

Neuer
Kimmich
Boateng
Alaba
Davies
Goretzka
Thiago
Gnabry
Müller
Perisic
Lewandowski
Træner: Hans-Dieter Flick

Mangler: Ingen meldinger om skader. Navas er tvivlsom
VORES TIP
Bayern München til at vinde Champtions League-trofæet til omkring odds 1.30 viser lidt om, hvor store favoritter de er. Vil man gerne have et lidt højere odds, så er Bayern München på en klassisk 1X2 til omkring odds 2.00 et stærkt bud. Det vil nok også være der, at rigtig mange smider deres penge – og det vil også klart være vores odds tip. Hvis du skal have et yderligere tip med, så er Lewandowski til at score når som helst til omkring odds 1.60 et spil, som man næsten bare er nødt til at sætte. Hvis du vil have flere odds tips, kan du se vores store oversigt over oddstip på fodboldkampe hver dag.
Vælg selv: Odds 10 på enten PSG eller Bayern München
Det bliver svært at finde et odds, der er højere på Champions League-finalen. Du kan med denne Mr. Green bonus vælge frit, om du vil have odds 10.00 på PSG eller Bayern München i Champions League-finalen. Startbonussen fra Mr. Green er et alternativ til deres normale velkomstbonus. Tilbuddet gælder alle nye spillere, der tilmelder sig og spiller op til 50 kr. på et af de to hold til at vinde Champions League-finalen. Rammer man den rigtige vinder, så booster Mr. Green oddset til odds 10 og udbetaler gevinsten kontant – og uden omsætningskrav.
Vores tips
Præstation
Paris Saint-Germain
Seneste kampe
Paris Saint-Germain præstation i de sidste 5 hjemmekampe
Bayern München
Seneste kampe
Bayern München præstation i de sidste 5 udekampe