Milan
Tegen
Inter
AC Milan – Internazionale wedtips & wed quoteringen 03.09.2022
Speelronde 5 van de Serie A levert ons de derby op tussen Milan en Inter in het Giuseppe Meazza stadion. In onze voorbeschouwing van Milan tegen Inter lees je alle belangrijke details en feiten over deze clash in de Serie A. We beginnen met een analyse van de huidige vorm van beide teams.
Op zoek naar voetbal tips? Livetipsportal.com is de perfecte plek voor gokvoorspellingen gebaseerd op analytische data voor de meest populaire en internationale sport competities.
AC Milan op jacht naar volgende titel
Nadat AC Milan de Serie A na jaren weer wist te winnen vorig jaar, beleefd de Rossoneri ook dit seizoen weer een uitstekende start aan het seizoen. Na de eerste 3 speelronden staat Milan op de tweede plek op de ranglijst met evenveel punten als koploper Napoli. AC Milan won 4 van haar laatste 5 competitieduels (4 overwinningen, 1 gelijkspel, 0 nederlagen). In het huidige Serie A seizoen van 2022/2023 won Milan 2 keer, speelde het 1 keer gelijk en verloren ze tot zo ver nog niet. AC Milan zal dan ook gebrand zijn om deze reeks voort te zetten in de Derby della Madonnina.
Inter heeft wat goed te maken
Internazionale beleefd een zware week in de Serie A. In een week tijd nemen ze het op tegen Lazio Roma en AC Milan. Tegen Lazio Roma liep het voor Inter niet helemaal volgens plan, de ploeg verloor met 3-1 in Stadio Olimpico in Rome. Van haar laatste 5 serie a duels wist Inter er echter wel 4 te winnen (4 overwinningen, 0 gelijke spelen, 1 nederlaag). Het is dus maar de vraag hoe Inter zich terug knokt na de nederlaag tegen Lazio, is het extra motivatie voor de spelers of gaan ze een moeizame seizoensstart tegemoet?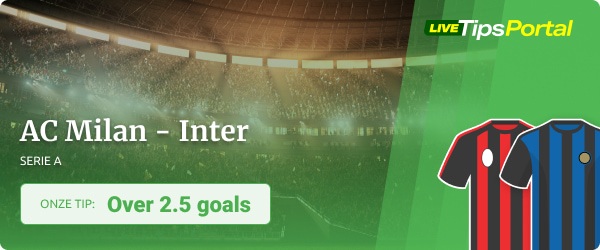 Head-to-head
Het onderling resultaten in de laatste 5 edities van de Milaan Derby laten zien dat AC Milan de derby slechts 1 keer wist te winnen en dan Inter er 2 keer met de winst vandoor ging. In 2 van de laatste 5 ontmoetingen tussen de twee teams, werden de punten gedeeld.
Mogelijke opstellingen
AC Milan
Maignan
Theo Hernandez
Tomori
Kalulu
Florenzi
Bennacer
Tonali
Leao
Diaz
Saelemaekers
Giroud
Coach: Stefano Pioli
Missing players: Ibrahimovic, Rebic (uncertain), Origi (uncertain)
Inter
Handanovic
Skriniar
De Vrij
Bastoni
Dumfries
Gosens
Barella
Brozovic
Calhanoglu
Martinez
Dzeko
Coach: Simone Inzaghi
Missing players: Mkhitaryan (uncertain)
Wedtips voor AC Milan tegen Inter
In de laatste 8 edities van de derby tussen Milan en Internazionale zijn er in 6 wedstrijden 3 of meer goals gevallen. Onze wed tip voor deze ontmoeting is dan ook om in te zetten op meer dan 2.5 goals. Kijk ook zeker bij onze andere voetbal tips voor meer wed tips en voorspellingen.
Prestaties
Milan
Laatste wedstrijden
Milan prestaties in de laatste 5 home matches
Inter
Laatste wedstrijden
Inter prestaties in de laatste 5 away matches
Voorlopige stand
| POS | TEAM | PNT | WG | W | G | V | DV | DT | DS |
| --- | --- | --- | --- | --- | --- | --- | --- | --- | --- |
| 1 | | 17 | 7 | 5 | 2 | 0 | 15 | 5 | 10 |
| 2 | | 17 | 7 | 5 | 2 | 0 | 11 | 3 | 8 |
| 3 | | 16 | 7 | 5 | 1 | 1 | 15 | 7 | 8 |
| 4 | | 14 | 7 | 4 | 2 | 1 | 13 | 5 | 8 |
| 5 | | 14 | 7 | 4 | 2 | 1 | 13 | 8 | 5 |
| 6 | | 13 | 7 | 4 | 1 | 2 | 8 | 7 | 1 |
| 7 | | 12 | 7 | 4 | 0 | 3 | 13 | 11 | 2 |
| 8 | | 10 | 7 | 2 | 4 | 1 | 9 | 5 | 4 |
| 9 | | 10 | 7 | 3 | 1 | 3 | 6 | 7 | -1 |
| 10 | | 9 | 7 | 2 | 3 | 2 | 7 | 6 | 1 |
| 11 | | 9 | 7 | 2 | 3 | 2 | 5 | 8 | -3 |
| 12 | | 8 | 7 | 2 | 2 | 3 | 7 | 11 | -4 |
| 13 | | 7 | 7 | 1 | 4 | 2 | 10 | 8 | 2 |
| 14 | | 7 | 7 | 1 | 4 | 2 | 6 | 7 | -1 |
| 15 | | 6 | 7 | 1 | 3 | 3 | 6 | 8 | -2 |
| 16 | | 6 | 7 | 1 | 3 | 3 | 7 | 10 | -3 |
| 17 | | 5 | 7 | 1 | 2 | 4 | 6 | 13 | -7 |
| 18 | | 4 | 7 | 1 | 1 | 5 | 4 | 14 | -10 |
| 19 | | 2 | 7 | 0 | 2 | 5 | 5 | 14 | -9 |
| 20 | | 2 | 7 | 0 | 2 | 5 | 4 | 13 | -9 |