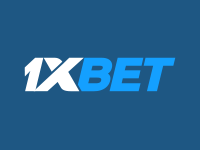 1xBet bookmaker review
Advantages and disadvantages
Very large sportsbook
Many payment options
Great betting app
Regular multiple promotions
Over the past few years, the Russian bookie 1xBet has gained momentum and has established itself as a serious competitor for the top companies in the sports betting sector. One of the main reasons is the bookie's gargantuan sportsbook that covers a broad variety of sports and has excellent depth in terms of markets. Furthermore, 1xBet offers an incredible selection of payment methods that ranges from all sorts of online transaction services to crypto currencies, such as Bitcoin or Ethereum.
This bookie has become punters favourite in countries like Nigeria,Ghana, Uganda, Kenya, Zambia and Tanzania due to incredible range of offers and promotions. Unarguably, 1xBet is one of the best betting sites in Nigeria, and definitely right up there amongst the best betting sites in Ghana, as well as in other countries where they operate in Africa.
We have tested 1xBet in terms of its 1xBet registration procedure, deposit and withdrawal options, and its sportsbook in order to provide you with everything you need, so that you can make an informed choice about whether you want to bet at 1xBet. Let's get started!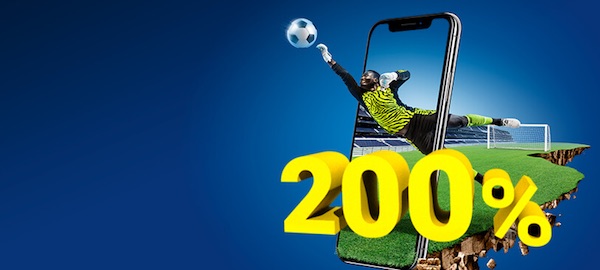 © 1xBet
Deposit
How to sign up for 1xBet?
Signing up with 1xbet is extremely easy and in line with the variation this bookie offers, new customers can create betting account with any of the three registration options which are available. These options are Email, Phone number and Social networks. As soon as you decide which method suits you most, you will experience a seamless registration process.
Regardless of the country you are domiciled, the registration process is pretty much the same. You can follow the process below to complete your 1xBet account set up.
On the 1xBet website, click on the "Registration" button on the top right of the homepage
Select " By Phone" as your registration method
Enter your Phone number and request confirmation code
Fill in other required details, like our EXCLUSIVE promo code 1x_578572 (= 30% more bonus money)
Select your preferred currency (Currency of your country of residence usually)
Enter your confirmation code
Choose your preferred Bonus
Tap on the Register button to complete the process
Following the registration process, a mouth watering bonus awaits you as a first time customer. It is standard that you get a First deposit bonus offer on 1xBet when you sign up anywhere, but you have to indicate interest by enabling the "Take part in bonus offers". It should also be noted that the welcome offers vary from one country to another.
In Nigeria, new customers can enjoy a generous 200% + 30% up to ₦130,000 first deposit bonus. 1xBet offers their Ghanaian customers 200% + 30% bonus up to 2,080 GHS, while Kenyan users get an offer of 200% + 30% up to 13,000 Ksh. Ugandan players have a bonus of 520,000 UGX. Zambian users are also not left out with 200% up to ZMW 1500+30% totaling ZMW 1950.
To enjoy these bonuses, customers are required to make minimal deposit of ₦400, 6 GHS and 112 Ksh ZMW 15 and 4000 UGX in Nigeria, Ghana, Kenya, Zambia and Uganda respectively for the bonus to qualify for the bonus.
To withdraw the bonuses, customers are required to wager half of the bonus amount 5 times on accumulator bets containing 3 events or more and at least 3 of the selected events must have odds of 1.40 or higher. The other half must be redeemed by wagering 30 times on 1xgames.
The bonus must be used within 30 days of registration, as all bonuses and winnings will be rovoked after 30 days.
How to deposit on 1xBet?
Generally, 1XBet offers a myriad of deposit options. Currently, users can choose from a cross-section different payment options. While there is a vast range of payment methods, there are some payment methods specific to some countries.
🇳🇬 In Nigeria 1xbet customers can choose one of Bank transfer, Debit card payments (Visa and Mastercard), USSD, Prepaid Cards (Paysafecard), E-wallets, E-Voucher and Crypto currencies (40 options!). The minimum deposit amount varies for the different payment methods. However irrespective of the deposit method a user chooses, the minimum deposit amount in Nigeria is ₦100.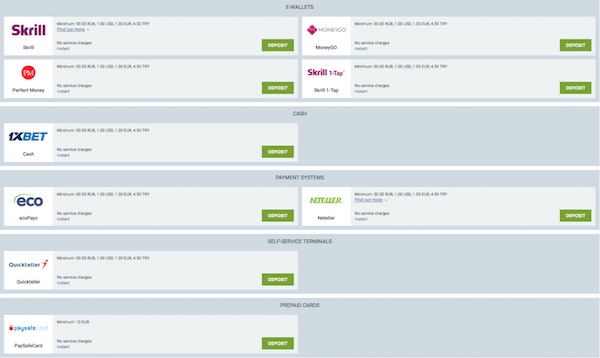 © 1xBet Nigeria
🇰🇪 For 1xbet customers resident in Kenya, E-wallets such as Skrill, Perfect Money etc are available for funding accounts. Prepaid cards, E-payments and E-vouchers are also integrated into 1xbet Kenya to make for easy deposit. The minimum deposit for 1xbet in Kenya is 112 KES irrespective of the payment method.
🇬🇭 There is a bit of a variation in Ghana in terms of deposit, besides E-wallets, Debit cards and Crypto currencies, there are provisions for Mobile Money payments like MTN Money, Airtel Tigo and Vodafone Cash. The minimum deposit amount using the Mobile money platform is 1 GHS and 9.64 GHS on Debit cards
🇺🇬 MTN Mobile money is also available for 1xbet customers in Uganda. The minimum deposit amount is $1.50.
🇹🇿 For Tanzanian players, Mobile money is not available, but Debit card deposit are up and running along.
🇿🇲 In Zambia, punters can make do with any of the three Mobile money operators like Airtel Money, MTN Money and Zamtel to make payments. The minimum deposit amount on both MTN money and Zamtel are ZMW 8, while it is ZMW 1 on Airtel money.
Most of the payment methods are safe secure and are reflected in the customer's account instantly.
Payout
How to withdraw from 1xBet?
As far as withdrawal goes, there are different withdrawal methods that are best suited to the different countries. In Nigeria, Bank transfer. There is also provision for Debit card withdrawal as well as E-wallet Payment. In Ghana, customers can withdraw their winnings using the same the methods as Nigeria plus Mobile money.
For Kenyans, withdrawal can be implemented using Debit cards, E-wallets and Crypto currencies. The same is obtainable for customers in Tanzania, while Ugandans can get out their winnings with MTN Mobile money.
The situation is the same for Kenyan players too. Mobile money is particularly very popular in Kenya and winnings on 1xBet can be withdrawn via mobile money. 1xbet customers based in Zambia have the liberty to choose between Debit cards (Visa and Mastercard) and Mobile money platforms like MTN money and Airtel money. The minimum withdrawal amount is ZMW 1 and ZMW 16 respectively for Airtel money and MTN money.
The minimum withdrawal amounts vary in these countries as it is dependent on the method you choose.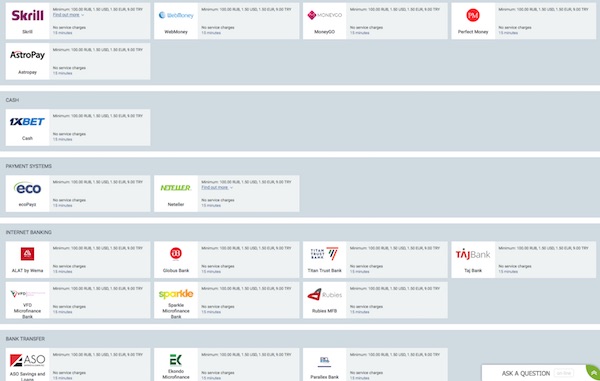 © 1xBet Nigeria
Betting
What's the 1xBet usability like?
At first sight, users might be slightly overwhelmed with the betting options on the homepage. This is, however, mainly a problem for desktop users. The 1XBet mobile app version is much easier on the eye and well-organized. The main navigation bar at the top is structured into Sports, Live (in-play betting) and Casino. It also includes a search bar, which is quite useful when you already have a very specific idea of what you want to bet on. If you choose the Sports menu, you get a selection of the most popular upcoming events, and you can browser through different sports at the top of your screen by swiping left.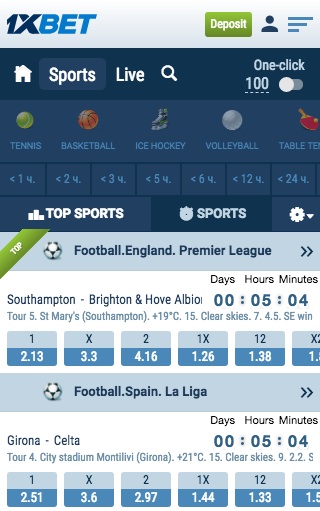 © 1xBet
Overall, the navigation in the 1XBet mobile version is much more intuitive and clearer than it is in the desktop version, which often appears a bit cluttered with betting options. If you are looking for specific leagues or events to bet on, we highly recommend using the search function as it facilitates the betting procedure significantly. If you have suceeded in finding the right betting market, you simply click on the odds and your selection appears on the bet slip. For two or more bets, you can then choose from different multi-bet options, such as accumulator, patent, chain, or system bet.
In the 1XBet app version you also have the option to check placed bets under "My Bets". This way you can always keep track of your current betting performance. It is strongly advised to check open bets before placing further wagers. All in all, the 1XBet design definitely gets a positive review from us. However, this is mainly due to the bookie's app version. As far as the desktop verison is concerned, a slightly more reductive approach to the sportsbook design might be desireable.
The 1xBet betting markets explained!
Fans of fringe sports and special bets will embrace the 1XBet sportsbook. With over 40 sports and special bets categories, the bookie offers a huge variety in terms of breadth. You can even place bets on the weather at international airports. Hence, it goes without saying that betting markets in hurling, Australian football, greyhound racing, and e-sports are offered as well. Whatever category you want to bet on, you will find markets at 1XBet. But the bookie is not only versatile when it comes to different sports categories. You will also find that 1XBet offers great depth for big events like Premier League matches, or grand slam finals. For the average Chamions League group stage game pre-match bet, we found over 1600 betting markets. Make sure to check out our football betting tips before making your first 1XBet wagers.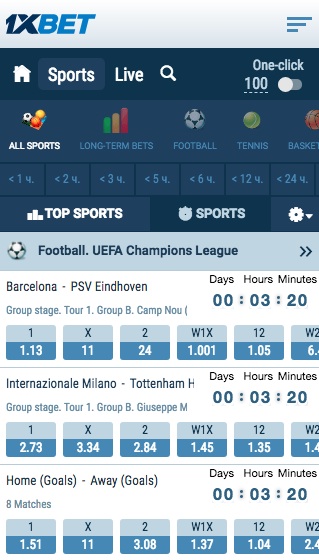 © 1xBet
While this is certainly a great feature, it might also become a bit overwhelming at times. Again, we refer you to the 1XBet App for smart phones and tablets, where the more reductive design facilitates the search for the preferred betting market.
If you choose two or more odds, you will find a variety of betting options on your 1XBet bet slip. The bookie offers standard options such as accumulator and system bets, as well as patent, chain and conditional bets. All bet types are available, but some restrictions apply when events are related. If you are unsure about the bet type you want to choose for your wager, you can check the bookie's FAQ section for further details about the betting options.
If you are a fan of in-play betting, you will also find plenty options in the 1XBet sportsbook. In addition to that, the bookie offers livestreams for registered users and a statistics feature, which covers the basics, such as head-to-head stats and recent performances of the teams and players involved. If you are interested in in-play betting, we highly recommend our tips for the best betting strategy. Especially in live betting, it is vital to have certain strategies to fall back on.
Overall, the 1XBet sportsbook and in-play section has everything a sports betting fan can ask for. In fact, the multitude of markets can sometimes be a bit overwhelming, especially when it comes to live bets.
Support
How do I reach out to the 1xBet support?
Just like with the varied deposit options, customers are spoilt for choice regarding getting help or support from 1xBet. Aside from the regaular Email, Phone call and social media channels, 1xBet has gone a step further by providing specialized email addresses for all types of queries and questions.
For instance if you are wondering about to make a general enquiry, there is a dedicated email for that across the countries where they offer active service. Questions about partnership and marketing opportunites also have a dedicated email address for that purpose.
Customers can also get in touch 1xBet representatives through live chats or the contact form on the website.
1xBet review summary
Overall, we were pretty impressed with 1XBet. The sportsbook offers a vast array of betting markets in over 40 different categories ranging from sports to entertainment wagers. In addition to that, the bookie allows for a great variety of different payment systems. Even crypto currencies like Bitcoin, Ethereum, and Dogecoin are accepted as payments. For the betting itself, we highly recommend to use the 1XBet app, which offers a better overview than the desktop version.
Overall, we are impressed with 1xBet offers, betting markets and general outlook of the betting site. It is punter's dream and we are sure you are going to enjoy a pleasant betting experience when you bet on sports or even the 1xgames. The sportsbook is extremely large and punters will have a field day choosing markets and betting options. The payment options are also numerous across the different countries where they operate, consequently, users have an almost endless options deposits and withdrawal.
The wagering requirements for the First deposit bonus at first glance may look difficult, but it is not not the most stringent you will get in the market.
Considering all of these factors, we are happy to recommend 1xBet to new users. Avail yourself the chance to beat the bookies at their game with our betting strategies.