Sports betting has evolved around the world and Africa has not been sidelined. Zambia is one of the countries that has seen increasingly a number of betting companies setting bases. Of late international and local betting companies gained a populace among Zambian punters, with some betting companies dotting their facilities around towns. Lusaka and Copperbelt are quite flooded since it has a large population, and betting has become rampant among youths.
For starters in Zambia, it's often a struggle to pick a bookie! Because most online sports betting sites offer almost the same product. But when you get into the nitty-gritty, you see the difference between each bookie. We have made that easy for you! We have analyzed the bookies and we are here to give you the best bet tips today and sure straight wins for tomorrow even as you invest your money!
🔥 Always up to date with sports betting TELEGRAM CHANNEL! 🔥
Sports betting Zambia
Zambia's history of gaming can be dated back to 1964 when it became a republic. The statutes, the Lotteries Act and the Betting Control Act, are still in effect and have made a few changes. The lottery legislation established a national lottery system, it also outlined the regulations that sports operators had to follow for sports and mutual bets. The most important law enabling the legalization of land-based gambling in casinos was introduced in 1992. The overlap in the National Tourism Policy in 2015 resulted in ineffective industry supervision and, in part, the formation of unlicensed companies: gambling and wagering firms grew and frequently went uncontrolled in undesignated locations. By 2017 Zambia had over 35 registered casinos and it contributed to the GDP equaled to 0.03percent during the 2019 National Budget.
Sports betting has seen the expansion in digital connectivity, such as internet penetration, mass adoption of smartphones, and usage of mobile money services, often when it comes to today betting tips the majority of people who use online services benefit more, unlike offline users. In some cases, the bookmakers are there to meet the demand.
Over some years now since sports betting became popular amongst Zambians and this has come with many developmental keys, some of which are:
Resurrect the reading culture; Making a slip means reading through the bookies or perhaps a computer making a ticket, in a country where the reading culture was relatively poor, betting has made a positive twist on that.
Enhanced the rapid growth of the mobile money business; For most Zambian punters it's more convenient to deposit using mobile money services.
Betting has contributed to the circle of job creation; with the mushrooming shops almost in every corner of the town, many Zambian youths have had the opportunity to work with these companies.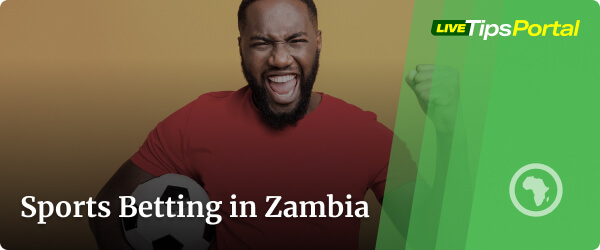 What are the key factors of our Zambia betting site reviews?
We select sites that offer players wagering on the most popular sports in Zambia, considering the bookmaker's reputation and the convenience of working with them. such as the following;
Customer Support: We make sure that Complaints from customers are solved by the regulatory authority that issued the license and customer needs to seek assistance from the betting site whenever they encounter any issues in the course of your betting or delay of settlements.
Deposit Bonuses: The most common welcome bonus is the first deposit bonus. The bookmaker increases the deposit amount depending on the promotion conditions that are met through the deposit bonus needs a wagering factor.
Betting Offers: betting markets are essential first and foremost and we make sure all these sports are to be presented on a specific bookie.
Variety of Deposit & Withdrawal Methods: Punters need access to bookies 24/7, that's where mobile payments come in the first place. They allow you to make a deposit quickly, and bookmakers who provide a sufficient selection of convenient payment methods in Zambia are our focus.
Experience and Security: reputation is also based on honesty in calculating winnings, and guaranteed payouts. The top betting sites are fully licensed and regulated, and we give extra credit to those that have stood the test of time over many years, betting is controlled through licenses in Zambia.
Mobile coverage: The sports bookie must have the best mobile coverage. Zambians should be able to gamble on the move using an app or mobile website – for example like on the Melbet app.
Features: Sports betting features such as cash-out, live streaming, and a bet builder are mandatory when selecting the ideal bookmaker.
Odds: The ideal Zambian sports betting site that offers punters competitive odds is of our interest. In return It also allows gamblers to enjoy different odds.
Licensed Operator: Online security can never be emphasized enough, so we endeavor to feature only bookies that comply with the safety norms for online gambling on the territory of Zambia.
Now we come to the list of the chosen bookies (Betway, 22Bet, 1xBet)
Betway Zambia
Founded in 2006 and has since established itself as one of the most popular online betting companies in the world and Africa at large, Zambia Betway was officially launched in 2020 and has become the favorite amongst punters. Coupled with a variety of betting markets.
🔥 Top Features: Streaming and Cashout
✅ Pros:
Multiple payment methods
Generous bonus offers and cash promotions
Mobile application available
Money-back
❌ Cons:
Lack of verification code when registering
App not usually found on google
💰 Bonuses:
Welcome bonus
Promotion offers
⚽ Markets: Football, Tennis, Basketball, and many others
22Bet Zambia
22bet Zambia is a top-notch bookmaker It operates legally in the country and provides an opportunity to make money to anyone above 18years, for the past decade Zambia has increasingly seen a number of bookmakers embrace its territory, but 22bet is yet to go physical, and yet they have a wide following amongst punters.
🔥 Top Features: Attractive welcome bonus and live betting
✅ Pros:
Big selection of bonus/promos
Variety of markets
Accept local currency
Apps available for download
❌ Cons:
Customer care is not available
Live casino games are not featured
💰 Bonuses:
⚽ Markets: Football, Handball, Basketball, Tennis, and many others
1xBet Zambia
1xbet betting website is undoubtedly one of the fastest-growing bookmakers in Zambia. though relatively new and only accessible online, it has griped around the country due to its diverse offers of bonuses and multiple payment methods.
🔥 Top Features: a variety of markets
✅ Pros:
Customer service is good
Wide sportsbooks
Wide range of payment methods
Competitive odds
❌ Cons:
App not found in google store
Withdraws may delay
💰 Bonuses:
⚽ Markets: Football, Basketball, Volleyball, Handball, and Plus many others