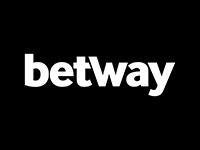 Betway Nigeria, Kenya, Ghana & More
Advantages and disadvantages
Competitive odds
Lots of promotions
Large sportsbook
Easy to use
With over 2 million customers globally, Betway is one of the leading companies in the sports betting industry. Besides sports betting, the British bookie also offers an online casino, poker, and virtual games
Since its inception in 2006, Betway has grown significantly and has gained the reputation of being a reliable provider of sports betting and online casino games. The bookie's range of offers comprises popular sports such as football and handball, as well as less popular and niche events such as chess and martial arts. Betway is also one of the bookmakers with a Bet Builder.
In the constantly developing field of sports betting for Africa, Betway has established itself as one of the major and growing brands and company. This lead to Betway's operations in Nigeria, Kenya, Ghana, Uganda, Zambia and Tanzania.
Betway has distinguished itself in these countries very quickly with its services and offers. In those regions, the brand is good. The promotions they run, the wide range of payment options, and the detailed sportsbook with many events and markets have facilitated these.

© Betway
Deposit
How to join Betway?
From the bookmaker homepage, you can find a link to the Betway registration, but you can also follow any of the Betway links on this site to register too. The bookie offers a special Betway sign up bonus, depending on the country you are living in. The registration requires three steps, which include inputting your account information, and your personal and contact details. Some of the information you'll provide includes a username and password as well as your name and address, your country, your date of birth, and your phone number.
To finalize your registration, you're required to agree to the general terms and conditions. You can also choose whether you want to receive any information/marketing material from Betway. Make sure you read the terms and conditions before agreeing to them. After you have successfully signed up, you will be redirected to the bookie's main page.
How to deposit on Betway?
At the top right-hand corner of the screen, you can find information about your betting account and you can also see your account balance next to your username. Right next to your account balance, you will find a green button that will redirect you to the deposit page with a variety of payment options.
🇬🇧 For those in the UK, there are about eight deposit channels, including PayPal, Neteller, Skrill, Visa/Mastercard debit or credit cards and bank wire transfers.
🇰🇪 At Betway Kenya besides credit and debit card you can pay with Safaricom and Airtel.
🇳🇬 Betway Nigeria provides way more payment methods lika OPay, USSD M-Cash, Paga, Paystack (Credit, Debit or EFT), GT Bank, ATM and Bank Branch.
🇬🇭 In Ghana you can pay via MTN Mobile Money, Vodafone, Airtel Tigo or credit and debit card.
🇹🇿 Betway Tanzania provides MTN Mobile Money, Vodafone Cash, Airtel Money (2% fee), Tigo Cash and Vouchers as deposit methods.
🇿🇲 Pay with MTN Zambia, Airtel Zambia or Kazang.
🇺🇬 At Betway Uganda you can choose between MTN Mobile Money and Airtel Money.
You can choose from all of these options, some of which have set minimum and maximum deposit limits. You can click on the various options for additional information on the payment options. The smallest deposit varies per country and is dependent on the preferred deposit channel.
Payout
How to withdraw money from Betway?
Betway provides its customers with a variety of withdrawal options. These are EFT, OPay, and Paga. Your bank account is linked to EFT withdrawals.
They also use mobile money, which is very popular and allows for the use of local currencies in specific markets. Mpesa, Airtel Money, MTN Mobile Money, Vodafone Cash, and Airtel Tigo are among them. The majority of bettors use one of these mobile wallets. Mobile money options are also popular because they are convenient and can be used even if you do not have a bank account. With these options, the vast majority of bettors should be well catered to. The withdrawals from Betway are free and are processed very fast. This has really lead to its penetration and growth in the market.
Betting
How's the feeling on the Betway site?
Being a bit thrown off, initially, is par for the course on most betting websites. Betway also toes this line. However, after a short settling-in period, you will find that the site is well-organized and neatly structured, and invites you to further explore the content. As far as colours are concerned, the page appears mainly in modern, darker shades with dashes of white and green which are used for adding contrast and important links. Overall, the design is user-friendly and easy on the eye.
A slideshow on the main page informs you about current betting offers and other important updates. Just below the slideshow are links to the different sports on offer. Top of the left-hand pane are notable sporting events, especially in football, while the bottom shows the top live games, both happening that day. At the top of the screen, you can easily see how much you have in your account, including your free bets (bonus bets), as well as links to make a deposit, view other account information, and log out of your account.
The search function on the Betway website works well and provides the result without taking you away from the current page. When you enter a search term such as "Arsenal," it shows the upcoming matches/events for Arsenal; up to seven matches are shown at once. You can click on the drop-down menu to quickly make a home or away win or draw bet without leaving the search result. When making bets on a particular match, you can also search for specific options such as 'halftime' and 'corner' to bring up all betting options under the search term.
Language selection
Betway offers its services all around the world. Therefore, a great variety of languages is essential, and with 17 different languages, the bookie does not disappoint in this regard. Besides the more common options such as English, German, and French, Betway also offers Norwegian, Swedish, and Danish as well as Ukrainian and Polish.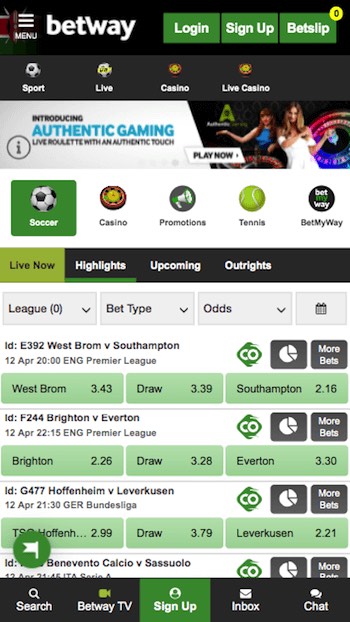 © Betway Kenya
What and how to bet on Betway?
The bookie's sportsbook is quite extensive as not only does it include a large number of different kinds of sports, but also offers plenty of different countries and competitions. This is especially true for football with over 50 countries covered. For instance, on a match in one of Europe's top leagues or cup competitions as well as on international matches, Betway offers over 120 different betting options per event. These include the standard three-way bets and single, double, and combination bets as well as more sophisticated options such as over/under bets for results, score and winning margins or anytime goal scorer.
In addition to the abundant betting options, Betway provides useful information and extensive stats for each event. It takes just one click to retrieve all the data you may need to make up your mind on teams or players involved. If you are interested in betting strategies, we recommend our article on last-minute goal betting. Another important facet in the field of sports betting is to know everything about back & lay betting, which is included in the article as well. The minimum stake on Betway is 1 cent. The odds available on Betway are also very competitive in comparison to other bookies.
Support
How to reach the Betway support?
Betway's customer service is excellent. They have a very comprehensive FAQ section where many of the most common customers' questions are elaborated in great detail. However, if you need to contact them directly, they provide a plethora of channels through which you can do so. Aside from phone lines, they offer support via social media, including Whatsapp, Facebook, Twitter, and live chat. All of these platforms are operational, and the response times are impressive. This cuts across all the territories they are operating. They respond on time and they are very friendly and helpful at all times. You just visit their contact us section at the footer of the website and all details will be displayed.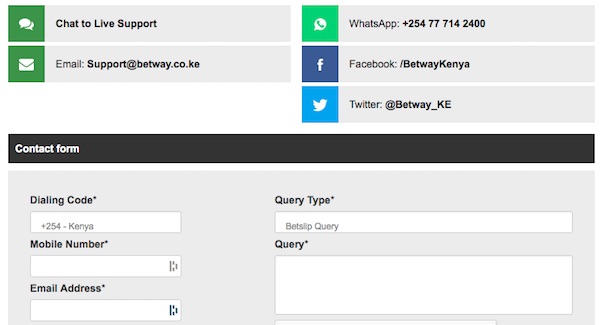 © Betway Kenya
Our review on Betway sportsbook
Betway is a comprehensive and expansive bookie for the average punter. It offers competitive odds that come with the best odds guaranteed promotion; that is, even if you've placed your bet and the odds increase, your ticket will be updated with the highest odds. Matches and events are easy to find with the search function, as well as betting options when placing bets. After getting over the initial learning curve, Betway is easy to use. Additionally, Betway offers a lot of promos such as first deposit bonus, Betway Win Boost, BetYourWay moneyback boost, and many more. Overall, Betway deserves your attention if you're shopping for a new bookie.
Of course we also tested the Betway mobile betting app.