In recent years, bet builders have emerged as a popular feature in the world of online sports betting. This innovative tool allows bettors to create their own customized bets by selecting multiple outcomes within a single event. Whether you're a seasoned sports bettor or a casual fan, understanding how bet builders work and the importance of comparing odds across different bookmakers can significantly enhance your betting experience as well as increase your winnings. Our team at livetipsportal has therefore decided to offer you a proper instruction on how to integrate bet builders into your sports betting routine.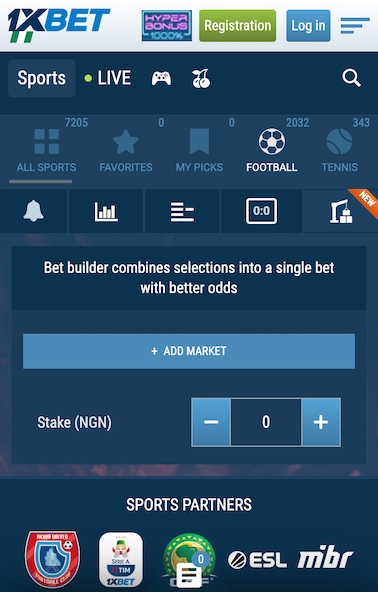 How does a bet builder work?
The concept behind bet builders is relatively straightforward. Instead of being limited to traditional pre-determined betting markets, bet builders enable you to combine multiple selections from within the same event, such as a football match or a tennis game, to create a unique bet. This means you create your personalized one-match multibet prediction. These selections can range from simple outcomes like the number of goals scored to more complex options like over/under for corners, shots on target, (first) goal scorer, or even specific actions such as penalty/VAR intervention etc. within the match. However, usually the range of betting options is more limited in a bet builder than in a common pre-match market. Also, the number of betting options available in a bet builder can differentiate significantly from bookie to bookie.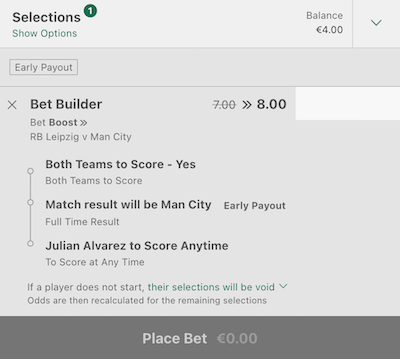 Once you've chosen your desired selections, the bet builder algorithm calculates the accumulated odds for your custom bet. This allows you to see the potential returns and make an informed decision about whether the bet is worth placing. The beauty of bet builders lies in their flexibility, as they grant you the freedom to tailor your bet to your own predictions and preferences.
How to select your odds in a bet builder
When using a bet builder, there are several factors to consider when selecting your odds. Firstly, it's essential to have a thorough understanding of the sport you're betting on and the teams or players involved. This knowledge will help you make informed decisions and select the most appropriate outcomes for your custom bet. You can also check our banker bet of the day to add to your bet builder slip or simply use our solo prediction as a starting point to go on a deep dive into possible bet builder accas.
Secondly, you should research the statistics and form of the teams or players. By analyzing previous performances, head-to-head records, and current form, you can identify trends and make more accurate predictions. Incorporating this information into your bet builder selections enhances your chances of success.
Additionally, it's crucial to consider the odds offered by the bookmakers for your selected outcomes. Different bookmakers may have different algorithms or methodologies for determining the cumulative odds for a bet. This is why comparing odds across various bookmakers is essential. By doing so, you can find the best value for your selections, ensuring that you maximize your potential returns. You can immediately try this out by adding our betting tips today to your bet builder selection and compare the odds across different bookies.
Bookies with bet builder features
Several reputable bookmakers offer bet builder features, making it easier for you to create your custom bets. These bookies recognize the value in providing their customers with the flexibility to bet on specific outcomes within an event. Here are some of the best betting sites in Africa with bet builder features:
Bet365: One of the pioneers of bet builders, Bet365 offers a comprehensive and user-friendly platform for creating custom bets. Their extensive range of sports and markets allows you to combine multiple selections within a single event, providing endless betting possibilities. Bet365 also offers selected bet builder tips with boosted odds for each game. This makes bet365 one of the best bet builder bookies around.
Betway: With their bet builder feature, Betway allows you to personalize your bets across a vast array of sports. From football to basketball, their platform enables you to select outcomes such as goals, cards, corners, and more to create your unique betting experience.
1XBet: Renowned for its competitive odds and huge range of betting markets, 1XBet also recently began to offer a bet builder feature. To create your customized bet, simply choose the bet builder feature by tapping or clicking on the respective icon which shows a crane lifting boxes (see screenshot above). Then you can add different betting tips to your bet builder selection and you immediately get the calculated cumulative odds.
Betano: Betano stands out with its bet builder feature, offering a seamless and intuitive interface for creating custom bets. You can easily select various outcomes within a single event and view the odds, making it a user-friendly option for bettors. The Betano bet builder is available to bettors from Nigeria.
Betboro: At Betboro Ghana you can use the free bet builder for the upcoming football matches. Different selections on one and the same match can be easily combined with each other as desired. However, this feature is only available a few days before the event. So don't be surprised if no Betbuilder is available for matches that are 4 or more days away.
Konfambet: The newcomer Konfambet has only been present on the Nigerian market since 2019 and convinces with a sensational new customer bonus and an extensive sports book. Even within a match, several betting markets can be combined to form an Acca bet. The excellent customer support should also be highlighted here.
Comparing the odds offered by these bookmakers is crucial because, as mentioned earlier, each bookie utilizes different algorithms to determine the accumulated odds for a bet in a bet builder. By carefully comparing the odds, you can identify the bookmaker that offers the most favorable terms for your selected outcomes and optimize your potential returns.
Bet builders are here to stay – and you should learn how to use them
In conclusion, bet builders have revolutionized the world of sports betting by providing a flexible and personalized betting experience. By understanding how bet builders work and selecting odds based on in-depth research and analysis, you can maximize your chances of success. Furthermore, comparing odds across different bookmakers is paramount to ensure you secure the best value for your custom bets. So, take advantage of this innovative feature and embark on your journey of creating unique and profitable bets with bet builders.