Bookie

1xBet

Rating

10.00

Max. bonus & percentage

Min. deposit & min. odd

NGN 1 / 1.40

Turnover requirements

5x bonus amount (acca bets)

Details link

Bookie

bet365

Rating

10.00

Max. bonus & percentage

Min. deposit & min. odd

$ 10 / 1.20

Turnover requirements

1x first deposit amount + 1x bet credits | T&Cs apply | 18+

Details link

Bookie

22Bet

Rating

9.00

Max. bonus & percentage

Min. deposit & min. odd

KES 1,000 / 1.40

Turnover requirements

5x bonus amount (acca bets / 7 days)

Details link

Bookie

Melbet

Rating

9.00

Max. bonus & percentage

Exclusive

Min. deposit & min. odd

KES 200 / 2.10

Turnover requirements

12x bonus amount

Details link

Bookie

Betway

Rating

9.00

Max. bonus & percentage

Min. deposit & min. odd

KES 2 / 3.00

Turnover requirements

3x first deposit amount

Details link

Bookie

Parimatch

Rating

9.00

Max. bonus & percentage

Min. deposit & min. odd

NGN 100 / 3.38

Turnover requirements

4x bonus amount

Details link

Bookie

Greatodds

Rating

9.00

Max. bonus & percentage

Min. deposit & min. odd

GHS 2 / 4.00

Turnover requirements

1x free bet amount (7 days)

Details link

Bookie

Konfambet

Rating

9.00

Max. bonus & percentage

Min. deposit & min. odd

NGN 100 / 1.50

Turnover requirements

20x 1st bonus / 15x 2nd bonus / 15x 3rd bonus / 10x 4th bonus

Details link

Bookie

Gbets

Rating

9.00

Max. bonus & percentage

Min. deposit & min. odd

ZAR 20 / 1.50

Turnover requirements

3x bonus amount

Details link

Bookie

Chezacash

Rating

9.00

Max. bonus & percentage

Min. deposit & min. odd

KES 100 / 1.99

Turnover requirements

1x Qualifying Bet + 1x Free Bet

Details link

Bookie

Betwinner

Rating

9.00

Max. bonus & percentage

Min. deposit & min. odd

KES 129 / 1.40

Turnover requirements

5x bonus amount

Details link

Bookie

MrXbet

Rating

9.00

Max. bonus & percentage

Min. deposit & min. odd

€ 20 / 1.60

Turnover requirements

6x the bonus amount

Details link

Bookie

NetBet

Rating

9.00

Max. bonus & percentage

Min. deposit & min. odd

NGN 100 / 2.00

Turnover requirements

8x first deposit + 8x bonus amount

Details link

Bookie

Paripesa

Rating

8.00

Max. bonus & percentage

Min. deposit & min. odd

NGN 450 / 1.40

Turnover requirements

5x bonus amount (acca bets)

Details link

Bookie

Cyberbet

Rating

8.00

Max. bonus & percentage

Min. deposit & min. odd

KES 640 / 1.01

Turnover requirements

5x bonus amount

Details link

Bookie

Bet9ja

Rating

8.00

Max. bonus & percentage

Min. deposit & min. odd

NGN 100 / 3.00

Turnover requirements

1x first deposit + 10x bonus amount

Details link

Bookie

Mr. Play

Rating

8.00

Max. bonus & percentage

Min. deposit & min. odd

€ 10 / 2.00

Turnover requirements

9x bonus amount

Details link

Bookie

OdiBets

Rating

8.00

Max. bonus & percentage

Min. deposit & min. odd

- / 1.01

Turnover requirements

1x Free bet

Details link

Bookie

Betboro

Rating

8.00

Max. bonus & percentage

Min. deposit & min. odd

GHS 1 / 1.30

Turnover requirements

1x Free bet

Details link

Bookie

Sahara Games

Rating

8.00

Max. bonus & percentage

Min. deposit & min. odd

KES 100 / 2.60

Turnover requirements

1x Qualifying Bet + 1x Free Bet

Details link

Bookie

BetBonanza

Rating

8.00

Max. bonus & percentage

Min. deposit & min. odd

NGN 100 / 1.85

Turnover requirements

6x bonus amount

Details link

Bookie

Betfox

Rating

8.00

Max. bonus & percentage

1,000% up to

GHS 9,999,999

Min. deposit & min. odd

GHS 1 / 1.01

Turnover requirements

Acca bets (between 2 and 60 selections)

Details link

Bookie

mybet.africa

Rating

8.00

Max. bonus & percentage

Min. deposit & min. odd

GHS 2 / 4.50

Turnover requirements

1x bonus amount (acca bet)

Details link

Bookie

Cloudbet

Rating

5.00

Max. bonus & percentage

Min. deposit & min. odd

mBT 10 / -

Turnover requirements

800 loyalty points = 0.01 BTC bonus

Details link
More information to sports betting bonus offers
Thanks to the wide reach of the internet sporting bets are booming and enjoying a rise in popularity. No wonder then that numerous online bet providers are jumping onto this trend, making the sporting bet market one of the most competitive niches around. To acquire new betters and keep existing ones, many bookmakers offer some type of betting bonus. To not lose track of all the offers it is advisable to compare bonuses, both for new users as well as experienced betters. Betting companies want to acquire new customers as well as keep old ones; this is why there are a number of different betting bonuses – welcome bonus, down payment bonus, football bet bonus, free bet, cash back bonus, etc. A sportsbetting promotion can also be seen as a chance to test a bookie. If you are not sure about sportsbook terms, check out our Livetipsportal betting glossary.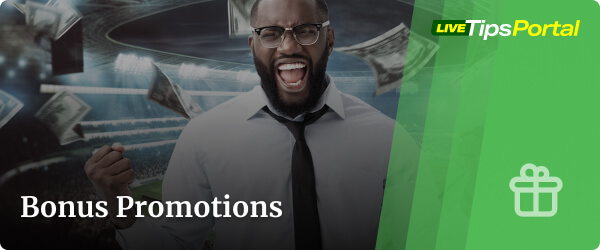 One popular type of a betting bonus promotion is the first payment bonus, where the user gets a bonus right after creating a profile and making the first payment. Even here the bonuses vary between bookmakers. Usually they offer a betting bonus of 100% or 50% between 50 and 200 Euro. There are number of other sportsbetting bonuses that are quite different, with the distinction being in the detail.
Here you can get a bonus comparison of the numerous offers from different bookies, so you can make an informed choice.
A more detailed description of the different betting promos can be found in the bookmakers reviews. We also tested different sports betting applications for you. Livetipsportal analyzed over 30 bookies and their betting bonuses in our bonus comparison and gives you all the pros and cons of the different offers. Find out everything you need to know about free bets and down payment bonus and make sportsbetting even more fun and profitable.