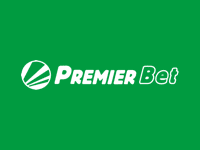 Premierbet Weekly Freebet
Opt-in, Go to Sports and Place a bet, that is how easy to receive the Premierbet Weekly Free Bets. This is an offer given to all the Loyal clients of Premierbet every week. So it's not really a welcome offer but still worth a mention here in the Livetipsportal bonus section. Anyone qualified for this Premier bet bonus is expected to get up to 20,000 TZS/50 GHS every week, terms and conditions apply.


© Premierbet
Please join the Premierbet Loyalty Club today and you'll receive a Free Bet every week depending on your previous week's wagers. The amount of the Free Bet is decided by the weekly cash wagers as follows:
When you bet with 4,000 TZS to 20,000 TZS/10 GHS to 50 GHS then you can earn a 200 TZS/1 GHS free bet.
When you bet with 20,000 TZS to 100,000 TZS/50 GHS to 250 GHS then you can earn a 1,000 TZS/3 GHS free bet.
When you bet with 100,000 TZS to 200,000 TZS/250 GHS to 500 GHS then you can earn a 10,000 TZS/25 GHS free bet.
While the grand offer of 20,000 TZS/50 GHS can be awarded to any punter who wager with 200,000 TZS/500GHS or more.
For all those qualifying bets there set a minimum odd with 2.0. Only bets - no matter if single or accumulator - that have a total odd of 2.0 are counting. The freebet will be available on Monday after the promotional week. You have 7 days to claim it by logging in in your account and after that 3 days to use it. It only can used for a
multibet
with at least 3 selections, each with a minimum odd of 1.50. If it's successful you'll receive the net profit (= winnings without the stake).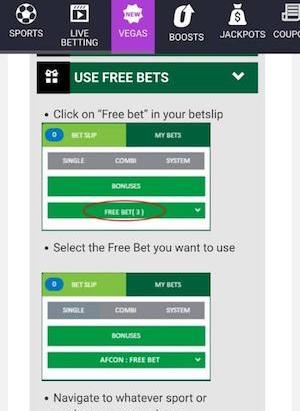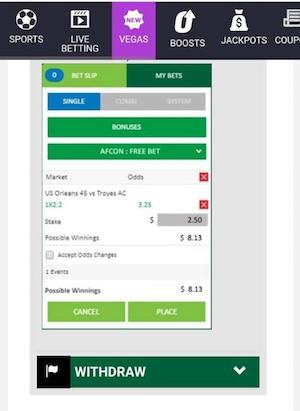 © Example of Premierbet freebet use
As among of the
best betting sites in Africa
, Premierbet has managed to disclose this most valuable offer to a wider range of markets now while retaining the existing clients who continue to appreciate the fruits of the Loyalty Club.
Bonus type
First deposit bonus
Minimum deposit
TZN 1
percentage
-
Maximum bonus
TZN 20,000
Bonus code
no bonus code is required
Turnover requirements
How Exactly does Premierbet Weekly Free Bet Work?

In order get the most out of this offer you need to successful fit into the existing terms and conditions of this promotion. Here are the detailed explanations of what clients are required to do to earn the Premierber Weekly Free Bet:
To participate in this offer, players must a registered Premierbet clients.
A client must place a bet(s) within the promotional week (from Monday 00:00 to Sunday 23:59) in order to be awarded the free bet in the following Monday, mind you only 1x Free Bet per week will be given on Monday.
The user must have a qualified bets having a minimum of 2.00 odds or the combination odds must have odds that are equal or greater than 2.00.
Cashed out or voided bets and systems bets do not qualify for this Premier bet bonus offer.
A bet must have been placed using cash amount and not promotion amount.

The Free Bet must be used on at least three different selections, each with minimum odds of 1.50. Please keep in mind that any further picks must have a minimum of 1.50 odds. After you've claimed the Free Bet, you'll have three days to utilize it. Any Free Bets that are not used within three days of being issued will be cancelled. Mind you, a Free Bets cannot be withdrawn, must be used in their full in one transaction only and are not redeemable for cash. Open the Bet Slip tab and click Free Bet followed by navigating into whatever sport(s) or market(s) you wish to bet, select your game and place your bet.

NOTE: Any bets placed prior to OPT-IN in will not be eligible for the weekly Free Bet, thus is important for punters to OPT-IN to be part of Premierbet Loyalty Club!
Min. odd
1.50
Valid until
unlimited
Time limit
7 days after bonus received
Summary
It's really a generous thing of Premierbet to reward their users with a loyalty program on a weekly basis. But of course it would have been nice too if there was a real Premierbet welcome bonus for new customers.

To get the free bet isn't that hard. Really the only thing to keep an eye on at your qualifying bets are the minimum odd of 2.0. Other than that you can place different kind of bets.

It's a bit different with the free bet though, as you have to use it at an accumulator bet with at least 3 selections. So there's a bit room for improvement. But other than that the Premierbet bonus is definitely a plus factor for the bookmaker.
Pros and Cons
The promotion is ongoing every week
The Premierbet Weekly Free Bets offer has a transparent qualification process
Once you have met the terms and condition the Free Bets amount is instantly
It's not a real welcome offer
Once three days has passed you can no longer use the Free Bet amount
Example
It doesn't matter if you're a new customer at Premierbet or already registered a while - the free bet offer is available for all on a weekly basis.

You can get you a freebet from 200 TZS/1 GHS up to 20,000 TZS/500 GHS. It totally depends on you and how much stakes you use for your qualifying bets during the promotional week (Monday 00:00 to Sunday 23:59). Very important is that only qualifying bets with odds of 2.0 or higher are counting.

So let's say you're placing qualifiying bets with a total stake amount of 150,000 TZS/350 GHS. For that on Monday you'll receive a 10,000 TZS/25 GHS free bet. It's activated when you log in into your account and usable for 3 days. The stake won't be part of the winnigs. So for example if you use the 10,000 TZS/25 GHS free bet on a bet with an odd of 5.0, your winnings will be 40,000 TZS in Tanzania (5 x 10,000 - 10,000) and 100 GHS in Ghana (5 x 25 - 25).
Get your Bonus in 3 Steps
Step 1
Log in into your Premierbet account and opt-in. That is to activate the offer.
Step 2
Wager with a minimum of 2.0 odds from 4000 TZS/10 GHS stake.
Step 3
Then you have successful qualified to start earning this offer.