Technology has made it possible for you not to have to go to stadiums and courts to watch sports live. There are many options available to watch sports from the comfort of our homes or, dare I say, mobile devices. You have sports channels on cable TV. There are equally other online subscription services.
Betting shops also have the facility of showing live sports. However, punters can also access live streams of sports and football matches from their personal computers or smartphones; these live streams are available on most bookmakers' websites. This article examines the different ways you can watch sports live, especially football. By the way we also provide betting tips which can come in handy.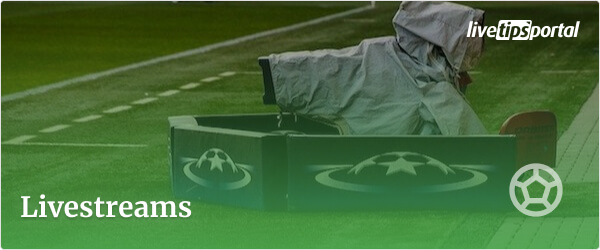 Live Sports Streaming on Bookmaker Website
Live sports streaming on bookmaker websites is a nice option to have, especially for punters who place in-play bets. It's nice to have a place to simultaneously watch the game and monitor the odds for something valuable to drop.
While live streaming is free on most bookmakers, some have specific minimum requirements before you can watch live sports. For some, the basic requirement is making a deposit, while for others, you must place a bet with a stipulated minimum stake. In any case, you must have an account and be logged in to view live streams. For a bookmakers comparison click here.
| | |
| --- | --- |
| Bonus offers | Football Livestreams |
| | |
MELBET Bookmaker Livestream ⇧
The Melbet live streaming platform has a multi-LIVE feature that allows you to watch up to four live events at the same time. A registered client can view live stream events for free as long as their account balance is sufficient.
Melbet's live streaming offering includes more than 30 sports categories. Most punters choose to watch football, basketball, tennis, volleyball, and ice hockey on the internet. There are also livestreams for specific sports like e-sports and greyhound racing. On a given day, customers may watch over 200 livestream events.

The majority of consumers nowadays wager using their mobile phones and Melbet live streaming is accessible via desktop and mobile devices. .They also have a mobile app for both Android and iOS smartphones. This will allow you to view live events and place bets from anywhere using your smartphone. The Livestreaming is available in HD video format, with additional features such as live match data and odds.
To learn more about the betting site, make sure to read our Melbet bookmaker review.

Betway Bookmaker Livestream ⇧
Betway provides one of the best live streaming services in the industry. The Betway live stream is available on both desktops and mobile devices for free. To access this service, you must have a Betway account and make a minimum deposit of $10. Thereafter, you may watch live streaming games as long as your account balance is positive. They as well have app for both Android and iOS devices. We have laid out more details, and you can learn and see our Betway mobile app review.
The sports and tournaments that may be seen live on Betway include, Football competitions include the Premier League, Bundesliga, Serie A, La Liga, Ligue 1, Champions League, and Europa League. Tennis competitions. Basketball – NBA basketball, Rugby, Handball, ice hockey and more.

Betway has a large selection of live streaming sports and events. Events available via live stream are indicated with a TV symbol in the daily event calendar for easy identification. Once you click it, the live streaming platform opens in a new window. The live broadcast is accompanied by real-time match statistics and live odds for a variety of markets.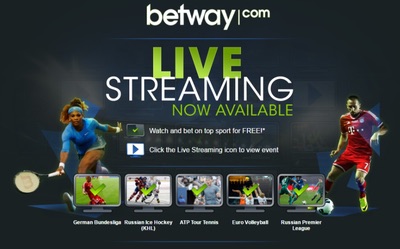 Betboro Bookmaker Livestream ⇧
Betboro provides live streaming services for some sports, but not all. Football, volleyball, basketball, and tennis are the most popular. Their live streaming feature is functional and well-developed, with HD resolution and seamless broadcasts. This function is available to players on both desktop and mobile platforms.


BetBoro provides applications for both Android and iOS. You may download the app by visiting the website using your mobile device's browser and downloading it from there. Customers may access and watch the stream in the Live area as well. We have written a detailed analysis of the best Fetbet welcome bonus for you to learn more take advantage of it.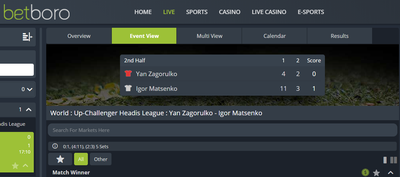 Betwinner Bookmaker Livestream
On both desktop and mobile, Betwinner offers live streaming services for various sports. All Betwinner clients may watch the live stream for free. Betwinner live stream is linked with live betting, allowing you to place live bets while watching the event unfold in real-time. The Betwinner app for Android and iOS allows you to watch live sports events.
As long as you have a strong internet connection, the Betwinner live stream is seamless and clear. The platform is supported by the KODI and Acestream systems, which allow you to stream in high definition. There's also a multi-LIVE function that lets you stream up to four live events at once. After completing a registration and making a minimum deposit of $1 or its equivalent in local currency, you will be able to view all accessible live broadcasts.

Events that are accessible for live streaming are found in the listings of upcoming or ongoing events. The live stream events are denoted by the LIVE symbol. When you click on it, it will take you to the event's live streaming site. Betwinner live stream offers a variety of events from the most popular sports. Football, Tennis, Basketball, Rugby, Cricket, Horse racing, Golf, and Ice hockey are among them.More information about the Betwinner bookmaker is found here.
22BET Bookmaker Livestream ⇧
Customers of 22Bet in some countries may watch live streaming sports for free on the bookmaker's website. You may watch live sports events on your laptop or mobile device if the live streaming function is available in your country. A dedicated mobile app for Android and iOS is available for an enhanced mobile betting experience. More information about the 22Bet mobile app may be found here.
You can use the Livestream service 1n 22Bet as long as you fill your account and maintain a positive account balance. If you bet on an upcoming or ongoing event, you will be able to view the live stream action if it is accessible. At any one moment, there are generally multiple live stream events. You may utilize multi-livestream to view many events at once. There are live feeds accessible in HD video with decent sound quality.


22bet live stream features a wide range of events from the most popular sports. Among these are football, tennis, basketball, rugby, cricket, horse racing, golf, and ice hockey.
Other Legal Sports Live Streaming Options
Bookmakers can't and don't show all live streams in all sporting events, which necessitates finding other ways of streaming. However, it should be noted that most of these options may provide streams of a lower quality. In addition to being of a lower quality, these sites are somewhat invasive with multiple pop up ads amongst other interruptions. It is advisable to use an ad blocker to make your experience more seamless. Popular streaming websites for sports, particularly football, include:
Laola1
While Laola1 primarily serves the German-Austria-Switzerland German-speaking region, it also provides an international English version for users outside of this region. The international version is also not geo-blocked and is available around the world. Popular sports streamed on the platform include football, table tennis, basketball, volleyball, and many others.
Sportdigital TV
Another interesting website for live streams is Sportdigital TV. For only 1,99 € you can watch the most thrilling English Championship games and Capital One Cup games. It also shows the highlights of the Dutch Eredivisie and the Russian Premier Liga. Additionally there is an app, so you can watch the games on your iPad and mobile devices as well.
ESPN
Espn offers the live streaming of popular American sports, including American football, soccer, basketball, baseball, college sports, hockey, golf, tennis, MMA, etc. Espn also shows sports that they have purchased the rights for, and typically these streams are behind paywalls. However, besides the streaming services offered for its premium subscribers, there are occasions where ESPN provides free sports streaming that you don't have to pay for.
Facebook Watch
Facebook is making a play for the sports streaming market, and recently acquired the rights to stream one baseball match from the MLB per week. Aside from baseball, other matches you can watch on Facebook include soccer, surfing, and female basketball. You might also find many unofficial streams from other users on Facebook covering additional sports.
To watch sports on Facebook, navigate to facebook.com/watch and type "sports" in the search bar after logging into your Facebook account. On the result page, click the "See All" link under the 'Live' section of the page. Lastly, select the 'Live' option under the 'Source' section on the left-hand side of the screen.
There are many options available for streaming live sports and we have provided enough for you to get started. As an addendum, you can find new live streams by searching through Reddit; other users typically come through. Also, it makes sense to watch as events unfold when betting on live matches.