Just a decade after the first bookmaker, Nairabet, launched in Nigeria, the Nigerian sports betting industry has grown in leaps and bounds. Currently, Nigerians spend about N2 billion per day betting on sports. Everywhere you turn, someone is offering sports betting tips – a testament to how the ecosystem has grown. Although there are close to a hundred licensed bookmakers in Nigeria, the market is dominated by a few players. If you're looking for the best betting site in Nigeria where you can centralize all your betting, this article will help you, as we examine the top betting sites in Nigeria.
The Nigerian Betting Market
The Nigerian betting market is huge — approximately 60 million Nigerians aged between 18 and 40 actively participate in sports betting, and the number is growing daily. A lot of different factors contributing to the rise of sports betting in Nigeria. Including the large population, the increasing sports culture, a fairly unregulated sports betting market, the proliferation of smartphones and the continued growth of internet penetration.
To add to the aforementioned factors, the network of betting shops means access to betting is not limited to online channels. As far back as 2016, Bet9ja was making $10 million (about N350 million) in monthly turnovers, while Nairabet made about 30% (N115 million) of that according to KPMG. These bookies also enjoy a profit margin of 20%-30%. On average, Nigerians spend N3,000 (about $10) per day on sports betting.
📲🔥 SUBSCRIBE FOR FREE – SOLO TIPS, ACCA TIPS, BONUS OFFERS & MORE! 🔥📲
What makes a great betting website
Great betting sites don't happen by chance. They are a result of user consideration, investments, and a commitment to excellence. So, exactly what factors make one betting site good, and the other bad?
1. User Experience
There are some betting sites which seem to have no sense of direction at all, and you end up getting lost the minute you log in. Sub-menus are hard to find, placing bets is a chore, and even making deposits and withdrawals will have you pulling your hair out in frustration. The colours are quite awful and badly combined! And the website speed? At a snail's pace! Like all good websites, sports betting apps and sites should be easy to navigate and manageable, even if you're a first-time user. Great websites are user-friendly and easy to follow, have well-balanced and contrasting colours, are fast, and have an excellent and functioning search tool. And, most importantly, the betting site must be mobile-friendly.
2. The Features and Free Money
Betting is not easy and any bookmaker that makes your life easier by the features they have on their site is a winner any day. Let's start with the basic features such as cash out and live betting. Those features are the norm these days, but how many sports are covered under the live betting? A lot or just a few? Features such as multiple betting options are non-negotiable too. However, features that allow you to recoup some of your stake or earnings even if one game cut your ticket are some differentiating factors on some websites.
With heavy competition among betting sites, most offer a first deposit bonus to lure new customers, but the question is: what happens after signing up? That's what separates the great sites from the not-so-great ones. Occasional betting bonus promotion that rewards your consistency and increases your earnings should also be on the table. Using these promotions and bonuses with our sports betting tips can help increase your earnings.
3. Customer Service
Let's keep it real here: you should leave any betting sites that have terrible customer service. It's as simple as that. Just simply having an email support line is not great – it's the bottom of the ladder when it comes to customer service. The good betting sites offer other customer support channels: a telephone line, live support, and support through their social media handles. In simple terms, they should meet their customers wherever they are. It is, however, not enough to have these channels, but also have enough well-trained, educated, and responsive agents on the other side of the table. More so, in a country like Nigeria, they should offer multiple languages. At the barest minimum, the languages on offer should be English and Pidgin (a local version of the English Language).
4. Market Volume
Variety is sometimes described as the spice of life and this is truer for the relationship between punters and betting sites. While a betting site may not cover every single option in the world, it should still offer enough to meet your needs, especially when you want to have a single betting account for all your sports betting. The betting site should cover plenty of sports and offer options in different leagues (not just the major leagues but the lower leagues too) from different countries.
5. Customer Opinions and Transparency
Great betting sites have good reports from their customers, while the internet is littered with cusses from customers who have experienced horrible service from terrible betting sites. It's important to take note of customer opinions in your research of a betting site as the proof is in the pudding, especially in a country where the regulatory framework is not yet solid. Additionally, good betting sites are upfront and clear on the terms and conditions of using their services, while the bad ones tell you new things after the fact or dispute your earnings on some flimsy excuses.
Based on the aforementioned factors and our research into betting sites that operate in Nigeria, our top betting sites are Melbet, Bet9ja, 1xBet, Betway and Paripesa. Below, we provide a brief bookie review of these betting sites in no particular order.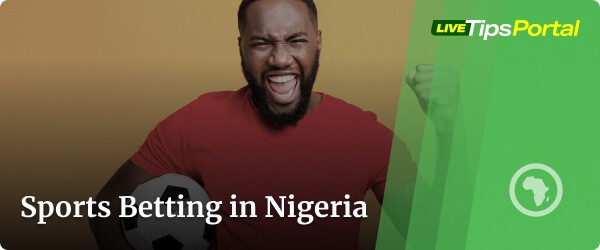 Frapapa ⇧
Frapapa is looking to break into the circle of the best betting sites in Nigeria. With a seamless payment method, optimized mobile app and juicy offers for new and existing customers, Frapapa has displayed its understanding of the industry and what it takes to join the elite club of top bookies in the country.
Creating a new a Frapapa account is as easy as it gets. When you visit the site, you can simply register a new account with the click of a button. In addition, there is a welcome bonus of 100% up to 20,000 naira in freebet when you are a newly registered user.
Depositing into your Frapapa account is a seamless process as you can make payment via your Visa cards, Mastercard, USSD and bank deposit. Also, Frapapa understands the role technology plays in helping users have a stress free betting experience hence, it has created an easy to use mobile app for iOS and Android users. When you download and install the app, you will be able to register, deposit, withdraw and carry out other things at your fingertips.
With very competitive odds, Frapapa offers every bettor an opportunity to win big when they bet on football, tennis, basketball and over 20 other sports available on the platform.
For details about this bookie, go to our detailed Frapapa Bet review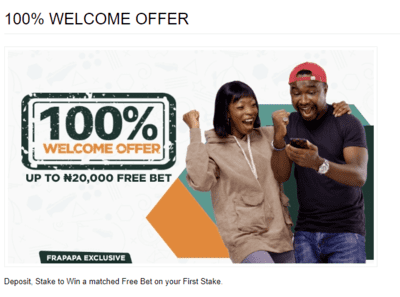 BET9JA ⇧
Bet9ja is perhaps the biggest bookmaker in Nigeria. It offers sports betting (including in-play), casino betting, and betting on virtual games. In terms of user experience, Bet9ja scores highly. It has a very clean interface with well-blended colours and contrast, it is easy to find tabs and menus, and the layout fits perfectly on the web and mobile sports betting app. We also don't have much of a problem to answer you the question: How to open bet9ja account? Bet9ja offers twelve online and two offline deposit channels with a minimum deposit of N100 on these channels. The maximum deposit varies per channel. Withdrawal is also straightforward: enter your bank details in your profile. Withdrawals are processed within 24 hours and the minimum withdrawal limit is N5,000, while withdrawals can not exceed N9.99 million. Bet9ja offers options on approximately 23 sports, including esports, with an additional section for politics. Its welcome bonus is 100% of your first deposit up to N100,000. It also offers other bonuses and promotions such as odds surge, 170% bonus on accumulators, and Bet9ja Rewards. You can find more details about the bookmaker in our Bet9ja review.


1XBET ⇧
In terms of betting options on offer, there's arguably no Nigerian betting website that can match 1xbet, based on what we've experienced. 1xbet can seem a little overwhelming at first glance, but once you get the hang of it, it's one of the most enjoyable betting sites in Nigeria. Unlike most betting sites, 1xbet offers dedicated email addresses that cater to separate issues such as payments and finances, security, and general inquiries, which speeds up response time. 1xbet also has a dedicated telephone for Nigeria. In total 1xbet offers 42 channels for depositing money into your account and 34 channels for withdrawing your funds, with most taking a maximum of 15 minutes. In terms of bonuses and promotions, you'll have your pick of betting bonus promotion when you register with 1xbet. It offers a 200% first deposit bonus up to ₦100.000, and also runs the occasional deposit offers on selected days. For more in-depth details about the bookmaker, you can read our 1xbet bookie review.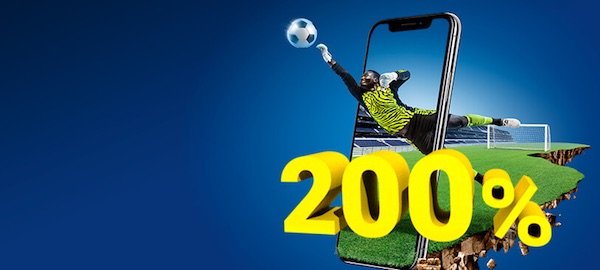 BETWAY ⇧

Betway's experience in sports betting is evident in its reliable services and wide range of betting offers. The large sportsbook provides multiple events with plenty of betting options at competitive odds. The Betway website layout is designed to make everything easily accessible to users. All the important features you need regularly can be seen on the homepage, for example, live betting, upcoming events, and on-going promotions. The betting experience is even better through the Betway mobile app, which allows you to live stream selected sports events through your smartphone as you continue betting. Betway customers can choose from a wide range of payment options that are all secure and reliable. Furthermore, their customer care team is available 24/7 and can be reached through multiple channels. New customers will particularly be happy with the welcome bonus of 100% up to N100,000. This is among the biggest bonus offers by bookmakers in the Nigerian market and the playthrough requirements are not that hard to achieve. If you are looking for a dependable bookmaker with high quality services and attractive offers then Betway is the place to go. This also shows in our Betway bookie review.


PARIPESA ⇧
Paripesa is one of the fastest-growing bookmakers in Nigeria. It offers the whole gamut of sports betting from Pre-match to in-play, Live Casino, Poker and many more. In terms of betting offers, Paripesa can compete favourably with most bookies operating in the country. The odds are competitive and there are multitudes betting options for punters. Customers of Paripesa are spoilt for choice with varied payment options. As far as bonus offers go, it offers 100% up to ₦100,000 for new customers as well as various other promotions for new and existing customers. You can learn more about how to use Paripesa bonus. Deposits and withdrawals are processed instantly. We also tested Paripesa for User experience and we are quite satisfied with our experience on the website. For more details, read our Paripesa review.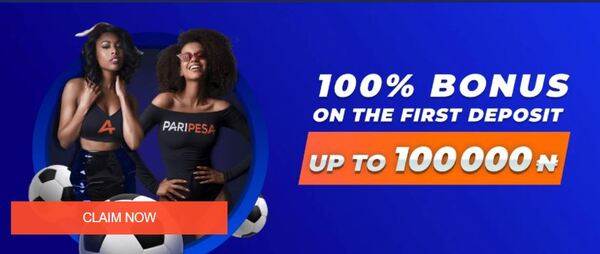 Conclusion
The Nigerian betting ecosystem is growing each day and the top betting sites at the forefront of the charge include Bet9ja, 1xbet, Betway, Frapapa and Paripesa. These websites offer the best betting experience, provide great support, offer multiple deposit and withdrawal options, and interesting bonuses. Any of these betting sites will serve you well, especially when you combine what's on offer with our sports betting tips. Don't forget to read our in-depth bookie review on these bookmakers to further aid your research.