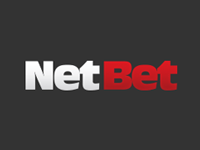 NetBet Nigeria
Advantages and disadvantages
Native apps for iOS and Android
Promotions and price boosts
Odds payout rate in some sports
Customers service not 24/7
Founded in 2001 the NetBet sportsbook has grown to become one of the top bookmakers in Nigeria. Operating on a Lagos license, NetBet offers a broad variety of different sports and has an extensive range of betting markets as well as options for almost every event offered. We have tested NetBet to analyse and review the sportsbook in terms of its usability, registration, deposit, and withdrawal procedure. Furthermore, we have analysed the bonus offers for new customers as well as the various betting options that the bookie offers for sporting events and on the bet slip. At the end of the day, you should be able to make an informed decision about whether NetBet offers everything that you look for in a good bookmaker.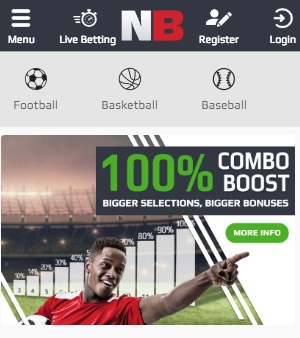 © NetBet
Deposit
How do I open a Netbet account?
Right at the NetBet homepage you can find the link to the registration form in the top right corner of the page. If you download the sportsbook as a mobile app, you are asked to register your account straight away. Opening an account at NetBet ist a fairly uncomplicated matter and it only takes three steps plus one additional step for claiming the first deposit bonus to complete the registration.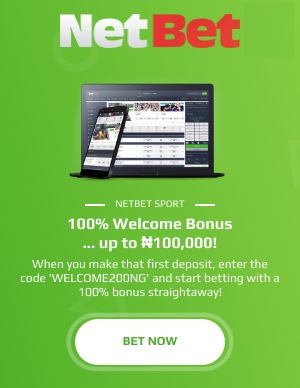 © Netbet
In the first step, you are asked to set up your account by providing your email address, password and the currency. Users from Nigeria will find the default option ₦ (NGN) set up. In the next step, NetBet asks you to provide some account details. For verification purposes, you are required to give your first name and surname as shown on your ID as well as your username and your DOB. In step three, you are asked to give your contact details. NetBet informs customers via SMS about special prizes and exclusive promotions. Finally, you can proceed to claim your sign-up bonus with a NetBet bonus code.
How can I put money on my Netbet account?
Once the registration form has been completed, you can proceed to making your first payment. NetBet offers three different deposit options, i.e. Paystack, Interswitch and Neteller. The first two options include typical methods such as Mastercard and VISA as well as transactions via Zenith Bank. In comparison to other bookmakers, this is a rather small selection of depositing methods, but it covers the three main options (i.e. credit card, bank transfer & e-wallet).
The minimum deposit limit is ₦100 for all three options. Promotion codes can be used when making a deposit. The signup bonus for making your first deposit at NetBet Nigeria is a 100% top up on your first payment up to ₦100.000. Furthermore, the bookie advertises a broad variety of promotion offers, including a ₦2000 free bet on your first mobile bet with NetBet and a range of combo boosts and enhanced odds boosts. Payments are transferred directly into your NetBet account and funds are immediately available for betting.
Payout
What's the best way to do a NetBet withdrawal?
The withdrawal methods on Netbet are varied when compared to other bookies operating in Nigeria. Most of the other bookies have the option of Bank payment, but Netbet has gone above and beyond to provide customer with alternatives.
The other options besides Bank withdrawals are Bank Cards, e-wallets such as Neteller, Interswitch and Paystack .For withdrawal via Interswitch, the minimum is ₦500, while the maximum is ₦250,000. For Paystack the minimum limit ₦500 while the maximum is pegged at ₦1,000,000.
The processing time depend on the withdrawal option you choose. But mostly payment can be completed within 24-48 hours.
Betting
Is the NetBet website easy to use?
Navigating through NetBet is quite easy as the design of the design of the sportsbook is very user friendly. This is true for the desktop version as well as for the NetBet app. In the app you can select different kinds of sports by swiping through the main navigation bar at the top of your screen right below the header which inlcudes links to the main menu, to your account information and to depositing. In the desktop version, a list of different sports is provided on the left hand side. The color scheme of the sportsbook is very easy on the eye and the way the site is set up in general facilitates the betting process quite significantly.
The most popular sports competitions such as the Premier League, La Liga or grand slam tournaments in tennis are listed at the top. A search bar is provided for users who are looking for something slightly more specific. You can always keep track of your active wagers on your bet slip and you can analyse your performance in your betting history. Overall, NetBet leaves nothing to be desired in terms of usability.
Which betting options are available at Netbet?
At the time of our test, NetBet was offering 35 different sports with betting markets. As usual, the bookie's focus lies on soccer with over 800 different events available. Tennis and basketball are also highly popular at NetBet with a combined total of about 400 events offered at the time we tested the bookie. In terms of variation across sports, NetBet certainly provides great width. Fans of fringe sports such as floorball, Gaelic football, hurling etc. will find plenty events to bet on. Interestingly, NetBet also appears to cater to up-and-coming sports such as e-sports and MMA. Especially the e-sports segment seems to be on the rise, with a total of over 150 events offered in March 2019. Now that we have established that the NetBet sportsbook offers great width, let's see if the bookie can maintain the high standards when it comes to the depth of the offer.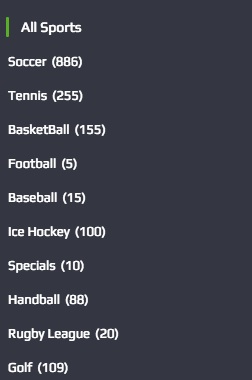 © Netbet
For the average Premier League game, NetBet offers between 100 to 150 different betting markets. These range from typical options such as three-way, over/under and scorecast to special bets such as team X to miss a penalty or own goal (yes/no). What we didn't find however, are betting markets for goal scorer bets or any player related betting markets. In comparison to other bookmakers, this is an absolutely adequate range of options. NetBet also offers in-play bets for all sorts of different sports and events. In our test, we found live betting events in soccer, tennis, rugby league, table tennis, Aussie rules football and plenty more. So there is definitely no shortage of in-play action. As far as the betting options on the bet slip are concerned, NetBet offers the fundamental single, combo (accumulator) and system bet options. As for the system options, Yankee and Lucky bets are available. If you want to polish up your betting skills, we highly recommend checking out our best betting strategies section.
Overall, the NetBet sportsbook and in-play section offer a broad variety of betting options, which are by no means overwhelming. Users can quickly navigate through the various sports, competitions and betting markets, and the betting slip provides a good overview of the various single, accumulator and system options available.
Support
How can I reach out to the NetBet support?
You can reach Netbet Support center through Whatsapp, Live chat and phone call. The Contact us section of the website is replete with information on how to reach out for complaints and other issues. Their response time is fast and the support staff is professional. There is a little snag though-the customer support office is not open 24 hours a day. So you have to contact them during the open hours.
Phone: +234(1)7001720 Open between 12:00 Noon and 8:00pm
Live Chat: Available from 9:00am – 11pm
Whatsapp: +2348084081702
NetBet conclusion
Overall, our analysis left us pretty impressed with the NetBet sportsbook. NetBet offers a broad range of different sports and definitely has something for everyone. Traditionalists will find plenty of betting markets in soccer, tennis, basketball etc. as will fans of fringe sports, combat sports and e-sports. The highly user-friendly design of the NetBet sportsbook makes the betting process an enjoyable experience.
Make sure you stay updated about NetBet's promotion offers and prize boosts which the bookie offers to its customers on a regular basis. We can certainly recommend NetBet.ng to everyone out there who is looking for a reliable bookie without any fuss.