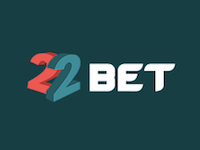 22Bet Kenya, Nigeria, Ghana, Uganda, Tanzania
Advantages and disadvantages
Paying with cryptocurrencies
Smooth betting app
Huge amount of betting markets
Website a bit crammed
22bet is one of the leading bookmakers in the African market. 22bet has been licensed Kenya, Nigeria, Ghana, and Zambia where betting customers can enjoy its ecellent offferings and services. The bookie is known for having a broad variety of betting markets, especially in football, and allows its customers to make deposits with a plethora of payment methods which also include cryptocurrencies such as bitcoin. We hope that our review can help you make an informed decision about whether 22bet is a bookmaker that you can rely on.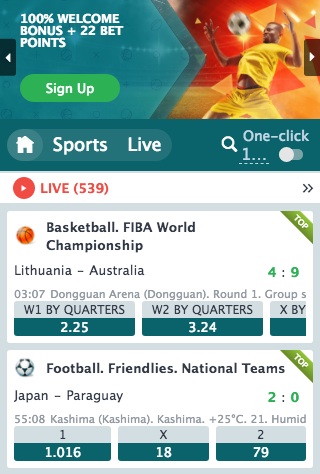 © 22bet
Deposit
How to register 22Bet?
Registration at 22bet is done by mobile phone via sms confirmation code. Just enter your phone number in the 22bet registration form to receive a verification code from 22bet. The only other thing you need at this stage is a password of your choice.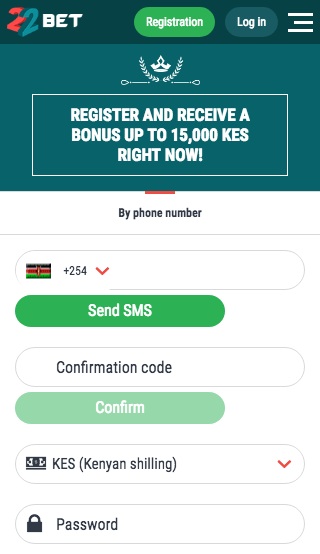 22bet
Once the registration form has been filled out entirely, you can proceed by clicking the green "register" button. Your account is then set up and you can make your first deposit. To claim your 22bet welcome bonus for your first deposit, click the following button.
22Bet bonus is different countries:
100% up to 750 GHS in 🇬🇭
100% up to 15,000 KES in 🇰🇪
100% up to 50,000 ₦ in 🇳🇬
100% up to 2,000 ZMW in 🇿🇲
100% up to 550,000 UGX in 🇺🇬
100% up to 300,000 TZS in 🇹🇿
Make sure to select the right bonus account before making the first deposit as bonus credits cannot be transferred from one account to another. The wagering requirement for the sports bonus is five times the bonus amount in accumulator bets. Each accumulator must consist of at least three selected odds of 1,40 or higher. Keep in mind that deposits in cryptocurrencies BTC, BCH, DOGE and LTC do not qualify for the bonus. The bonus credit must be rolled over within 30 days after receiving the bonus. Make sure to tick the "I don't want any bonuses" box if you do not want to receive a bonus for your first deposit at 22bet, as withdrawals from the customer account are not available until the bonus conditions have been met entirely.
How to deposit on 22Bet?
Making a deposit at 22bet is easy especially due to the wide range of payment options available, 22bet offers over one hundred deposit options ranging from credit cards, to eWallets to crypto currencies such as Bitcoin, Ethereum and Ripple. The range of payment options is so ample that it is almost impossible to reduce it to a list of top 5 methods for deposit.
For users who prefer a more conservative approach to making online payments, we can recommend relying on standard options such as VISA or Mastercard as well as eWallet solutions like Skrill, Neteller and ecoPayz, which are also available for withdrawal. In addition, you can also top up your 22bet account via pay bill using Airtel or Mpesa. The respective pay bill numbers can be found in the bookie's payment information.
If you are interested in using cryptocurrencies for depositing, 22bet is certainly an excellent choice with over 25 different options. These include popular crypto currencies such as Bitcoin, Bitcoin Cash and Ripple, but also more volatile options such as Tether. However, keep in mind that when you deposit, crypto currencies are subject to the exchange rate at the time of the deposit as you still place you real money bets in KES. Hence you should always keep an eye on the current developments in the crypto market. before trading your BTC or other currencies at 22bet.
22bet payment options per country
Mobile Money: - 🇰🇪 Mpesa; 🇰🇪 Airtel Money; 🇬🇭 Airtel Money; 🇬🇭 MTN Mobile money; 🇬🇭 Vodafone Cash; 🇹🇿 Airtel money; 🇹🇿 Vodacom Mpesa; 🇹🇿 Tigo Pesa; 🇹🇿 Halo Pesa; 🇺🇬 Airtel money; 🇺🇬 MTN money
E-wallets: 🇰🇪 🇬🇭 - Skrill, Epay, Skrill 1- Tap, Perfect Money, Sticpay
Debit/credit cards: 🇳🇬 🇰🇪 🇿🇲 Visa; 🇳🇬 🇰🇪 🇿🇲 Mastercard; 🇳🇬 Verve; 🇳🇬 Flutterwave; 🇳🇬 Paystack; 🇿🇲 Diners Club; 🇿🇲 Discover
Internet Banking: 🇳🇬 - Alat by Wema
Payment systems: 🇰🇪 🇬🇭 - Neteller, Payeer
Cryptocurrency: 🇰🇪 🇬🇭 - Bitcoin, Dogecoin, Etherium
Payout
How to withdraw from 22Bet?
Withdrawal from 22bet enjoys the same wide range of payment options available for making deposits. Any method that you used for making deposits will be available for withdrawals as well. Depending on your country, you can use mobile money, debit/credit cards, e-wallets, online payment systems, internet banking, and cryptocurrency.
Betting
How to navigate through 22Bet?
You will find it very easy to navigate through the 22bet website as it is desgined to industry standard levels. Better still, we recommend using the bookmaker's app as the sportsbook is much better organized in the 22bet mobile version than it is in the bookie's desktop version. The 22bet app is available for both iPhone and Adroid users and can be downloaded at 22bet.co.ke.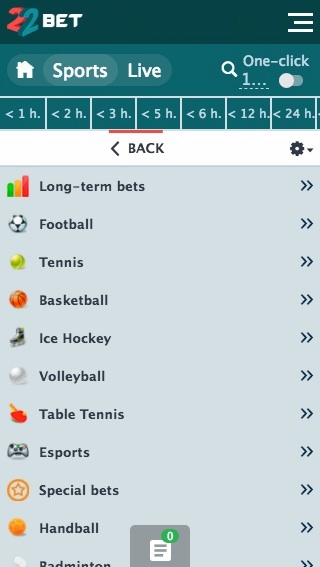 22bet
As the screenshot above shows, 22bet provides a neat list of different types of sports, betting markest and betting options, such as longterm bets. If you want to bet on in-play action, just hit the respective "Live" button. You can also find a broad selection of in-play options on the front page. To open the bet slip, just swipe up. There, you can always keep track of ongoing bets and potential winnings.
What do I have to know about the 22Bet Sportsbook and Betting options?
At the time of our test, 22bet offered a total of over 40 different sports as well as special markets for weather, lottery, TV-game shows and special bets on events in politics etc. Overall, the offer is at times quite exotic with a huge e-sports offer as well as options such as pesäpallo, hurling, Gaelic football and many others. But of course, classic options such as soccer, tennis and basketball still dominate the sportsbook. If you are into martial arts, 22bet also has a broad range of offers for events in UFC, Bellator, and pretty much every boxing division as well as the traditional sport known as Kabaddi.
While the range of different types of sports is certainly an important factor to be considered, most bettors usually rely heavily on one particular sport, but like to bet on a range of different markets. If you are a soccer expert, you're unlikely to wager on the top scorer in the NHL, but more likely to place a bet on the next goalscorer in the U23 international that you're following in-play. Hence it's important to scrutinize the depth of the sportsbook as well as the width. For instance, we have checked out the number of betting markets for a premier league encounter between Liverpool and Newcastle United. At the time of our test, which was ten days prior to kick-off, 22bet already offered a total of 1184 different markets for the game, meaning that you can practically bet on absolutely anything you can think of. Wincast, scorecast, Asian handicap, goalscorer, Over/Under, half time/full time just to name a very select few. The range of options is virtually endless.
22bet
If you know your sport in and out, 22bet provides every betting option that you will need to wager successfully. There are not many bookies out there who can match this depth. For comparison, in our Netbet review, we recorded a total of 100 to 150 different betting markets for a similar soccer event. If you like to combine your bets on one bet slip, you find a variety of options as well. 22bet offers accumulator, system, and chain bets as well as lucky, multibet and patent options. Furthermore, you can choose whether you want to accept odds change only in case they increase or whether you will also accept reduced odds.
Support
How do I get in touch with the 22Bet support?
Customer support on 22bet is available 24/7 and you can reach them through several platforms in case you have any issues that you want addressed. These include phone, email, live chat, contact form, and social media. The Live chat support is available on the website or mobie app at any given time you log in. You can also fill the contact form and send them a message about your issue and they will write or call back with a response within 24 hours. The website lists email addresses for specific departments that you can contact directly to have your issue resolved.
22bet summary
To sum up, the 22bet sportsbook offers everything a good bookmaker should provide. The width and depth of the sportsbook is excellent and customers can choose from a broad variety of different payment options, even cryptocurrencies such as bitcoin, litecoin and ripple can be used for payments. For the best user experience we recommend downloading the 22bet app, as the mobile version of the sportsbook is, in our opinion, better organized and more user-friendly than the desktop version, which can at times appear quite crammed with information and offers.