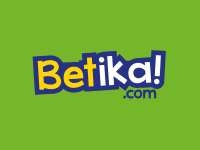 Betika Kenya
Advantages and disadvantages
User-friendly website
Fair odds payout rate
Large sportsbook
Payments only mobile
No welcome bonus
Betika, which was established in 2016, is one of Kenya's leading sports betting companies, providing its customers with a diverse variety of betting options, big jackpots, and very attractive betting odds. Betika, which had already been making headlines and disturbing the status quo since its birth, inadvertently got its biggest breakthrough in 2019 when a government-led purge on the sector culminated in the departure of key market leaders, leaving a huge hole into which Betika has now stepped to become one of the market leaders itself.
It has grown ever then and now started operations in other countries like Nigeria, Ethiopia, and Congo as it seeks to a major brand and one of the top 10 betting sites in Africa.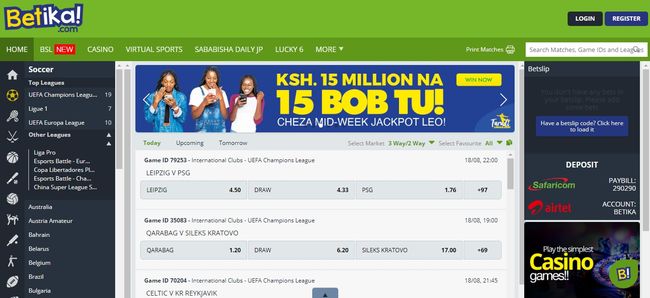 © Betika
The bookmaker is well-known for offering a wide range of betting markets, especially in football, and for allowing customers to make deposits using a variety of payment methods.
We hope that our analysis has helped you make an educated decision on whether Betika is a trustworthy bookmaker. We have also analyzed other bookmaker reviews in order to learn more about their product offerings and to evaluate who has the best betting bonus in Africa on our page.
Right now only customers from Ghana can be forwarded to the Betika sportsbook. There are some technical issues in Kenya. Therefore you'll reach the Mozzartbet Kenya sportsbook with our Betika buttons.
Deposit
Registration at Betika can be done using three ways, on the website, SMS, and USSD. All these avenues offer very simple and straightforward ways to register.
Registering online via the website is a simple task. You only need a cell phone number and a password. Simply click the "Register" button in the upper right corner of your phone. This will direct you to a sign-up page where you will type your phone number and password.
After that, Betika will give you a verification code via SMS from the 29090 number. To check your identity, enter this authentication code. When you make the first deposit on the platform, the rest of the information will be authenticated. This procedure takes just a few minutes and, you shouldn't experience any difficulties.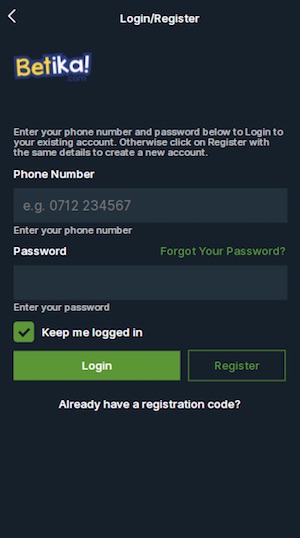 © Betika
When using SMS registration, just send a text message to 29090 with the phrase 'REGISTER.' You will receive an SMS confirmation of your registration from the same number. As for USSD, simply dial *644# and follow the instructions.
Your account is then set up and you can make your first deposit and start betting. Check our suggested betting tips just for you for free.
They do not currently offer an incentive for new registrations, but instead, they have a bonus point scheme that is dependent on the bets placed in their accounts. These points can be used to put on jackpot games or redeemed for cash.
Their first deposit cashback incentive in which they repay the customer's processing fees for their first deposit of the day every day. This bonus, however, cannot be exchanged for cash and must be used to position bets with a minimum odd of 9.99.
Making a deposit
There are basically only two ways to go about this, both of which are mobile money solutions, namely MPESA and Airtel Money. Kes 50 is the minimum deposit number. The convenience of Betika's instant deposit functionality is unrivaled. Your payment is almost instantly shown on their website. Check what other Kenya betting sites have in terms of payment methods.
1. On Safaricom's MPesa:
Go to your M-Pesa menu and select Lipa na MPesa
Select Pay Bill and enter 290290 as the business number
Input BETIKA as the account number
Enter the amount you wish to deposit and your MPesa PIN and send
You will receive an SMS confirming your transaction
© Betika
2. On Airtel Money
Go to your Airtel Money Menu and select the Make Payments option
Got to others and choose Paybill option
Input BETIKA as the business name and enter the amount
Input your PIN and then write BETIKA as your reference
You will receive an SMS confirming your transaction
Payout
Betika offers the two most popular mobile money services in Kenya as withdrawal methods for its customers. These are Safaricom's Mpesa and Airtel money. Most betting customers have either of these mobile wallets linked to their betting accounts therefore withdrawal is easy. The absence of other payment methods seems not be much of an issue since Betika have stuck with only mobile money options since it was launched. It takes only a few minutes and the money will be in your phone when you use either of the mobile money withdrawal method.
Betting
The betting platform easily provides all of the information you need at a glance. Though the User Interface is very appealing and the home page contains all of the information you need and it is easy to navigate. They have a high header at the top that doesn't take up too much room and a navigation panel on the left that displays all of the available sports. Furthermore, they have a main top menu that shows their most important elements, as well as a widget to the right that shapes the betting slip. The talk feature is docked at the bottom right, overlaying the betting slip, while the center has more information on the slots, IDs, and available odds.
Betika offers a smartphone app for both Android and iOS users. The software is available for free download. From your mobile device, you will have access to all of the bookmaker's features and offers. Learn more about the best betting apps. The mobile edition is also well optimized for those who do not have the mobile app.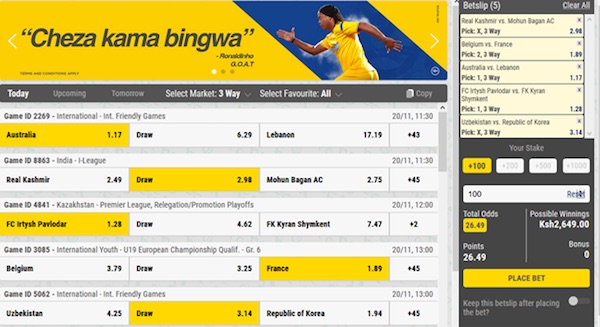 © Betika
Betika Sportsbook and Betting options
These are some of the main reasons Kenyans enjoy Betika is the large variety of sports betting opportunities open to them. This website has you covered whether you're looking for traditional sports like soccer, tennis, ice hockey, volleyball, cricket, or new virtual sports. You will be able to bet on top leagues such as the UEFA Champions League, WTA, NHL, MLB, UFC, T20I, among others. The betslip is simple to understand. On the Betika betslip, you can find the complete odds, potential win, withholding tax, and possible payout details. Unlike other Kenyan betting pages, the website includes Betika TV, which allows you to watch various soccer leagues in real-time.
Betika offers three jackpots: the Grand Jackpot, which can be worth up to Kes 100 million, the Midweek Jackpot, which can be worth up to Kes 15 million, and the Sababisha Jackpot, which can be worth up to Kes 200,000 a day.
The rules for the various jackpots vary in terms of the number of games and the bonus conditions. Examine them before you place your bets.
Support
Betika customer support is available 24/7 and can be reached through phone call, email, and social media. Their Facebook and Twitter page are very active in engaging with customers. You can also fill the contact form on the website and provide your email for their response. They have a very responsive customer care team and most issues are resolved promptly. The only downside is that there is no live chat button on the website that you can use to chat directly with the team.
Betika summary
Bеtikа Kеnyа hаs bесоmе оnе оf thе mоst rеliаblе рlаtfоrms thаt аnу bеttоr wоuld dо wеll tо сhесk оut. Punters саn think а ton mоrе thаn just bеttng hеrе, аs thе рlаtfоrm аlsо оffеrs livе strеаming аnd саsinо gаming, аnd tаkе аdvаntаgе оf аnу. You should review our betting strategies and see how you can get a big return on your money before you start making bets.
The website is simple to use thanks to its graphics and user-friendly nature. The color scheme is adequate, and the pages load quickly. All essential features are accessible directly from the homepage or via tabs/links. Under each sporting category, you can clearly see all of the ongoing live activities as well as future events.
We recommend using their app for the ultimate user experience since the mobile edition of the sportsbook is more structured and more user-friendly than the desktop version, which can appear cluttered with facts and deals at times.