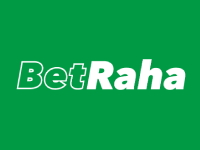 BetRaha Kenya
Advantages and disadvantages
Excellent sportsbook
Very good odds
No first deposit bonus
BetRaha is one of Kenya's most prominent sports betting website. The bookmaker offers a diverse range of sports, competitive odds, a comprehensive Sportsbook complete with enormous betting options to boot. This website is owned by Premier Bets and operated by Two Tie Ltd, a company registered and operating out of Nairobi, Kenya. Premier Bets operates in 17 countries in Africa - for example in Nigeria with it's brand Ogabet.
In Kenya the company began operations in 2018 and BetRaha is fully licensed to operate in Kenya, as they under the strict regulations of the Betting Controls and Licensing Board, with a license number 216.
Bet Raha has one of the best website designs around today. With its simple yet classy design, BetRaha is unarguably one of the most navigable sports betting website available in the sports betting industry today. With BetRaha, the customer is sure of a superior surfing and betting experience due to the functionality and user-friendly layout of the website.
We have put all of the essential features such as registration, Sportsbook depth, odds and payment methods to test. And we are not surprised about its growing popularity with Kenyan bettors.
Read more about the best betting sites in Kenya to get the best offers and promotions.

© BetRaha
The Betraha sportsbook is currently under maintenance. During this time you can check out some other betting sites, like for example Mozzartbet!
Deposit
Opening an account with Bet-Raha is easy and it can be completed with very few steps. We have tested and outlined the steps below. To register on the BetRaha website, all you have to do is to follow these steps:
Log on to www.betraha.co.ke and click on the REGISTER button on the top right of the homepage.
A registration page will be displayed.
Enter your phone number and preferred password in the fields provided.
Check the confirmation of age and acceptance of BetRaha terms and conditions boxes.
Then proceed to click on the send registration code button at the bottom of the registration form.
Thereafter, a registration verification code will be sent to your phone via SMS.
Enter the code in the space provided to confirm your identity to complete the registration process.
We have useful tools such as our betting strategies and betting tips, to start wagering on a winning note.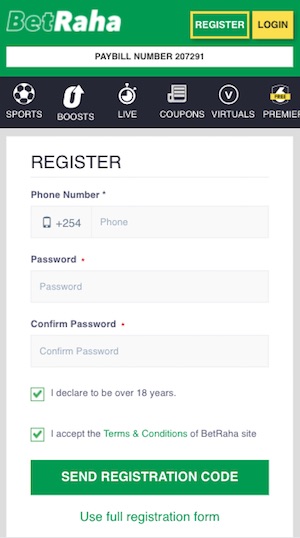 © BetRaha
Now that you know how to register on BetRaha, let's bring you up to speed with the bonuses on offer.
At the moment, BetRaha does not offer a welcome bonus to new customers. This might appear discouraging but there is really no need to feel that way as there are other great promotions and offers you can enjoy when you sign up. For instance, BetRaha rewards you with up to 750% extra cash on your winnings in their Win Bonus promotion. To qualify for the Win Bonus, your bet slip should have between 3 and 50+ events at odds of at least 1.20 and if it lands, Bet Raha will increase your winnings from 3% up to 750% automatically.
There are also rewards for high rollers. You can get up to 1000 KSH in rewards every week. To qualify, opt-in to the BetRaha Loyalty Club and simply bet 10 KSH on any sports of your choice on odds of at least 2.00.
BetRaha will then reward you with 10 KSH in free bets when you stake 200 KSH to 1000 KSH weekly. Similarly, you will get 1000 KSH worth of Free Bets if you stake 10000 KSH on the Sportsbook weekly.
We have compiled all of the welcome bonus offers for you to avail yourself of the opportunity of a startup Bankroll.
MAKING A DEPOSIT
Like many other Bookmakers operating in Kenya, Mobile money is the major means of payment. BetRaha becomes an obvious choice because customers can get their transactions done through mobile money with no hassle.
At the moment, only mobile money payment method is available on Bet Raha through Safaricom's Mpesa. This happens to be a very popular payment method for betting in Kenya so many customers are sorted.
To make a deposit, log into your Betraha account, click on 'Deposit' and then select Mpesa mobile payment. Input the amount you wish to pay and enter your phone number then click on the Next step. Then input your mobile money pin and you will be immediately credited. Alternatively, you can use your Mpesa account to send the amount you want to deposit to PAYBILL 207291 and it will be ccredited to your Betraha account immediately.
Payout
For withdrawals, the minimum withdrawal amount is 50 KSH while the maximum is 150,000 KSH. To effect a withdrawal, just follow the processes below:
Log in to your BetRaha betting account
Tap on the WITHDRAW option
Enter the amount you wish to withdraw
Now click on WITHDRAW and PROCEED with the payment
Your request will be processed and your account credited

© BetRaha
Betting
The BetRaha website is simple yet effective. The navigation is second to none. A quick glance at the homepage will reveal all you need and where they are. The blend of Green and Black colours also give the website is aesthetic outlook.
The website is also free of pop-ups, so seamless browsing of the site is guaranteed. The appearance is catchy and the Sportsbook is well laid out. The header section contains the link to the Sportsbook, Live betting, promotions and virtual games. The left section also provides links to the different sports available on the Sportsbook. The bet slip is displayed on the right. When you select games to bet on they are displayed on a bet slip in very clear terms.
Whether you are an experienced bettor or a newbie, you will not have a hard time surfing the BetRaha website. BetRaha does not have a native app yet, but the website is fully optimized and well- developed mobile version and you can access all the features found on the desktop on the mobile version.
You can find out more with our comprehensive review of the best betting apps.
BETRAHA SPORTSBOOK AND BETTING OPTIONS
BetRaha has an extensive Sportsbook complete with various betting markets and options. We counted over 20 sports in the Sportsbook including Esoccer, Waterpolo, Snooker, and Badminton. That is not all. What is a betting site without the Football market? BetRaha biggest offering is football and of course, they do have other sports like Basketball, Boxing, Cricket, Table Tennis and much more.
Our Tipsters have worked hard to put together well researched straight wins for tomorrow. They are available to you for free.
The bookmaker does not have a non-sports market, making it essential for sports betting. Apart from the conventional sports, customers can also wager on Esports. There is also a huge Live betting section. If cashing in on odds as they are updated live is your comfort zone then BetRaha is suited to your needs. The live betting section is particularly appealing and punters can follow live games with a digital scoreboard.
The odds are also very competitive. Not many betting sites out there have better odds on offer than Bet Raha. This is evident with their 95% odds payout rate. Sometimes the lower limit for the odds payout could be 91% but more often than not punters get good value for money with a 95% payout.
Want to follow your bets live? We have compiled a list of where to enjoy live streams.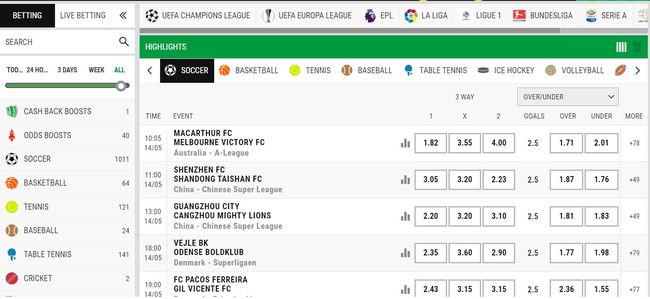 © BetRaha
Support
You can contact Betraha customer spport through phone, email, live chat, and social media pages. There is also a contact form on the website that you can fill. Just click on 'contact us' to open the form and the customer care team will contact you back with answers to your querries. The Live chat feature on the website is available throughout but goes offline sometimes, especially during the night hours. If you want to contact Betraha through social media, you have the options of Facebook, Twitter, Instagram, and Whatsapp chat. The customer ccare team are very responsive and willing to help you as soon as possible.
The Betraha sportsbook is currently under maintenance. During this time you can check out some other betting sites, like for example Mozzartbet!
BetRaha summary
Generally, BetRaha is a good betting site with contemporary features and offerings. Our test has revealed that BetRaha is at par with some of the betting sites around the world. Although maybe it will be much more appealing to Punters with a welcome bonus.
The sportsbook is excellent! It straddles all our favourite sports. All the popular sports and the not so popular ones are well covered too. The betting market for each sport is numerous and there is almost no limit to what you can wager on. The live betting is well designed and the odds are mouthwatering for both the pre-match selection and live betting.
The payment method is fast and efficient. They have integrated Mpesa mobile payment which is accessible to most Kenyans. To this end, payment into and withdrawals from your betting account are seamless and completed in a matter of minutes.
In BetRaha, Kenyans now have a trusted and reliable betting site that ranks high amongst African betting sites.