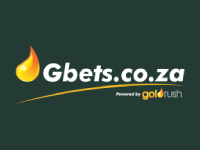 Gbets ZA
Advantages and disadvantages
User-friendly website
Safe & reliable bookmaker
Many promotions
No 24/7 customer service
Gbet is a Sports betting site fondly used in South Africa by Punters, owned by Goldrush Gaming Group,Gbet bookie website covers a variety of sports and betting events, that extends to international ones, such as Basketball, volleyball, Tennis, Golf, and Soccer. As per license demand, Gbet is licensed and regulated by the Western Cape Gambling and Racing Board and is restricted for use to people above 18 years of age and above.
Gbet offers a great and wide diverse sportsbook for to its users. The betting market as per tradition is attached with a first deposit bonus upon opening an account.
In this review we will look closely at Registration, Bonus, Deposit, Withdraw, Usability, Sportbook, and Support, which will leave you with a lot of information about Gbet website and make sure you get acquainted with the Website, that's if you are new to it.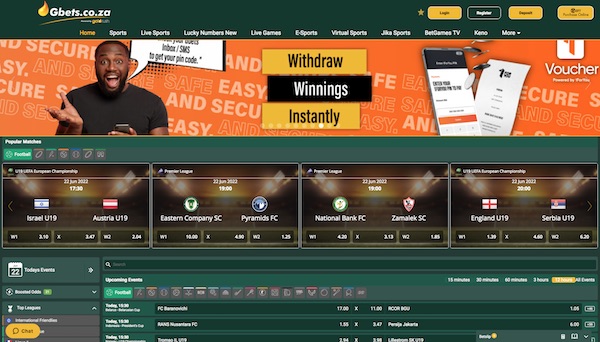 Gbets homepage
Deposit
How's the www gbets registration working?
Gbet website registration requires one to complete the specified form for registration, with very few details such as location, email, identity card, and contact number, after successfully keying that information, press on the registration button and you await a message via email, upon confirming the registration, you are good to go and place bets as you would love to. As per tradition Gbet is no stranger, it also offers a good welcome bonus upon signing up, they will gift you a cool R25 welcome bonus! and 125% worth of your money on the first deposit.
To Register on Gbet.co.za, follow these simple and quick steps below:
Click on the Register button on Gbet website: the yellow button will open a file once you click on it.
Key in your required details, names, email, and id: file the form starting with the phone number to the last one source of income, though promo codes are optional.
Click on the register button: after successfully keying your particulars, click on the register button, in this case, it's submitting button.
Confirm registration with the email sent to you: Check your email to confirm, after which you are good to go.
After confirming, you are ready and set to place your bet. In order for you to claim the first bonus, there are steps to follow. But first, you've to make a Gbets deposit.
Which Gbets deposit methods are available?
With Gbet, comes a variety of convenient deposit methods at your disposal, that extends to 24/7 services as you may wish to place a bet at any time and Gbet has made sure that once your deposit is done, you get your Gbet account funded instantly without been charged a dine.
Gbet has made available four payment methods, that are readily available across South Africa.

Gbets payment methods
Once you are certain of which mode of payment, click on the deposit button, then select options, where you get to input the amount, However, in EFT you select the bank and use identity for reference.
As for OTT vouchers and 1 Voucher, a pin is needed to deposit funds. While a Credit card you have to input card details as required.
Note: That minimum deposits range from as low as R5-R50 on all payment methods.
Is there a Gbets bonus for new customers?
The Gbets sign up bonus, however, has some form of claim steps for one to access the bonus, they are simple steps and are listed below:
Registration: Vital information like full names, Identity, location, and email is to be filled in as per requirements.
Accept the ts and cs on the box written Register'.
Check your email to confirm registrations.
Automatically you are treated to a free sports bet at this point.
Lastly, you can have your funds deposited to claim your first deposit bonus.
Gbet grants you a double on your first deposit as a new user, with a minimum of R20 of deposit and a maximum bonus, is R1000.The bonus however expires within a month upon being granted.
The other option for you as a new customer is the R25 Sign up Free Bet. Just activate it and place a pre match or live bet with the minimum odd of 1.50. If the bet is correct, you'll receive the net winnings (without the R25 stake).
Payout
How to withdraw money from Gbets?
To access withdraw funds, you place on withdraw button, then the select amount you wish to withdraw, followed by mode and key in the amount you intend to withdraw and submit upon which payments will be credited immediately.
Betting
How's the usability of the Gbets website?
Gbet has made its website user-friendly, but like any other bookie, once a bet is placed it cannot be reversed. The website is user-friendly, making it easy to use even for would-be starters in sports betting since it is well structured.
Punters who often love to bet online are well treated here, Gbet website has a good display of odds for games from all over the world. Check out more of our reviews of the betting companies in Africa done by our well-experienced team.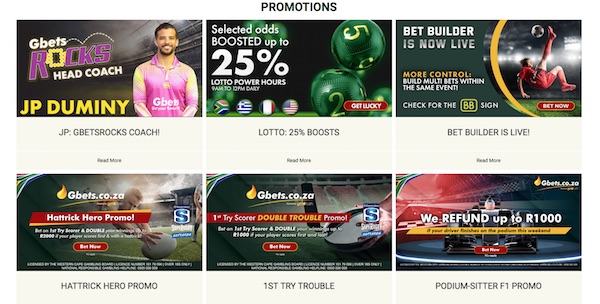 Gbets promotions
What to know about the Gbets sportsbook?
Gbet bookie has a variety of options for its punters to choose from. Sports markets range from Volleyball, Netball, Ice hockey, Baseball, Basketball, Football, and many more. Gbet also allows a punter to stake on the live bets.
Be wise to take a look at our betting tips just for free!
Support
How can I reach out to the Gbets support?
Gbet customer support, is available on the live chat too, punters can also access customer care via email, phone, fax, or WhatsApp.Gbet customer services are not available 24/7, but it is however available throughout the week from 08 AM to 10 PM, making it hard for punters to have their quires solved in due time.
Gbets South Africa conclusion
If you are in South Africa make sure to open an account with Gbets. With its wide sportsbook, which also comes with live bets, which every quick money maker punter demands, its no doubt it's gaining populace amongst South Africans.
The Gbet layout of the website is simple making it easy even for new online punters to navigate through it and its wide display of the website content makes it user-friendly.
Since different punters will need different payment methods, Gbet has a variety of those modes of payment making it convenient for its users in South Africa, with a minimal deposit fee allowed as low as R5 is a good deposit.
Gbet has gained the confidence amongst South African punters with the quality services it offers we are satisfied with its services and we recommend it , go open that Gbet account now!