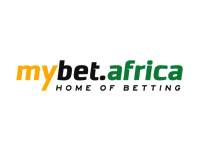 Mybet Africa Review
Advantages and disadvantages
Website easy to use
Good support
Lacking depth of sportsbook
ℹ️ℹ️ℹ️
Mybet.Africa isn't part of the Livetipsportal portfolio anymore. One hell of an altenative in Ghana is Betboro with a great sportsbook, service and nice promotions.
ℹ️ℹ️ℹ️
Mybet Africa is an online betting company that operates in Ghana. It is licensed by the Gaming Commission of Ghana (GCG) and started operations in 2014. Mybet Africa has steadily grown into one of the most popular online sportsbooks in Ghana with its attractive offerings and reliable services. The bookmaker provides tailored services that are suitable for this betting market.
We have done an extensive review of Mybet Africa and covered all the important areas. We look at the sportsbook and the range of betting options available. The registration process is described together with the payment methods available. We also touch on the bonuses offered by the bookmaker. Read our more detailed Mybet Africa bonus review here.

© Mybet.Africa
Deposit
How to create Mybet account?
My Bet Africa is currently available only in Ghana and Nigeria so you have to be a resident in these countries in order to successfully register an account. The Mybet registration process is fairly quick and easy as they do not require much information. You are required to provide your full names, mobile phone number, username, and password. You will also indicate the country, city, and preferred currency. Once you complete filling up the registration form, click the box provided to indicate that you are over 18 years and agree to the Terms and Conditions. The entire registration process takes just a few minutes.
How to deposit in Mybet Africa?
Mybet Africa offers several payment options, mostly mobile payment services. Mobile payments are popular in Africa due to they allow users to send and receive money quickly and conveniently. When you register an account with Mybet Africa, you will be required to provide a mobile phone number through which you can make deposits and withdrawals from your betting account. To make a deposit, log into your Mybet account, go to the deposit section, and select your mobile services provider. Enter the amount and your PIN number and then click on the green 'deposit' button to complete the process.

© Mybet.Africa
Mybet Africa accepts payments via MTN Mobile Money, Airtel Money, Tigo Cash and Vodafone Cash among other mobile service providers. The transactions happen immediately. A deposit coupon can also be purchased at any Mybet Africa betting shop location. On the Mybet Africa website, navigate to the deposit section, select the voucher option, type in the voucher code, and then click the deposit button to use a voucher.
Payout
How to withdraw from Mybet Africa?
Considering the massive pospularity of mobile money services in Ghana and Africa at large, Mybet.africa has integrated the three mobile payment options in its withdrawals with no charges hence easing the betting process for its clients. Mybet.africa offers the following withdrawal options.
MTM Money: Min. 10 GHS | Max. 10,000 GHS | Immediate | No service charge
Vodafone Cash: Min. 10 GHS | Max. 10,000 GHS | Immediate | No service charge
AirtelTigo Cash: Min. 10 GHS | Max. 10,000 GHS | Immediate | No service charge
Typically, withdrawals are always instant and fast unless of course there are technical issues with the specific mobile networks which you can check with customer support.
NOTES: For customers' first withdrawal, you will be required to provide proof of identity.
Betting
How's the user experience on Mybet?
Mybet Africa website rates highly in terms of usability. The layout is simple and neat, making it easy for users to find various items. The overall look and functionality are quite impressive. The website has been optimized for mobile devices to ensure users don't miss out on anything. The search function allows you to make specific searches by refining details such as events, dates, and time. Users can easily see their bet slip on the screen as they select games. There is also a Live Chat shortcut if you want to speak to their agents.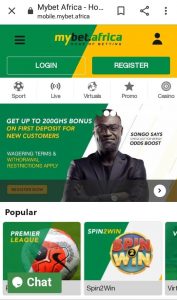 © Mybet.Africa
Overall, it is quite easy to navigate around the Mybet Africa website. Users can easily find what they are looking for. The homepage has all the important features and shortcuts that you will need if you use the website regularly for betting activities.
What about the Mybet Africa sportsbook and betting markets?
Mybet Africa has at least 15 different sports categories in addition to other special categories. Football betting is clearly the most dominant on the page, accounting for over 60% of betting events. This should be good news for the majority of betting fans in Ghana and Africa because football is their favorite sport for betting. Other popular sports include basketball and tennis. You can follow our football betting tips to improve your winnings.
Under each sports category are multiple events, particularly for popular sports. For example, fans can bet on football games from all the top leagues and competitions in Europe and the rest of the world. Each event opens to plenty of markets and betting options for different kinds of outcomes. You can use the bet slip to place single bets or multibets easily. Get tips on the best betting strategy from our page.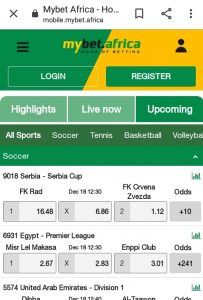 © Mybet.Africa
It is fair to say the Mybets Africa sportsbook has got good depth and most fans will be happy with the options available. All the well-established betting options and markets are available plus many more.
Support
How to contact Mybet Africa?
Mybet.africa has a variety of channels available for their clients in need of any help with the website. Their support staff is very responsive and polite and available 24/7. You can easily reach them through the following:
Live chat: this is the easierst means of contact with instant response.
Contact form: On the website you can fill this and and it will be sent to Mybet email. You will be replied through email within 24 hours
FAQs: This os where customers acess information on various subjects. However, their FAQs section is currently shallow and not answer all your questions
Mybet Africa review and conclusion
Overall, our review of Mybet Africa looks promising but they still have some work to do to catch up with the top bookmakers. The sportsbook has a wide range of sports, but there is a focus on just a few sports in terms of depth. Fans of football, basketball, and tennis will be happy with the sportsbook but fans of other sports may not be impressed. Mybet Africa needs to increase the betting options, markets, and events for the other sports categories to accommodate a wider variety of betting customers. Mybet Africa website scores highly in terms of usability. The user interface has a simple layout and users can easily find features and information. The popular betting markets can be accessed directly from the homepage. The search function also makes it easier to refine a search using specific information categories. The payment options are seriously limited. Mybet Africa offers only vouchers and a few mobile payment options. It is missing other crucial payment options in the betting industry such as debit and credit cards, bank transfers, and e-wallets. The limited payment options are likely to keep away serious betting customers. Learn about other betting sites in Ghana here.