Sportybet Nigeria, Kenya & Ghana
Advantages and disadvantages
Competitive sportsbook
Quick and easy registration
Payment methods
Sportybet may not be among the oldest betting companies in the African betting industry, but it has taken the gambling market by storm. Sportybet is one of the leading online bookmakers with a presence in various African countries including Ghana, Nigeria, and Kenya where they are fully licensed and operational. With its headquarters based in Nigeria, and runed by sporty Ltd Trading. Sudeep Ramnani is the founder and CEO of Sportybet. An indian nationality with a passion for finetech in Africa.
From the moment you land on sportybet website, it is immediately evident that a punter is in for some real betting fun. Sportybet offers quite an extensive list of sports and betting options for punters and lovers of virtual betting. More importantly, it offers an in-depth betting markets and mouthwatering welcome bonus and other fantastic promotions which suites customers taking into consideration the residence of their customers.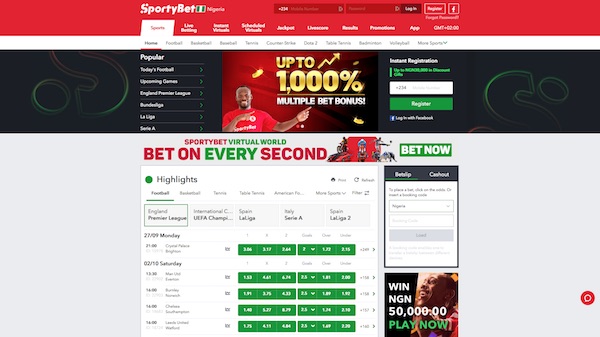 © Sportybet
Our Sporty bet review walks you through the bits and bytes of the Sportybet website and the enticing features it offers to African punters. Focusing on Registration, welcome bonuses, Sportybet mobile app, sportsbook, payment methods, and website usability. We will take you through all there is to know ranging from how to set up a Sportybet online betting account, how to go about the payment methods, not forgetting their welcome bonus and other cool benefits that are associated with using Sportybet. Just relax and get acquinted with all you are supposed to know about this exceptional African betting site.
Unfortunately you can't reach Sportybet Nigeria right now from our website. Try out 1xBet instead!
Deposit
For you to gain access to Sportybet's nice offers and enjoy other features, you need to have a sportybet registered account and get yourself familiar with the site. Fortunately registration is absolutely free, with no expenses at all. The process of registration on Sportybet does not get easier than the steps enumerated below. But first we take a look at the bonus offer.
Sportybet has taken a significant stride in the betting world with a lucrative bonus for new customers. This bonus is exclusive to new players' upon making their first deposit. This bonus does not require any promotional code, but there are Terms and Conditions to be fulfilled before they can enjoy the bonus.
As a traditional bookmaker, Sportybet has considered the residence and traditions of customers to offer its welcome bonuses in the countries that it operates.
For Sportybet GH, New customers get a reward of first deposit up to GHS 150.00, 100% returns immediately upon first deposit as free bet gifts which can be used during betting, taking into consideration the T&C.
For Sportybet Nigeria, get a 150% return on your first deposit! As free gifts which can be used during betting taking not of terms and conditions.
For customers in Kenya, you are offered Karibu gifts up to 1500 KES of your first deposit! This welcome bonus can increase up to 300%.
MAKING A SPORTYBET DEPOSIT
Like promised, we now take a closer look at your registration process and following up to deposit procedure at Sporty bet.
Time needed: 3 Minutes
Visit a sportybet's website → www.sportybet.com
Click on the Register button located at the top right corner of the Sportybet website homepage.
Fill in the required fields which is your registered phone number and a chosen password.
Click on the green highlighted "Create account button", a verification code (OTP) is immediately sent to the phone number you used to register.
Submit the account verification code in the next page and have your account automatically created.
The above process is typically the same for all the countries sportybet operates.
After a successful registration, the next move is choosing your preferred deposit method to enjoy the Sportybet irresistible welcome bonus. This leads us to the payment methods available for customers with Sportybet. Our expert team after an insightful look into Sportybet Africa, the basic transactions users have to make on sportybet are:
Deposit Options Available at Sportybet
The key to success of players in the gaming industry is your ability to wager seamlessly, and this starts when you can make a deposit without having issues. Luckily, no matter where you are, be in Ghana, Nigeria, Zambia or Kenya, there are quite a number of ways to fund your Sportybet account. For ease of use, Sportybet has chosen deposit methods which suites customers at all places it is operating.
🇳🇬 For Sportybet Nigeria, the deposit options include:

© Sportybet Nigeria
Sportybet will pay all sevice fees for all the methods other than Quickteller that charge N 100.00 per deposit. The minimum deposit amount per transaction is N 100.00, and maximum is N 9,999,999.00. There is no limit to the number of deposit transactions.
🇬🇭🇿🇲 If you are a Sportybet customer in Ghana or Zambia, you can also deposit funds easily. Sportybet has aligned to their most popular Mobile Money means of transactions, which are:

© Sportybet Ghana

© Sportybet Zambia
Customers are offered two options when using any of these deposit methods, either through Paybill or by Online Payment.
The minimum deposit for Ghanaian customers is GHS 1 while the maximum deposit amount per transaction is GHS 20,000.00. In Zambia it's ZMW 2.00 and ZMW 20,000.00. A fee may be deducted by your mobile provider.
🇰🇪Residence of Kenya can also deposit through M-Pesa. Sportybet has 3 options under M-Pesa, they are:

© Sportybet Kenya
There is a small fee unless your deposit is over KES 250 in which case it is free of charge. Minimum deposit on Sportybet Kenya is KES 1.00, and maximum deposit per transaction is KES 70,000.00.
Important Notice: To avoid problems, Sportybet has a "DISCLAIMER" stating that you should be careful while carrying out deposits. In cases of loss, you will be responsible because you carried out the deposit yourself.
Payout
Sportybet has recognized the need for smooth payment processes and has ensured that across the countries that they operates. In most cases, withdrawals are allowed through the same method you deposited the funds.
To withdraw, follow the steps below:
Go to My Account on the top right corner of the page, where you click on Withdraw button.
Enter the amount and click Withdraw to receive your money immediately after confirmation.
While withdrawals in Ghana and Zambia are free, we can't say that for Nigeria and Kenya.
For withdrawal, Sportybet Kenya, there is a KES 16 carrier fee for withdrawals under KES 500.
For withdrawal, Sportybet Nigeria, either through the bank, Partner or Transfer to a friend.
A successful first deposit on Sporty bet Africa automatically qualifies you to enjoy their exclusive welcome bonus. Just relax as we walk you through these lucrative first deposit bonuses across Africa.
Unfortunately you can't reach Sportybet Kenya right now from our website. Try out Sahara Games instead!
Betting
With limited number of sports open for betting, the Sportybet website is delightfully spacious and user-friendly. The head menu directs you to sports, live betting, virtual and promotion sections with tidy sub menu below listing the various sports. The home page is packed with football action, showcasing the top featured league games across several countries. There is also a list of the current live betting events to wet your appetite.
Whether you are on a desktop or mobile, navigation is seamlessly easy. The betslips is intuitive so it responds to the number of selections you make, meaning placing single, multiple or system bets are effortless. The instant registration format of the website makes it more welcoming and friendly.
Also, to cater for the growing demand, there's a Sportybet app download available for android devices. You can download by clicking Sportybet App APK tap on the head menu to download for free. This app is available in Nigeria, Ghana, Kenya and Zambia. Of course, if you use a different device, or you don't want to download the app, then you can use the responsive web-based platform. You have all the great features including live betting and streaming, Jackpot, virtual Partial cashout, and the Sportybet welcome bonus etc.
SPORTYBET SPORTSBOOK & BETTING OPTIONS
The fun part of betting with Sportybet is evident at the first sight, when you enter the sportsbook. Sportybet Africa features a wide range of sports.
While football is the main focus on the sportybet home page, punters can still wager on basketball, tennis, handball, ice hockey, American football, and other sports. During our Sportybet bookmaker testing, there were over 20 traditional sports available.
Players can also place bet on virtual sports, efootball, esports and some sportybet games. Like we said, the main focus is football and therefore the over 60 different countries featured with games doesn't surprise us. Included are major European competitions such as UCL and Europa league. EPL, Ligue 1, Bundesliga, Serie A, La liga and other leagues from lessor countries such as Austria, Brazil, Argentina, Czech Republic, Denmark etc. the betting markets are nevertheless comprehensive. It's possible to place 1x2 bet, overs and under, BTTS, handicap, half time results of not less than 150 lines of markets.
Our Sportybet test showed, that the sportsbooks features some of the best odds in the market.
For a cusomter signing up with Sportybet GH for the first time, a question of which features will help you gain experience and make your whole betting life better and easier is vital. Thus, we searched to find out which features and tools make the site stand out from it's competitors. In the following list we mention notable additional features of the Sportybet Ghana sportsbook:
Sportybet instant cash-out
Sportybet Odds Boost
Sportybet Virtuals
Sportybet Jackpot
In-play Betting and live streaming
Sportybet Cashout
Tip: Make use of our well-researched betting tips for your wagers.
Support
In this Sportybet review, you can find the several options of contacting the Sportybet support - called Sportybet Customer Support Agents. If you want a fast feedback on your queries, the Live chat is probably a good choice for you. Other ways of contacting their support agency include via telephone, email and through Sportybet Twitter and Facebook accounts.
You can locate Sportybet customer support 'tap' at the bottom of the home page. Clicking this tap will get you covered on all the diverse means of their contact system.
Unfortunately you can't reach Sportybet Ghana right now from our website. Try out BetFox Ghana instead!
Sportybet summary
After a complete walk through of Sportybet, we are pretty impressed with Sportybet. The bookies sportsbook is a model, and by extension, the live betting is a delight for anyone looking for the thrills of making extra money on live betting.
Sportybet's website is well designed with a colorful outlook, which make it easy to locate all that a customer will need. All major sports categories are listed on the homepage.
The payment methods are not extensive but they are good enough to cater for the customers in the countries it operates in.
Though Sportybet has only few years to boost of, it has taken the control of the African betting industry with its special offers ranging from welcome bonus, their competitive sportsbook and markets and a wonderful contact services. Therefore they have been rated to the maximum in our test, and we are happy to recommend it to punters.