Since 2014 Betpawa has grown faster to serve at least 10 African countries. The favorable odds have boosted the new signup every day to wager on their betting markets. This accelerated taking their service to another level and launched the unique Betpawa app. The creation of the Betpawa app has emerged as the among the favorite mobile sportsbooks for betting in Africa due to its simplicity in design and less distractions when navigating different services and features.
Betpawa app contains similar sports events which can be seen on their website. However, Betpawa app has chosen to concentrate with fewer sports including football and basketball to best serve their clients. Continue reading this page to discover how to download the Betpawa app, their existing features and services included in the Betpawa app.
Do you want flexibility?
Installation of the Betpawa mobile app ⇧
Currently, Betpawa clients can download the android version of the Betpawa app from the official Betpawa site of the country where they reside. There is no iOS version of the Betpawa app until further notice. The Betpawa app is not available in Google Playstore so be beware of scammers and fake Betpawa apps. There is no charge to download the Betpawa app, just access to the internet.
Please remember to review your phone security setting before installing the Betpawa app on your phone as it mya have be set to reject the app installed outside the Google Play store. Below are the steps on how you can install Betpawa app.
Visit the official Betpawa website.
Go to Menu and select DOWNLOAD APP.
You will be redirected to Betpawa app download page.
Look for the DOWNLOAD APP button to initiate the download.
Once downloaded click Open to start installation
You might be asked to enable the installation from unknown sources. These settings can easily be restored to the original permissions at the settings menu of your phone.
Next, complete the installation as it appears on your phone screen.
Our team has prepared the list of all sportsbooks which have managed to launch the mobile app in our best sports betting app page – for example like the Mozzartbet app as well as the Betway app.
If you are done with installation start exploring the Betpawa app's sports events, current offers and how you can wager on your first event but in order to effectively leverage their service and ongoing offers it is important for you to sign up and become part of the Betpawa community.
Registration at Betpawa Mobile app ⇧
Anyone who has managed to install the app can complete the Betpawa registration in very few seconds without hustle as they have simplied the process to three basic steps. Joining the Betpawa community is fast and easy as it will take less than a minute with just fewer details to submit. Once you have successfully installed the Betpawa app on your phone then open it and follow the three steps below:
Tap the JOIN NOW button at the top of the app.
Enter your Mobile number and Password.
Tap JOIN NOW to submit your registration details.
After clicking the JOIN NOW button, you will be successfully redirected to your new account. It is important for you to supply a valid phone number for confirming your identity. Betpawa app allows you to switch your registration form to match the country you are residing in. Just scroll down the app and lookout for a link to switch to the country you are coming from. Some countries like Uganda, you will be required to submit extra details like First name, Last name, Location, Nationality and National ID Number.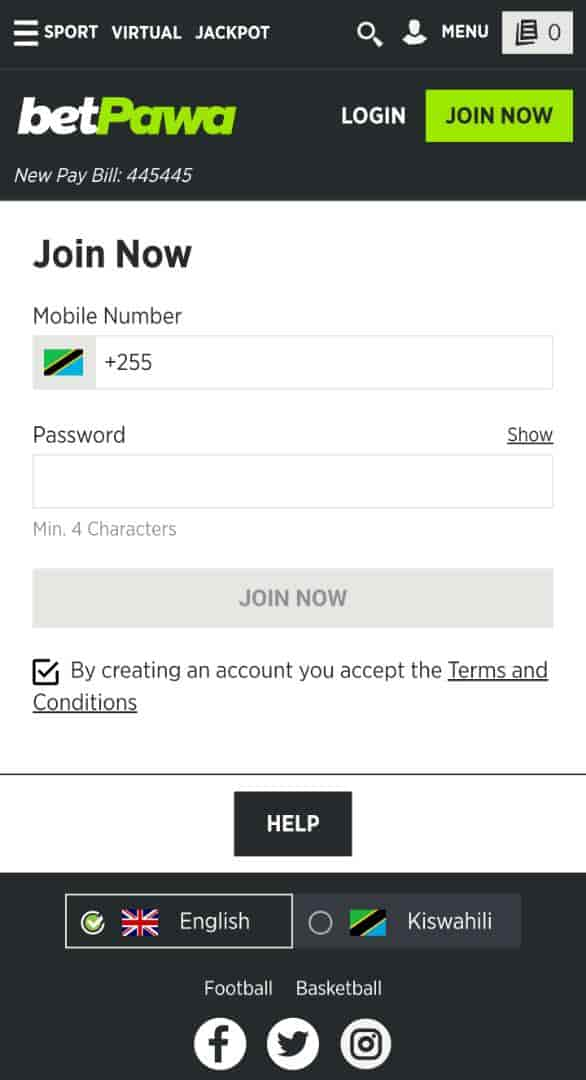 How to deposit in the Betpawa mobile betting account ⇧
Betpawa app has been integrated to allow a direct deposit through the app itself. There are several mobile money deposit methods that have been integrated. The only difference will depend on which country a client is currently located in. Just follow the following 4 steps listed below to fund your Betpawa account:
On Betpawa app tap Deposit
Select your desired deposit method
Enter the minimum deposit amount you wish to deposit.
Then, you will be prompted for Password to confirm deposit.
How to withdraw cash from Betpawa account
The same methods used for funding your account will be used to claim your cash out of Betpawa app. Just Click WITHDRAW on the MENU and enter the amount you wish to withdraw from Betpawa app. Remember a successful transfer of cash will be done only if you have submitted valid details during the registration process.
Betpawa app features ⇧
Every feature of Betpawa app is similar to their website as it has not left out a single item available in the website. Below are some of the notable features which are still seen in Betpawa app:
If you are not sure of the final outcomes of the game then Betpawa app allows you to claim your win even before all selected events have been settled. This creates comfort with wagering on the sports events.
Every betting market that is being frequently selected by most clients is marked with fire like icons. And this gives a better way to decide the desired options for your bet.
You can easily search a team using the Betpawa search engine. Tap the search icon at the top of the Betpawa app then type in the team you wish to look for and Betpawa app will populate all matches associated with that team.
Betpawa app allows you to wager on live matches. This gives a safer option to predict the final outcomes as you followup on the specified match make.
Usability and navigation ⇧
Betpawa app is very user friendly with easy navigation of every service. If you are having difficulty using the app with the current language then Betpawa app allows you to switch to your desired language. This is another reason why most punters choose to wager their sports events in Betpawa. There is a 24/7 support of their clients through different platforms including whatsapp, email and mobile phone.
All key menus and links have been concentrated at the top of the app for easy visibility. Betpawa app has successful make an effective use of icons to emphasize the service they offer Example the fire icon for popular bets, search icon, payment method icons, etc
Mobile Sports betting with Betpawa app ⇧
You can find several popular leagues in Betpawa app for football, basketball and virtual sports. Navigate to SPORT icon on top left corner then switch to your desired sports category to list the Live events, upcoming matchces, virtual sports, Jackpot, popular matches and leagues across the globe.
There are a lot of sports events from Betpawa you can only choose one per match. If you are confused with what selection is most secure and profitable for you then we have helped you make this decision through our dedicated page for betting tips for today without any charges. To wager on your first event click desired game from the list and select the event you wish to bet. Below is the simple step you use to created your first bet slip:
Here is how you can create you first bet slip:
Tap "SPORTS" and choose the league you wish to explore the match. Alternatively use search icon.
Choose your desired betting market. Example: team A or B win
Selected event will be added to the betslip automatically
Repeat the same process to the rest of the matches you want to bet.
Then look for your bet slip. It should be located at the bottom of the Betpawa app.
Fill the minimum stake and click PLACE BET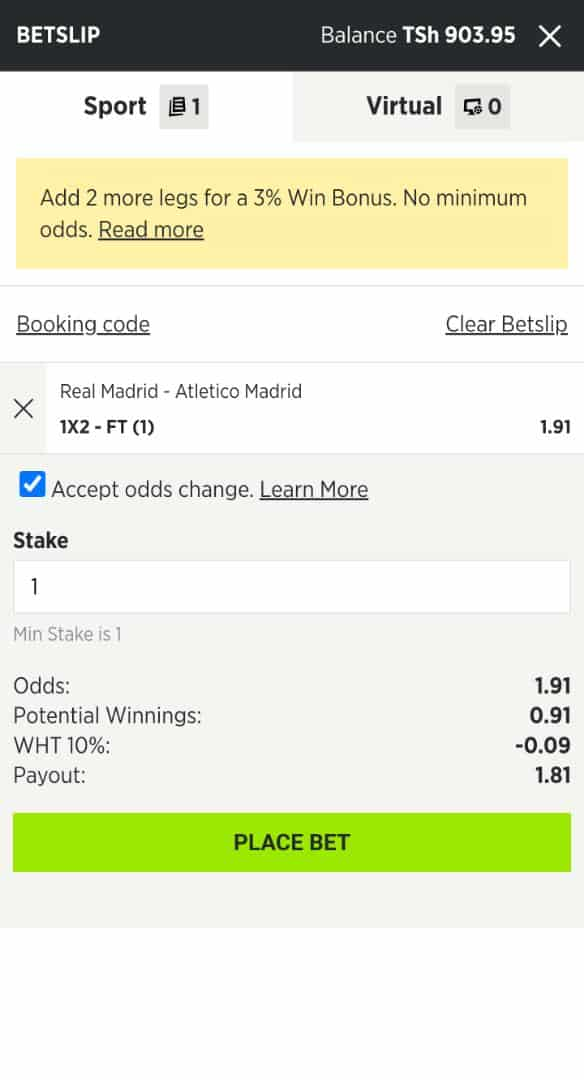 Conclusion of our Betpawa mobile app review ⇧
Betpawa app is among the favorable mobile betting apps as it is easy to navigate and has less distraction when navigating for wagering on sports events. The payment methods have been well secured as the direct deposit method compels the client to be authenticated prior claiming cash or deposit cash. Clients have no worries about the privacy of their data when using Betpawa app because of their privacy policy which protects client data usage. Being a Betpawa client allows you to wager on a live game, claim your win if the final outcome of the game seems to be unpredicted and yet you can instantly claim your money upon settling your bets.
Back to the best sports betting apps.