The bookmaker Booster99 is currently not available on LiveTipsPortal. For our Nigerian customers we highly recommend these three bookies instead:
Booster99 may be new on the sports betting scene in Nigeria, but they are beginning to make a name for themselves among punters in the country. This is due in part to the comprehensive sportsbook, competitive odds and a website that is fully optimized for handheld or mobile devices. In this article, we will comprehensively examine Booster99 mobile version and tell you all you need to know about.
Looking for a way to bet on the road?

INSTALLATION OF THE BOOSTER99 MOBILE APP ⇧
While there is no native Booster99 app at the moment, the website is well optimized for mobile betting. As you may know, a well-optimized site is as good as an app. To access the booster99 mobile version, you need to enter the address booster99.com in the address bar of the browser. The website is accessible using almost all types of mobile phones around. You can learn more about the desktop version from our Booster99 review.
After logging into the website on your mobile device, you will see the major sections namely: Sportsbook, Live sports, ESports and there is also a mobile Lite section if you really want the interface to be streamlined. You can begin to enjoy a seamless experience browsing using the Booster99 sports mobile.
The sportsbook is replete with a lot of sports and numerous betting markets to choose from. It does not matter which sports you prefer to bet on, Booster99 app has got you covered. Prominent sports like Football, Basketball, and Tennis are well covered, and if your choice of sports to bet on is not exactly popular, you can also count on the Booster99 mobile website for other sports like Badminton, Volleyball, Cricket and others.
REGISTRATION ON THE BOSSTER99 MOBILE APP ⇧
Registering on Booster99 mobile is not rocket science. All it takes is just a few seconds and a click of a few buttons to get started. Once you log into the site, you will see a 'REGISTER' icon on the top right corner of the homepage.
When you click on the register button, a form will be displayed and you will be required to fill in some certain personal details such as name, email and phone number. Once you have filled the empty fields with the details, check the box below the registration form to indicate agreement with the terms and conditions and that you are 18 years old or above. Thereafter, push the register button at the bottom of the window. If you follow the processes outlined, you will be ready to place your first bet on the Booster99 mobile, after you have made a deposit of course. Next, will be showing you how to fund your Booster99 sports mobile account.
To make the most of your wagers, read up on our sports betting tips for increased winnings.

FUNDING YOUR BOOSTER99 SPORTS MOBILE BETTING ACCOUNT ⇧
Now that your account is ready, you need some money deposited in your account to start placing bets. The Booster99 mobile app has a plethora of deposit options you can choose from. There are at least 5 deposit methods to for you to choose from. You can fund your betting account with Debit cards, Bank transfer and payment gateways such as Paystack, Quickteller and Interswitch.

NAVIGATION ON BOOSTER99 APP ⇧
On Booster99 sports mobile, you will find the navigation menu at the bottom of the page. Going from one section to another on the site is very easy. This is due to the fact the menus are well laid out and the pages load very quickly.
We have done comprehensive Bookmaker reviews to get first-hand information on promotions and product offerings.
USABILITY AND IMPRESSIONS ⇧
The Booster99 app is a replica of the desktop version of the website. To explain in a simpler term, all the features of the desktop version are on the Booster99 mobile. It would not take long for you to realize that it is well optimized for mobile betting. The header section has a drop-down menu that houses the Live betting, Booster99 leagues, promotions and ESports as well as Sportsbook and login sections.
SPORTS BETTING ON BOOSTER99 MOBILE APP ⇧
Placing a bet on the Booster99 mobile app is as easy as it gets. To bet on the Booster99 app, click on the Sportsbook in the header section. Then the sports you can bet on are displayed. Thereafter, you can settle for a specific sport and a particular market you want to wager on. Once you click your preferred betting option or outcome, it is automatically added to your bet slip.
When you are done selecting your games, the next step is to click on the bet slip so you enter the amount you wish to wager with, after which you will click on the "Place Bets' button to submit your selections.

BETTING OFFER ⇧
You will be spoilt for choice on Booster99 as the betting offer is quite large. This of course is due to the fact that there are loads of sports available in the sportsbook. From Basketball to Baseball, there is always something to look forward to. The live betting section is also well developed with so many in-play events with numerous betting options available.
In Football, a number of leagues and Cup competitions are available to bet on. The major European leagues, as well as UEFA club competitions, are well covered. There is also room for international football. So if you fancy national team football, you can also wager on those.
The range of betting options is particularly impressive. Aside from the regular 1 X 2 options, you can bet on Handicap bets, Over/Under bet, Double chance and so much more.
You also stand a chance of starting your betting experience with a mouth-watering welcome bonus. Learn more about bonus promos from other Bookies here.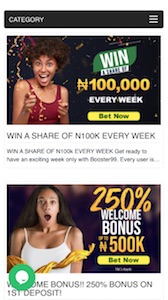 CONCLUSION ON OUR BOOSTER99 SPORTS MOBILE ⇧
If betting on the go is your thing, then the Booster99 mobile is for you. It allows for a smooth betting experience. You don't have to break a sweat from selecting your preferred sports or betting option up till you submit your bet.
The payment methods are effective. Your deposits are instantly deposited into your betting account as soon as make deposits into your account.
The enormous betting offer even makes it even more attractive and enjoyable. The selection of games is very easy and straightforward. This means you can bet round the clock and you do not have to wait till you get home or your office to back your favourite teams or options.
You can learn more from our sports betting app tests.