Have you been incurring too many losses on your bet? Then, it is time to bet with more confidence using the Bet9ja Cut1 feature. With at least 5 events in your selection, you are guaranteed to walk away with some funds even if one game lets you down.
Sports betting, especially multibet, can be a risky business filled with so much uncertainty. Sometimes, a thoroughly researched and well crafted accumulator bet selection can be ruined by a late VAR review or a last minute goal. To avoid the heart break that comes with losing your stake and entire potential winning, Bet9ja has designed the Cut1 feature.
What does Cut 1 mean on Bet9ja?
The Bet9ja Cut 1 feature is a form of insurance which helps you to win something even if one of your selections let you down. In this case, as a new or existing customer, Bet9ja protects you from losing your entire wager or potential winning by recalculating the odds and giving you a consolatory payout.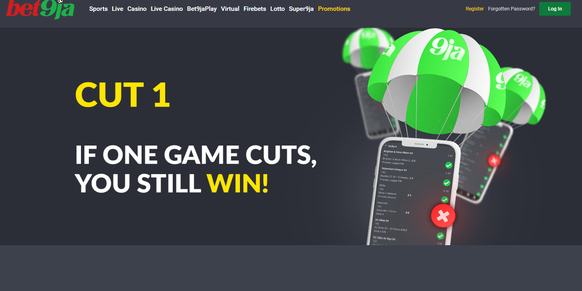 How to use Bet9ja Cut 1
Create Bet9ja account or log in to yours. You can unlock the Bet9ja Welcome Bonus as a new user
Make a minimum deposit of ₦100
Go to the Sportsbook section
Select 5 or more events
Tick "Cut 1" next to your betslip
Place your bet
Once the Cut1 feature is activated, your odds will be re-calculated. Also, your new payout will depend on the odd for the game that cuts. Meanwhile, in case you want to use the Cut 1 option, you can curate your accumulator slip with our Sure Multibet Tips or the best betting tips today.
Bet9ja Cut1 Terms and Conditions
It is open to new and existing customers
You must have at least 5 selections on your slip to be eligible
When you use the feature, you would be receiving a lower payout
It is available on any multiple sports selection
You would only receive a payout if 1 game cuts your ticket
It can be used with Bet9ja 170% multiple boost
Conclusion
Bet9ja is top betting brand in Nigeria with thousands of users, registering, depositing and wagering almost on a daily basis. To help users through the difficulty of losing too many times, Bet9ja has designed this Cut1 feature. With this, there are no hidden rules, all you are required to do is have 5 or more game of your choice in your multibet slip and you would still win even if a game lets you down.