Nairabet insures your accumulator bets. If one game of your ticket doesnt come through you will get a refund.
If you've read some of our articles including our Nairabet review, you'll know that we love bookies that provide punters with some sort of insurance, and Nairabet's 'one game cut your ticket' is one of such promos besides its Nairabet bonus for accumulators. As the name indicates, it is a promo that enables punters to get a fraction of their supposed earnings even if one game on the ticket doesn't come through. As always, the promo has minimum requirements that must be met.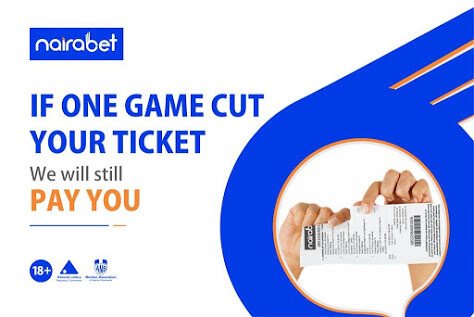 © NairaBet
One Game Cut Your Ticket Terms and Conditions
For a ticket or bet slip to qualify for the promo, it must have at least ten games on the ticket and all the games or legs on the ticket must have at least 1.2 odds. If the games or legs on your bet slip are more than 10, please note that all of the games must have 1.2 odds as a minimum. That is, if you have 15 games on your ticket and one of the games has 1.1 odds, the ticket no longer qualifies for the promo even if the other games on the bet slip meet the 1.2 odds requirement.
How the Nairabet One Game Cut Your Ticket PayOut or Winnings is Calculated
Let's take a practical example to illustrate this. Imagine you placed a bet with 15 games based on some football betting tips and your calculated earnings amounted to NGN300,000 including an accumulation Nairabet bonus of NGN 50,000. Let's assume the game that "cut the ticket" has 1.4 odds, then your potential earnings are calculated using the following steps:
The NGN50,000 bonus included in the winning is first subtracted, leaving NGN250,000.
Next, the 1.4 odds game is excluded by dividing NGN250,000 by 1.4 to give NGN178,571.
This NGN178,571 is divided by the number of games on the ticket; 15 in this example. (NGN178,571/15 = NGN11,904.)
Furthermore, the stake unit is subtracted from the value calculated in step 3. A stake unit is defined as the money you wagered divided by the number of games on the ticket. Assuming we wagered 500 on the betslip, then the stake unit is NGN33.33.
The potential payout is then NGN11,870.67 (NGN11,904 – NGN33.33).
Potential Games to Play
The upcoming Champions League matches are the right places to search for football betting tips. These games all have odds above 1.2. Matches that fit this profile include Tottenham Hotspur vs. Olympiacos, FK Crvena Zvezda vs. FC Bayern München, and Slavia Prague vs. Inter. The Mourinho effect should propel Tottenham to a win over their opponents, while Bayern should have enough to defeat FK Crvena Zvezda. Inter is deliciously priced at 2.3 odds on Nairabet and desperately need a win to close the gap with the leaders Barcelona.