When placing a bet, the goal is to make a profit from our betting investment at all times. But the question is do I play the safe way by backing the favourites or go all out in the hope of getting a big payday?
Irrespective of the competition or event you want to bet on, you still have to settle for a football betting strategy. Would it be advisable to go for a safe form of betting by backing the favourite in a single bet or go all out with the more risky options like an Accumulator or backing the underdog in the hope of a big payday?
To answer these questions, our seasoned Tipsters at Livetipsportal will guide you. In this section, our attention will solely be on betting tips for risk betting.
And we have the following tips for the week under review:
RISK BETS OF THE WEEK 23.05 to 29.05.2022
Game:
Excelsior – Den Hag (24.05 / 9:00 pm GMT+3)
Type of Bet:
Single Bet
Risk Tip:
BTTS & Over 2.5 Goals
Risk Level:
🔥
Odd:
1.85 at Great Odds (checked on 23/05, 12:10Pm GMT+3)
Winnings with a $10 stake:
$18.50
That's what our expert has to say:
4 of Excelsior's last 5 games recorded Over 2.5 Goals, and both teams scored in three of those.

5 of Den Haag last fixtures returned Over 2.5 Goals and 4 of those saw goals from both sides.

This fixture is likely to be a goal fest.
Games:
Bodo/Glimt – Stromgodset (25.05 / 7:00 pm GMT+3)
AS Roma – Feyenoord ( 25.05 / 10:00 pm GMT+3)
Sarpsborg 08 – Molde (26.05 / 9:00 pm GMT+3)
Type of Bet:
Multibet
Risk Tip:
Game 1: "BTTS & Over 2.5 Goals"
Game 2: "Over 10.5 Corners"
Game 3: "BTTS & Over 2.5 Goals"
Risk Level:
🔥🔥🔥🔥
Odd:
6.47 at Betbonanza (checked on 24/05, 1:50 pm GMT+3)
Winnings with a $10 stake:
$65
That's what our expert has to say
Bodo/Glimt – Stromgodset: Three of their last Head-to-Head meetings witnessed goals from both sides and at least three total goals.

AS Roma- Feyenoord: We expect an end to end final, although Roma are the favourites- Feyenoord cannot be written off. The Dutch will back themselves to go all out; and as such we expect a lot of goal mouth action. Therefore, we expect a raft of Corner kicks. At least 11 total Corner Kicks.

Sarpsborg 08 – Molde: Molde have the better from of these two teams. That is not to say Sarpsborg are not a decent side. But have racked up a number of wins lately, scoring loads of goals in the process. Therefore, we expect a torrent of goals.
Game:
Liverpool – Real Madrid (28.05 / 10:00 pm GMT+3 )
Type of Bet:
Bet Builder Bet
Risk Tip:
BTTS & Over 2.5 Goals + BTTS In the 2nd Half+ Over 9.5 Corners
Risk Level:
🔥🔥🔥🔥🔥
Odd:
10.98 at Betway (checked on 24/05, 2:00pm GMT+3)
Winnings with a $10 stake:
$110
That's what our expert has to say
Real and Liverpool are two of the highest scoring sides in the Champions league and Europe at large. Both sides have scored and conceded almost in equal measure.

This is potentially a cracker and you can't write off any of these sides from scoring even with seconds to go as Madrid have shown in their last five fixtures in the UCL.

Both teams are also expected to rack up the Corners as they will fly out from the blocks from the first blast of the whistle.
RISK LEVELS
🔥 Low risk (Odds 2.0 to 2.99)
🔥🔥 Some risk (Odds 3.0 to 3.99)
🔥🔥🔥 Medium risk (Odds 4.0 to 4.99)
🔥🔥🔥🔥 High risk (Odds 5.0 to 9.99)
🔥🔥🔥🔥🔥 Very high risk (Odds 10.0 and more)
---
There is the old age phrase 'if you don't buy a ticket, you don't win the lottery. If you don't play place a bet you do not get to win.
However, if you are still uncertain about taking the risk, you can still go ahead and try our selections. The risky bets land more regularly than you think and you should take a bold step to increase your margin of profit.
If you are worried about the process of settling for a betting option, we can understand. That is why our experts have taken the time to research all the selections and betting markets.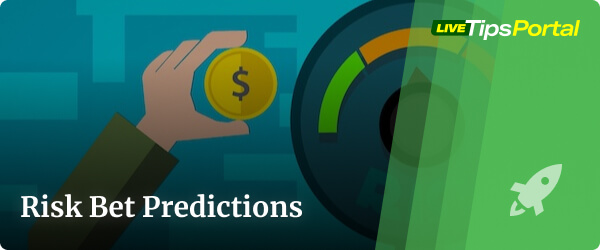 What are the advantages of risk bet predictions today?
Higher odds = Higher winnings:
With higher odds, you have a chance to win more. It is that simple! If you place a bet with total odds of 10, you will definitely get more winnings than a bet of 5 odds.
Decent winnings with low stakes:
Usually, when odds are high, you can maximize your profit with a relatively low stake. So, you do not need to break the bank to place a bet.
Benefit from experts knowledge:
Our tipsters are season betting experts who bring their experience to the table when making selections or forecasts.
With the risk bet, there are more possibilities for tips and more combinations.
From our selections above, you would have seen that Risk bets can be very profitable. For instance, with our Betbuilder, you can make a profit of 110 dollars with a 10 dollar stake.
The profit margin can even be higher with a bigger stake. There is no harm in trying to place risk bet prediction from time to time as you could be smiling to the Bank more often than you think.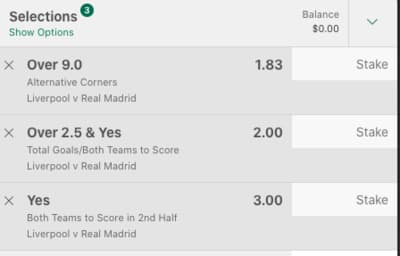 ---
Past risk bet predictions
2022
Week 19
Single bet: Newcastle – Arsenal "X2 & 2-3 Goals" (odds 2.47)
Combi bet: Southampton – Liverpool"Liverpool To Score in Both Halves" ✅ + Frankfurt – Rangers"Over 9.5 Corners" ✅ + Chelsea – Leicester"DC 1X & Over 2.5 Goals" (odds 5.41)
Bet Builder bet: Manchester City vs Aston Villa"Over 3.5 Goals ✅ + HC -2 (Man City Win) + 2nd Half Most Goals ✅ "(odds 5.59)
WEEK 18
Single bet: Fiorentina – AS Roma "X2 & BTTS" (odds 2.46)
Combi bet: Aston Villa – Liverpool"Liverpool Win & Over 2.5″ ✅ + Barcelona – Celta Vigo"BTTS & Over 2.5″ ✅ + Nantes – Rennes"BTTS & Over 2.5 Goals"✅ (odds 16.28)
Bet Builder bet: West Ham vs Manchester City"kevin De Bruyne Anytime Scorer + Over 2.5 Goals + 2nd Half Most Goals "(odds 3.90)
WEEK 17
Single bet: Manchester United – Brentford "Over 9.5 Corners" (odds 1.63)✅
Combi bet: Villareal – Liverpool"Liverpool Win" ✅ + Real Madrid – Manchester City"BTTS & Over 2.5″ ✅ + Frankfurt – West Ham"Over 2.5 Goals" (odds 6.46)
Bet Builder bet: Atletico Madrid vs Real Madrid"Over 2.5 ✅ + BTTS + Most Goals 2nd Half"(odds 5.50)
WEEK 16
Single bet: Sassuolo – Juventus "BTTS & Over 2.5 Goals" (odds 1.90)✅
Combi bet: Manchester City – Real Madrid"DC 1X & BTTS" ✅ + Liverpool – Villareal "Goal in Both Halves" + Leicester – AS Roma "Over 2.5 Goals" (odds 5.89)
Bet Builder bet: West Ham vs Arsenal "Over 2.5 ✅ + DC X2 ✅ + Most Goals 2nd Half"(odds 4.33)
WEEK 15
Single bet: Napoli – Roma "BTTS & Over 2.5 Goals" (odds 2.15)
Combi bet: Liverpool – Manchester United"BTTS & Over 2.5″ + Chelsea – Arsenal "BTTS & Over 2.5″✅ + Espanyol – Rayo Vallecano "Over 2.5 Goals" (odds 13.83)
Bet Builder bet: Liverpool vs Everton "Liverpool Win Handicap -1 ✅+ Liverpool Score in Both Halves + Over 3.5 Goals + Most Goals 2nd Half"(odds 5.41)
WEEK 14
Single bet: Rayo Vallecano – Valencia "Over 9.5 Corners" (odds 2.10)
Combi bet: Real Madrid – Chelsea"Over 2.5″✅ + Liverpool – Benfica "Liverpool HT/FT" + PSV Eindhoven – Leicester City "Over 2.5 Goals"✅ (odds 4.96)
Bet Builder bet: Sevilla vs Real Madrid "Over 2.5✅ + 1st Half Draw + BTTS ✅ + Most Goals 2nd Half✅"(odds 12.19)
WEEK 13
Single bet: Crystal Palace vs Arsenal "Over 10.5 Corners" (odds 2.37)
Combi bet: Manchester City – Atletico Madrid "Man City Win & Over 2.5" + Chelsea – Real Madrid "Over 2.5 Goals" ✅ + Braga – Rangers "Over 2.5 Goals" (odds 8.98)
Bet Builder bet: Manchester City vs Liverpool "1st Half BTTS + BTTS + Over 3.5 Goals"(odds 5.10)✅
WEEK 12
Single bet: Al Wakra vs Al- Sailiya "Over 3.5 Goals" (odds 2.15)✅
Combi bet: Nigeria – Ghana "Nigeria Win" + Portugal – North Macedonia "Over 9.5 Corners" + Poland – Sweden "Over 9.5 Corners" (odds 7.62)
Bet Builder bet: Juventus vs Inter Milan "1st Half Draw + Most Goals to be scored in 2nd Half + Over 2.5 Goals