Arsenal FC
VS
Tottenham
Betting tips & odds comparison 26.09.2021 Arsenal FC - Tottenham Hotspur
Betting Tip for matchday 6 of the 2021/2022 Premier League between Arsenal FC and Tottenham Hotspur. The game will be played at Emirates Stadium (London, England) on 26.09.2021 at 17:30.
Arsenal vs Tottenham, EPL, 26.09.2021
When Arsenal and Tottenham meet off in the London derby at Emirates Stadium, there will be a lot of suspense and tension. The Gunners had a sluggish start to the season, but they have recently shown signs of improvement, defeating both Norwich City and Burnley in their past two games.
Arsenal is ranked 13th with six points, while Tottenham is ranked seventh, three points ahead.
In this preview, we will concentrate on Melbet bonus pricing for our betting tips today.
ARSENAL
The Gunners had a terrible start to the season, losing their first three Premier League games. They have subsequently recovered, winning each of their past two league games — 1-0 victories over Norwich and Burnley.
They come into this game having won three straight games, including a 3-0 triumph against Wimbledon in the League Cup. The Gunners have four victories and four clean sheets in their last five games.
Those outcomes are a fantastic motivator for the derby, and they will undoubtedly hype up the team. They have gone undefeated at home against Spurs in the previous ten league games, winning five of them.
TOTTENHAM
Spurs have now lost their past two league games 3-0, to Crystal Palace and Chelsea. Nuno's side were able to reclaim some pride in midweek, though, as they defeated Wolves on penalties following a 2-2 draw in the third round of the EFL Cup.
Spurs' defensive stability has waned since their first three league games; they haven't kept a clean sheet in their past four games and have failed to score in two of them.
Spurs were last seen in action in a league encounter when they were defeated 3-0 at home by Chelsea in another tense London derby.
They will be hoping to redeem themselves following some embarrassing league performances.
Possible Line Ups
ARSENAL
TOTTENHAM

Ramsdale
Tomiyasu
White
Gabriel
Tierney
Xhaka
Partey
Pepe
Ødegaard
Saka
Aubameyang
Coach: Mikel Arteta

Lloris
Reguilón
Romero
Dier
Emerson
Lo Celso
Højbjerg
Son
N'Dombèlé
Alli
Kane
Coach: Nuno Espirito Santo

Injured: None and Bergwijn (ankle)
ARSENAL VS TOTTENHAM BETTING PREDICTIONS
Unlike their visitors Tottenham, Arsenal has managed to thread together a string of impressive performances ahead of the North London derby. However, this is a new sort of game, and the degree of hardness increases substantially, but a win will be a big thing for the team and their fans.
Tottenham Hotspur has failed to keep a clean sheet in their past four games. Tottenham has also allowed two or more goals in four of their previous five league away games. In ten league encounters with Tottenham, Arsenal has never lost at home.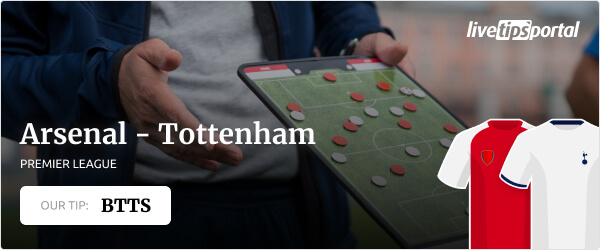 © Livetipsportal
We anticipate goals on both ends given the strength of offense on both teams and the overall character of this game. We are backing both teams to score with Melbet offering the best odds @ 1.91 as the best football betting strategy for this game.
Our tips
Performance
Arsenal FC
Last games
Arsenal FC performance of the last 7 home matches
Tottenham
Last games
Tottenham performance of the last 3 away matches
Current Standing
| POS | TEAM | PTS | MP | W | D | L | GF | GA | GD |
| --- | --- | --- | --- | --- | --- | --- | --- | --- | --- |
| 1 | | 93 | 38 | 29 | 6 | 3 | 99 | 26 | 73 |
| 2 | | 92 | 38 | 28 | 8 | 2 | 94 | 26 | 68 |
| 3 | | 74 | 38 | 21 | 11 | 6 | 76 | 33 | 43 |
| 4 | | 71 | 38 | 22 | 5 | 11 | 69 | 40 | 29 |
| 5 | | 69 | 38 | 22 | 3 | 13 | 61 | 48 | 13 |
| 6 | | 58 | 38 | 16 | 10 | 12 | 57 | 57 | 0 |
| 7 | | 56 | 38 | 16 | 8 | 14 | 60 | 51 | 9 |
| 8 | | 52 | 38 | 14 | 10 | 14 | 62 | 59 | 3 |
| 9 | Brighton & Hove Albion FC | 51 | 38 | 12 | 15 | 11 | 42 | 44 | -2 |
| 10 | Wolverhampton Wanderers FC | 51 | 38 | 15 | 6 | 17 | 38 | 43 | -5 |
| 11 | | 49 | 38 | 13 | 10 | 15 | 44 | 62 | -18 |
| 12 | | 48 | 38 | 11 | 15 | 12 | 50 | 46 | 4 |
| 13 | | 46 | 38 | 13 | 7 | 18 | 48 | 56 | -8 |
| 14 | | 45 | 38 | 13 | 6 | 19 | 52 | 54 | -2 |
| 15 | | 40 | 38 | 9 | 13 | 16 | 43 | 67 | -24 |
| 16 | | 39 | 38 | 11 | 6 | 21 | 43 | 66 | -23 |
| 17 | | 38 | 38 | 9 | 11 | 18 | 42 | 79 | -37 |
| 18 | | 35 | 38 | 7 | 14 | 17 | 34 | 53 | -19 |
| 19 | | 23 | 38 | 6 | 5 | 27 | 34 | 77 | -43 |
| 20 | | 22 | 38 | 5 | 7 | 26 | 23 | 84 | -61 |
Legend
Champions League

Europa League

Abstieg