Aston Villa
VS
Arsenal FC
Aston Villa FC - Arsenal FC betting tip & odds comparison 19.03.2022
In gameweek 30 of Premier League, Aston Villa will host Arsenal FC at Villa Park. Kick-off is scheduled for 1:30 PM on Mar 19, 2022 With our match prediction and odds comparison for Aston Villa vs. Arsenal FC you are guaranteed to get all the important facts and details for this fixture. First and foremost, we will take a close look at the teams' recent performances.
You can't get enough of Premier League predictions? We provide you with betting tips for every matchday fixture, and additionally, we offer a comprehensive odds comparison.
Aston Villa have won 3 of their last 5 league matches (3 wins, 0 draws, 2 defeats. In the previous 13 home games in the Premier League season 2021/2022, Aston Villa have won 5 matches, 3 games ended in a draw, and 5 games in defeat. (Goal difference 24:20).
Out of their last 5 Premier League fixtures, Arsenal FC have won 4 games (4 wins, 0 draws, 1 defeat). The away record in the current Premier League season reads as follows: 6 wins, 1 draw und 5 defeats - Goal difference 19:19.
In their last five Premier League encounters, Aston Villa managed to get 3 wins against Arsenal FC, while Arsenal scored 2 wins. On 0 occasions, there was no winner. If we focus exclusively on the home games that Aston Villa played against Arsenal FC in the Premier League, we get the following record: 2 wins for Aston Villa, 0 draws and 3 wins for Arsenal FC.
Have you heard of the Melbet first deposit bonus yet? This offer, which is available to all customers who register for the first time, will allow you to start off with some extra credit.
Arsenal FC will look to get back to their impressive run of form with a win over Aston Villa in the Premier League this week. The Gunners bowed to Liverpool in their last match after staying unbeaten in their last six matches across all competitions. Meanwhile, Villa faced the same fate with a 2-1 loss against West Ham following their 3 unbeaten run. This should be a spectacle to watch as both teams will home to get back to form very fast.
Access more England Premier League prediction on top EPL matches at no cost. Take advantage of the Betboro Bonus on your first bets and competitive odds from Sahara Games.
ASTON VILLA
European football is exactly what optimistic Aston Villa fans will have been hoping for far back at the arrival of the EPL hero Steven Gerrard, but instead they find themselves in a very different predicament due to their inconsistency. The Villas had their unbeaten run halted with 2-1 loss against the Hammers in their last away PL match.
However, Aston Villa has not conceded a goal in the past two home meetings against the Gunners. Villa could take advantage of Arsenal's back end struggles against their counter-attack on Saturday, and that could cause trouble for the vulnerable Arsenal backline. Villa has scored 10 times in its last 5 matches, led by Danny Ings, Coutinho and Ollie Watkins and they will be a handful for the Gunners defense.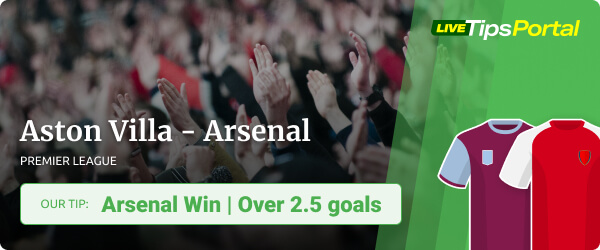 ARSENAL FC
Having won 5 of their last 6 in the Premier League, only dropping points to Liverpool in their 0-2 loss at the Emirates stadium last Wednesday, Mikel Arteta and his men now find themselves up in 4th place with European football a very real possibility. The Gunners will be looking to get back to winning ways as they visit Aston Villa on Saturday to maintaing this spot.
Arsenal FC spent a lot of money to bolster things on the back end, adding Ben White and goalkeeper Aaron Ramsdale. That appeared to be paying off before Wednesday's slip-up, with White and Gabriel holding a firm line along with Kieran Tierney and newcomer Takehiro Tomiyasu. Arsenal had allowed just 4 goals in its previous 8 matches in all competitions, and Ramsdale has an 81.3 save percentage and 4 clean sheets in his last 8 starts, before the current loss. Which shows how promising the squad is yeaning for European football.
POSSIBLE LINE-UP
ASTON VILLA
Martinez
Cash
Chambers
Mings
Digne
Mcginn
Luiz
Ramsey
Coutinho
Ings
Watkins
MISSING PLAYERS: Nakamba (Knee injury), Digne (Hamstring injury)
ARSENAL FC
Ramsdale
Tierney
Gabriel
White
Soares
Xhaka
Partey
Martinelli
Odegaard
Saka
Lacazette
OUR ASTON VILLA VS. ARSENAL FC BETTING TIPS
Arsenal FC know that further points dropped will take them out of top 4. And with the Gunners winning five of their last six meetings with sides below them in the table, we are confident in the Gunners getting back to winning ways on Saturday as the first of our today's betting tips.
Also, our experts have analyzed Aston Villa vs. Arsenal match from every angle, and we are leaning over on the Over 2.5 goal total. Because these are side who have been scoring goals for fun in their recent 6 matches. Both side have also conceded in their recent matches.
You should also checkout our Sure Multibet Tips as we roll out some safe accas for free.
Performance
Aston Villa
Last games
Aston Villa performance of the last 6 home matches
Arsenal FC
Last games
Arsenal FC performance of the last 4 away matches
Current Standing
| POS | TEAM | PTS | MP | W | D | L | GF | GA | GD |
| --- | --- | --- | --- | --- | --- | --- | --- | --- | --- |
| 1 | | 93 | 38 | 29 | 6 | 3 | 99 | 26 | 73 |
| 2 | | 92 | 38 | 28 | 8 | 2 | 94 | 26 | 68 |
| 3 | | 74 | 38 | 21 | 11 | 6 | 76 | 33 | 43 |
| 4 | | 71 | 38 | 22 | 5 | 11 | 69 | 40 | 29 |
| 5 | | 69 | 38 | 22 | 3 | 13 | 61 | 48 | 13 |
| 6 | | 58 | 38 | 16 | 10 | 12 | 57 | 57 | 0 |
| 7 | | 56 | 38 | 16 | 8 | 14 | 60 | 51 | 9 |
| 8 | | 52 | 38 | 14 | 10 | 14 | 62 | 59 | 3 |
| 9 | Brighton & Hove Albion FC | 51 | 38 | 12 | 15 | 11 | 42 | 44 | -2 |
| 10 | Wolverhampton Wanderers FC | 51 | 38 | 15 | 6 | 17 | 38 | 43 | -5 |
| 11 | | 49 | 38 | 13 | 10 | 15 | 44 | 62 | -18 |
| 12 | | 48 | 38 | 11 | 15 | 12 | 50 | 46 | 4 |
| 13 | | 46 | 38 | 13 | 7 | 18 | 48 | 56 | -8 |
| 14 | | 45 | 38 | 13 | 6 | 19 | 52 | 54 | -2 |
| 15 | | 40 | 38 | 9 | 13 | 16 | 43 | 67 | -24 |
| 16 | | 39 | 38 | 11 | 6 | 21 | 43 | 66 | -23 |
| 17 | | 38 | 38 | 9 | 11 | 18 | 42 | 79 | -37 |
| 18 | | 35 | 38 | 7 | 14 | 17 | 34 | 53 | -19 |
| 19 | | 23 | 38 | 6 | 5 | 27 | 34 | 77 | -43 |
| 20 | | 22 | 38 | 5 | 7 | 26 | 23 | 84 | -61 |
Legend
Champions League

Europa League

Europa Conference League Quali.

Relegation