Atlético Madrid
VS
Villarreal CF
Wanda Metropolitano
Madrid
Atlético Madrid – Villarreal predictions & odds comparison 21.08.2022
Gameweek 2 in the Primera División will see the clash between Atlético Madrid and Villarreal CF at Wanda Metropolitano. Kick-off time is at 7:30 PM on Aug 21, 2022. In our preview of Atlético Madrid vs. Villarreal CF we will provide you with all the important facts and stats for this Primera División fixture. Let's start by having a look at the current form of the two teams involved.
You can't get enough of free La Liga betting tips? We provide you with betting tips for every matchday fixture, and additionally, we offer a comprehensive odds comparison.
Atletico Madrid and Villarreal will thrill Spanish football enthusiasts to another intriguing display in one of this Sunday's mouthwatering fixtures.
Having opened their new season with a 3-0 bashing of Getafe, Simeone's men will be in the hunt for another 3 maximum points to make it 2 wins in 2.
For Unai Emery's men, this is a chance to do better than last season's 7th place finish and possibly replicate the 2015/16 domestic form which culminated in a 4th place berth and a stint at European Elite Club competition.
Although most neutrals countdown to the drama often associated with the EL Classico, a clash between these two sides always brings forth excitement and a big winning opportunity for bettors. To this end, we will be lacing our preview of this fixture with odds and betting markets offered by Melbet and Greatodds.
Meanwhile, as a new user, you can grab staggering 200% Melbet Welcome Bonus. We've compiled all the informations you need to know about the Melbet bonus rules and how to get the best out of it.
Alternatively, you can check our Greatodds bookmaker test for information on the latest offers.
ATLETICO MADRID
With 11 La Liga titles and 10 Copa Del Rey trophies, Atletico has established itself as the only team that can challenge the dominance of Real Madrid and Barcelona domestically.
In fact, their most recent league triumph came in 2020/21 season when both Real and Barca finished second and third respectively, lends credence to how Simeone's side cannot be brushed aside in Spanish football. Essentially, in the last 4 seasons if they're not winning the title, Atletico have finished 3rd or 2nd on the table.
As we enter day 2 in the La Liga, Atletico will hope to rediscover the title winning form of 2020/21.
They head into this tie on the back of a 3-0 win over last season's 15th place team Getafe as Morata and Griezman stepped up to help Simeone off to a bright start.
Here, they go up against a Villarreal side they have beaten once in the last four meetings with the most recent win coming in February 2021.
In fact, looking at the head to head record, Villarreal's 13 wins out of 40 meetings as against Atletico's 15, we expect a highly competitive fixture here.
VILLAREAL
Despite their impressive run all the way to last season's UCL last 4, Villarreal were only able to earn a 7th place finish last term. In fact, the Yellow Submarines finished 3 points behind 6th placed Sociedad meaning they also missed out on a place in the Europa League.

As it stands, Villarreal will have to compete in the qualifying series of the Conference League to secure European football this season. In this new campaign, Villarreal will certainly be eyeing a return to top tier European football.
They head into this tie full of confidence having beaten Valladolid 3-0 in their season opener. In this tie, Villarreal will be hoping to earn at least a point having done so in their last two trips to Atletico Madrid.
POSSIBLE LINE UP
ATLETICO MADRID
Oblak
Reinildo
Savic
Gimenez
Llorente
Koke
De Paul
Carrasco
Griezmann
Morata
Felix
MISSING PLAYERS: Monteiro (Knee)
VILLAREAL
Rulli
Foyth
Albiol
Torres
Pedraza
Parejo
Coquelin
Capoue
Chukwueze,
Moreno
Pino
MISSING PLAYERS: Femenia (Ankle)
OUR PREVIEW AND BETTING PREDICTIONS FOR ATLETICO Vs VILLAREAL
TIP #1
Going by past meetings and expectations for the new season, we expect a fiesty clash between these sides.
For both teams, this represents their first real test of the season and could give us a picture of how ready they are for the challenge ahead. To this end, with Melbet's odd of 2.11, we expect a tight contest with the second half producing the most goals.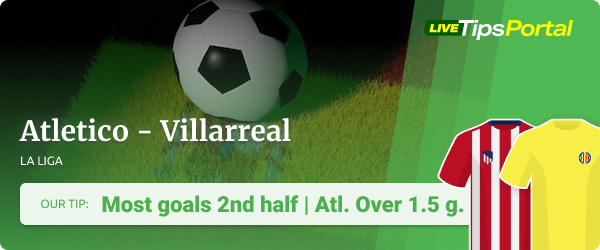 TIP #2
Meanwhile, Atletico are on a good goal scoring form which has seen them earn at least 2 goals in 2 of their last 3 games, with their last encounter against Villarreal producing the same number.
Hence, for our second betting tip of today, and with the backing of 2.00 provided by Greatodds, we are going with Atletico Over 1.5 Goals.
MELBET CLUB LOYALTY OFFER
As you're searching for the best bookmaker to put your money on in this new football season, you should consider Melbet.
Presently, Melbet is rewarding all its users through the Melbet Loyalty Program. Simply put, this offer allows you earn bonus points from any single, accumulator and system bets, including Live bets placed on Melbet.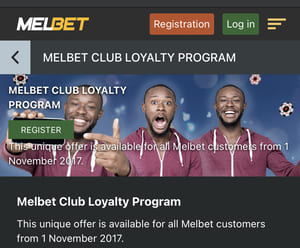 How to take part
log in on the Melbet website and select "Account settings" in the user menu
click "Join the club" and follow further instructions on the website.
Place any single, multibet on live or pre-match events
Get points based on stake amount and number of bets
Please note that the points you earn can only be converted into your account currency. When converting into real currency, the number of bonus points is divided by 200 (two hundred), and the resulting amount is credited to your account. In essence, the more points you earn, the higher your chances of scooping extra funds.
Great Odds Football Cashback
Are you looking to avert too many losses this season? Then, as you're staking on any of our betting strategies, you should consider getting a Greatodds account. With this, you can get 15% of your weekly football losses as freebet up to GHS 500.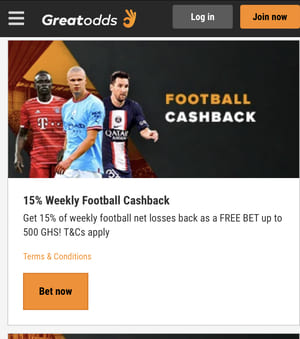 How to Grab the offer
To be eligible for this promotion, you must:
Have a Greatodds account
Place a real-money bet on any pre-match or in-play football markets
Have a net loss of at least 10 GHS during the promotional period
If you meet the criteria above, you will be credited with 15% of the amount lost (the "Net Loss").
Performance
Atlético Madrid
Last games
Atlético Madrid performance of the last 4 home matches
Villarreal CF
Last games
Villarreal CF performance of the last 6 away matches
Current Standing
| POS | TEAM | PTS | MP | W | D | L | GF | GA | GD |
| --- | --- | --- | --- | --- | --- | --- | --- | --- | --- |
| 1 | | 19 | 7 | 6 | 1 | 0 | 19 | 1 | 18 |
| 2 | | 18 | 6 | 6 | 0 | 0 | 17 | 6 | 11 |
| 3 | | 16 | 7 | 5 | 1 | 1 | 16 | 4 | 12 |
| 4 | | 15 | 6 | 5 | 0 | 1 | 10 | 4 | 6 |
| 5 | | 13 | 7 | 4 | 1 | 2 | 12 | 6 | 6 |
| 6 | | 12 | 7 | 3 | 3 | 1 | 10 | 2 | 8 |
| 7 | | 12 | 6 | 4 | 0 | 2 | 7 | 5 | 2 |
| 8 | | 10 | 6 | 3 | 1 | 2 | 7 | 8 | -1 |
| 9 | | 9 | 6 | 3 | 0 | 3 | 10 | 5 | 5 |
| 10 | | 8 | 7 | 2 | 2 | 3 | 6 | 8 | -2 |
| 11 | | 7 | 6 | 2 | 1 | 3 | 7 | 7 | 0 |
| 12 | | 7 | 6 | 2 | 1 | 3 | 8 | 13 | -5 |
| 13 | Real Valladolid Club de Futbol | 7 | 7 | 2 | 1 | 4 | 6 | 13 | -7 |
| 14 | | 7 | 6 | 2 | 1 | 3 | 7 | 8 | -1 |
| 15 | | 7 | 7 | 2 | 1 | 4 | 8 | 15 | -7 |
| 16 | | 5 | 7 | 1 | 2 | 4 | 7 | 13 | -6 |
| 17 | | 4 | 6 | 1 | 1 | 4 | 7 | 12 | -5 |
| 18 | | 4 | 7 | 1 | 1 | 5 | 4 | 11 | -7 |
| 19 | | 4 | 7 | 1 | 1 | 5 | 1 | 14 | -13 |
| 20 | | 1 | 6 | 0 | 1 | 5 | 2 | 16 | -14 |