Burnley FC
VS
Liverpool FC
Burnley FC - Liverpool FC betting tip & odds comparison 19.05.2021
Matchday 37 in the Premier League features the clash between Burnley FC and Liverpool FC at Turf Moor. The referee for this fixture (May 19, 2021 at 9:15 PM) will be Chris Kavanagh. In our preview of Burnley FC vs. Liverpool FC, you will receive all the important details and facts about this Premier League fixture. We will begin with an analysis of the current form of the two teams.
Looking for more Premier League betting predictions? In our overview, you can find the entire matchday with individual betting tips for each game.
Burnley FC emerged the winner in 2 of their last 5 league games (2 wins, 0 draws, 3 defeats. In 18 games on home turf in the current Premier League season 2020/2021, Burnley FC have won 4 times, with 6 matches ending in a draw, and 8 games ending in defeat (Goal difference 14:24).
In their last 5 Premier League fixtures, Liverpool FC have won 3 games (3 wins, 2 draws, 0 defeats). In all previous Premier League matches away from home, Liverpool FC have a positive record: 9 wins, 6 draws and 3 defeats - Goal difference 36:22.
A head-to-head comparison of the two teams in their last five Premier League clashes shows that Burnley FC managed to get 1 win, while in 3 matches, Liverpool FC snatched the three points. In 1 encounter between the two teams, the points were shared. If we solely focus on the home record of Burnley FC against Liverpool, the stats are as follows: 1 win Burnley FC, 0 draws and 4 wins for Liverpool FC.
You want to place a bet at a bookie you haven't signed up with yet? In this case, we can recommend the 1xbet bonus code for newly customers. We have already tested this offer for you.
Burnley vs Liverpool FC, EPL, 19.05.2021
Alisson's 95th-minute winner on Sunday held Liverpool's top-four aspirations alive, but the Reds know they will need to win their final two games of the season to give themselves the best chance of participating in the Champions League football again next season.
Burnley's home record is bad, and they face a Liverpool side that seems to be returning to form at just the right moment in the season on Wednesday. They seem not to have much to fight for, unlike Liverpool. We look forward to an entertaining clash on Wednesday.
In this match preview we take a look at the Betway Welcome Bonus and our betting tips for today.
BURNLEY
Burnley is 15th in the table, 12 points ahead of the bottom three with two games left and four points behind Southampton, who are just above them, but there is no doubt that Liverpool comes into this game with more to play for. The Clarets, on the other hand, realize they can beat Jurgen Klopp's side since they did so earlier in the season, becoming the first visiting team in 69 matches to defeat Liverpool in the league at Anfield. Sean Dyche will be hoping that sparks a turnaround from his team, despite the fact that they have lost their final home game of the season in three of the four years since they were promoted.
LIVERPOOL
Alisson appears in the six-yard box in the 95th minute to score a header, rescuing a crucial victory for Liverpool in the process. The goal obviously meant a lot to the player and his supporters, and it will be relevant when Liverpool are able to capitalize by winning their last two games of the season. Liverpool has won six and lost none of their last eight league games, the same number of wins as they had in their previous 19 top-flight games, of which they lost eight times. The Reds have won seven of their last nine away league games, drawing just once, which generally works well for a clash against Burnley which has the worst home run in top-flight history. Liverpool seems to be reinventing their winning form at an opportune moment, and they will be firing on all weapons to finish in the top four.
Possible Line Ups
BURNLEY
LIVERPOOL

Pope
Taylor
Mee
Tarkowski
Lowton
McNeil
Cork
Westwood
Brownhill
Wood
Vydra
Coach: Sean Dyche

Alisson
Davies
Fabinho
Alexander-Arnold
Robertson
Alcantara
Wijnaldum
Milner
Salah
Firminho
Mane
Coach: Jurgen Klopp

Injured: Brady (Muscle), Long (Muscle) and Van Dijk (Knee), Henderson (Groin), Matip (Ankle), Gomez (Knee)
BURNLEY VS LIVERPOOL BETTING PREDICTIONS
Liverpool's top-four aspirations remain alive after a 2-1 victory at West Bromwich Albion last weekend. The thrilling win, highlighted by Alisson's late header, dropped the Reds to fourth place, just a point and a place behind Chelsea, and three points behind third-placed Leicester.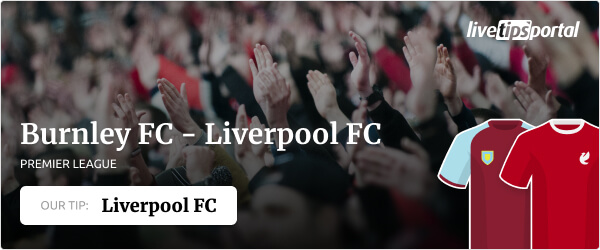 © Livetipsportal
Liverpool will be looking to finish a very competitive season by securing a place in the top four for them to participate in the European Champions league football next season. As a result, we believe there is merit in selecting Liverpool to Win @ 1.25 as the main prediction. A win at Turf Moore on Wednesday brings them closer to their goal of finishing in the top four.
Burnley no longer has anything to lose since they are sure to compete in the top flight of English football next season. Read our betting strategies and learn about the patterns that will help you become a better gambler.
Our tips
Performance
Burnley FC
Last games
Burnley FC performance of the last 5 home matches
Liverpool FC
Last games
Liverpool FC performance of the last 5 away matches
Current Standing
| POS | TEAM | PTS | MP | W | D | L | GF | GA | GD |
| --- | --- | --- | --- | --- | --- | --- | --- | --- | --- |
| 1 | | 86 | 38 | 27 | 5 | 6 | 83 | 32 | 51 |
| 2 | | 74 | 38 | 21 | 11 | 6 | 73 | 44 | 29 |
| 3 | | 69 | 38 | 20 | 9 | 9 | 68 | 42 | 26 |
| 4 | | 67 | 38 | 19 | 10 | 9 | 58 | 36 | 22 |
| 5 | | 66 | 38 | 20 | 6 | 12 | 68 | 50 | 18 |
| 6 | | 65 | 38 | 19 | 8 | 11 | 62 | 47 | 15 |
| 7 | | 62 | 38 | 18 | 8 | 12 | 68 | 45 | 23 |
| 8 | | 61 | 38 | 18 | 7 | 13 | 55 | 39 | 16 |
| 9 | | 59 | 38 | 18 | 5 | 15 | 62 | 54 | 8 |
| 10 | | 59 | 38 | 17 | 8 | 13 | 47 | 48 | -1 |
| 11 | | 55 | 38 | 16 | 7 | 15 | 55 | 46 | 9 |
| 12 | | 45 | 38 | 12 | 9 | 17 | 46 | 62 | -16 |
| 13 | Wolverhampton Wanderers FC | 45 | 38 | 12 | 9 | 17 | 36 | 52 | -16 |
| 14 | | 44 | 38 | 12 | 8 | 18 | 41 | 66 | -25 |
| 15 | | 43 | 38 | 12 | 7 | 19 | 47 | 68 | -21 |
| 16 | Brighton & Hove Albion FC | 41 | 38 | 9 | 14 | 15 | 40 | 46 | -6 |
| 17 | | 39 | 38 | 10 | 9 | 19 | 33 | 55 | -22 |
| 18 | | 28 | 38 | 5 | 13 | 20 | 27 | 53 | -26 |
| 19 | | 26 | 38 | 5 | 11 | 22 | 35 | 76 | -41 |
| 20 | | 23 | 38 | 7 | 2 | 29 | 20 | 63 | -43 |
Legend
Champions League

Europa League

Abstieg

Europa Conference League