Chelsea FC
VS
Leicester City
Chelsea FC - Leicester City FC betting tip & odds comparison 18.05.2021
Betting Tip for matchday 37 of the 2020/2021 Premier League between Chelsea FC and Leicester City FC. The game will be played at Stamford Bridge (London, England) on 18.05.2021 at 21:15.
Chelsea vs Leicester City, EPL 18.05.2021
Chelsea will have a chance for immediate redemption when they host Leicester City at Stamford Bridge in the Premier League on Tuesday, with both teams locked in the race for top four Champions League places on the table.
Leicester who defeated Chelsea 1-0 to win their first-ever FA Cup at Wembley on Saturday, are third on the log on 66 points, just two clear of the hosts who are in 4th place.
Another tough contested is expected here and we will examine Konfambet Welcome Bonus prices for our betting tips.
CHELSEA
Chelsea have endured a rough couple of weeks. Not only did they miss the chance to dislodge Leicester from third place on the table after losing 1-0 to Arsenal last Wednesday, but they also lost by the same margin to Leicester in the FA Cup final on Saturday.
That's as bad of a run as they have had under new manager Thomas Tuchel who has had a tremendous impact since his arrival in January. He has won 17 of his 27 matches in all competitions while only conceding only 13 goals in the process. Those two losses, bad as they look weren't really a reflection of the games but rather an indictment on Chelsea's lack of proper finishing with German striker Timo Werner still struggling to find his scoring boots.
Tuchel will demand a major response from his players against the Foxes on Tuesday. With Champions League qualification still in the balance, thanks to Liverpool's recent resurgence, only a win here will ensure they can have their fate in their own hands.
LEICESTER
Leicester needed a nearly perfect performance as underdogs in the FA Cup final and they did just that. Youri Tieleman's well-taken goal just past the hour mark coupled with a disciplined defensive masterclass was all it took to defeat Chelsea and in the process earn their first-ever FA Cup winners medal.
Celebrations were inevitable given the sheer historical import of that triumph but they will have to sober up real quick and turn their guns on the remaining task at hand for this season – securing qualification for next season's Champions League.
Like last season, the Foxes have hovered within the top four for the vast majority of the season. They failed at the final hurdle then and with Tottenham coming to the King's Power stadium on the last day of the season, they will need to be at their best to prevent a repeat of the same.
Possible Line Ups
CHELSEA
LEICESTER

Mendy
James
Rudiger
Zouma
Chilwell
Kante
Jorginho
Havertz
Pulisic
Mount
Werner
Coach: Thomas Tuchel

Schmeichel
Castagne
Soyuncu
Fofana
Pereira
Ndidi
Maddison
Tielemans
Albrighton
Iheanacho
Vardy
Coach: Brendan Rodgers

Injured: Christensen (Hamstring), Kovacic (Hamstring) and Barnes (Knee), Justin (ACL), Morgan (Back), Evans (Muscle)
CHELSEA VS LEICESTER BETTING PREDICTIONS
Given the magnitude of this fixture in so far as the race for top-four is concerned, we expect both teams to yet again hold their cards close to their chests. Liverpool's marauding run in recent weeks has completely changed the top-four race. Any false steps from either of these two teams could see them getting out of the equation. We, therefore, expect to see both teams prioritize more on defence as opposed to going all out for it. As a result, we feel there is value in picking Under 2.5 goals @ 1.73 as the first of our betting tips for today.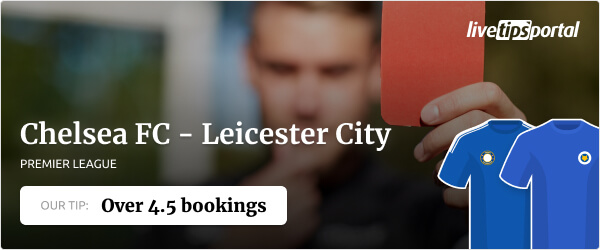 © Livetipsportal
Familiarity breeds contempt. The fact that these teams have had just a couple of days since the FA Cup final they played means that any simmering issues from the game will still be fresh. Chelsea will be looking to get their pound of flesh while Leicester will be out to frustrate them yet again and prove they have the Blues on speed dial. There will be some element of bad blood here and with Mike Dean taking charge of the game we can expect cards to fly here. Over 4.5 bookings is priced @ 2.13 and we are snapping it up for our final shout here.
Read our betting strategies to get to understand the habits that can make you a successful punter.
Our tips
Performance
Chelsea FC
Last games
Chelsea FC performance of the last 4 home matches
Leicester City
Last games
Leicester City performance of the last 6 away matches
Current Standing
| POS | TEAM | PTS | MP | W | D | L | GF | GA | GD |
| --- | --- | --- | --- | --- | --- | --- | --- | --- | --- |
| 1 | | 86 | 38 | 27 | 5 | 6 | 83 | 32 | 51 |
| 2 | | 74 | 38 | 21 | 11 | 6 | 73 | 44 | 29 |
| 3 | | 69 | 38 | 20 | 9 | 9 | 68 | 42 | 26 |
| 4 | | 67 | 38 | 19 | 10 | 9 | 58 | 36 | 22 |
| 5 | | 66 | 38 | 20 | 6 | 12 | 68 | 50 | 18 |
| 6 | | 65 | 38 | 19 | 8 | 11 | 62 | 47 | 15 |
| 7 | | 62 | 38 | 18 | 8 | 12 | 68 | 45 | 23 |
| 8 | | 61 | 38 | 18 | 7 | 13 | 55 | 39 | 16 |
| 9 | | 59 | 38 | 18 | 5 | 15 | 62 | 54 | 8 |
| 10 | | 59 | 38 | 17 | 8 | 13 | 47 | 48 | -1 |
| 11 | | 55 | 38 | 16 | 7 | 15 | 55 | 46 | 9 |
| 12 | | 45 | 38 | 12 | 9 | 17 | 46 | 62 | -16 |
| 13 | Wolverhampton Wanderers FC | 45 | 38 | 12 | 9 | 17 | 36 | 52 | -16 |
| 14 | | 44 | 38 | 12 | 8 | 18 | 41 | 66 | -25 |
| 15 | | 43 | 38 | 12 | 7 | 19 | 47 | 68 | -21 |
| 16 | Brighton & Hove Albion FC | 41 | 38 | 9 | 14 | 15 | 40 | 46 | -6 |
| 17 | | 39 | 38 | 10 | 9 | 19 | 33 | 55 | -22 |
| 18 | | 28 | 38 | 5 | 13 | 20 | 27 | 53 | -26 |
| 19 | | 26 | 38 | 5 | 11 | 22 | 35 | 76 | -41 |
| 20 | | 23 | 38 | 7 | 2 | 29 | 20 | 63 | -43 |
Legend
Champions League

Europa League

Abstieg

Europa Conference League