Crystal Palace
VS
Manchester City
Crystal Palace FC - Manchester City FC betting tip & odds comparison 01.05.2021
Matchday 34 in the Premier League features the clash between Crystal Palace and Manchester City at Selhurst Park. The referee for this fixture (May 1, 2021 at 1:30 PM) will be David Coote. In our preview of Crystal Palace vs. Manchester City, you will receive all the important details and facts about this Premier League fixture. We will begin with an analysis of the current form of the two teams.
Looking for more english Premier League betting tips? In our overview, you can find the entire matchday with individual betting tips for each game.
Crystal Palace emerged the winner in 1 of their last 5 league games (1 win, 1 draw, 3 defeats. In 16 games on home turf in the current Premier League season 2020/2021, Crystal Palace have won 5 times, with 5 matches ending in a draw, and 6 games ending in defeat (Goal difference 16:25).
In their last 5 Premier League fixtures, Manchester City have won 4 games (4 wins, 0 draws, 1 defeat). In all previous Premier League matches away from home, Manchester City have a positive record: 12 wins, 3 draws and 1 defeat - Goal difference 32:9.
A head-to-head comparison of the two teams in their last five Premier League clashes shows that Crystal Palace managed to get 1 win, while in 3 matches, Manchester City snatched the three points. In 1 encounter between the two teams, the points were shared. If we solely focus on the home record of Crystal Palace against Man City, the stats are as follows: 0 wins Crystal Palace, 1 draw and 4 wins for Manchester City.
You want to place a bet at a bookie you haven't signed up with yet? In this case, we can recommend the 1xbet bonus for newly customers. We have already tested this offer for you.
Crystal Palace vs Manchester City, EPL, 01.05.2021
After earning a 2-1 win in the 1st leg of their Semifinal tie against PSG in Paris, Manchester City will now turn attention to stepping closer to another Premier League title when they visit Selhurst Park on Saturday. Pep Guardiola's men could be champions this weekend if results go their way this weekend.
For this fixture, we will take our prices for our betting tips from Booster99 Review.
CRYSTAL PALACE
Crystal Palace are heading into the home straight of the season with a crowded treatment table. The likes of Gary Cahill, James Tomkins and Mamadou Sakho are out of contention for the game against the potential champions on Saturday. Away from the defence, Connor Wickham and James McArthur are also out injured. However, James McCarthy is fit again and he is pushing for a starter's shirt.
The Last time out the Eagles started well against Leicester it's but they lost their bearing and allowed the Foxes to claw the way back into the game, restoring parity and eventually winning the game 2-1. That results meant that Roy Hodgson's men are not mathematically in the clear as far as the threat of relegation is concerned, despite being 11 points clear of the relegation zone.
Wilfred Zaha's goal against Leicester City ensured he hit the double figures mark this season and they will be counting on him to delay City's title celebrations a little further. Although that looks unlikely with only one in their last seven Premier League games.
MANCHESTER CITY
Manchester City could emerge champions this weekend if they beat Crystal Palace and Manchester United lose to Liverpool. That would mean the Citizens will be 13 points clear at the top of the log.
Getting a win at Selhurst Park is a real possibility for Guardiola's men but they will also hope the result from the Manchester United and Liverpool game back in Manchester goes their way.
City will be buzzing following their 2-1 success in the first leg of their Champions League Semi-final tie in Paris. Kevin De Bruyne and Riyadh Mahrez ensured a comeback win that could see them make their first appearance in final Europe's top club competition.
Aside from the possibility of wrapping up the title this weekend, Manchester City are currently on 10 game-winning run on the road and a win at Palace will equal the Premier League record of 11 straight away wins.
Possible Line Ups
CRYSTAL PALACE
MANCHESTER CITY

Ederson
Dias
Laporte
Cancelo
Walker
Gundogan
Rodri
De Bruyne
Silva
Foden
Mahrez
Coach: Pep Guardiola

Guaita
Dann
Kouyate
van Aanholt
Ward
Riedewald
Milivojevic
Eze
Ayew
Benteke
Zaha
Coach:Roy Hodgson

Injured: Cahill(Knock),Wickham(Muscle),McArthur(Calf),Tomkins(Eye),Sakho(Thigh) and Stones(Suspension)
CRYSTAL PALACE VS MAN CITY BETTING TIPS AND PREDICTIOONS
Crystal Palace have shown defensive solidity recently. They have kept three clean sheets in their last four games. With City coming to town, their backline will be tested.
Manchester City are favourites for the win and they are priced 1.35 on Booster99. That is decent enough to guarantee good value. For our second tip, we are backing Manchester City to win at Half time and Booster99 again offers the Man city Half time win at 1.85.
Although Pep Guardiola might ring a few changes ahead of the Champions League Semifinal second leg game against PSG, they still should be too strong for Palace.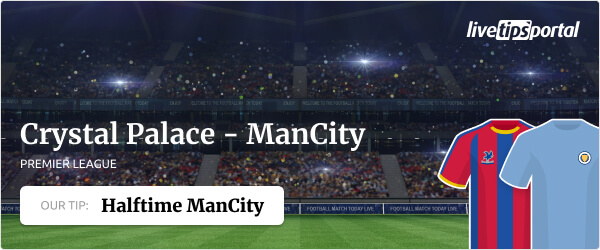 © Livetipsportal
Avail yourself of our explanation of the different betting strategies, it is quite insightful and informative.
Our tips
Performance
Crystal Palace
Last games
Crystal Palace performance of the last 5 home matches
Manchester City
Last games
Manchester City performance of the last 5 away matches
Current Standing
| POS | TEAM | PTS | MP | W | D | L | GF | GA | GD |
| --- | --- | --- | --- | --- | --- | --- | --- | --- | --- |
| 1 | | 86 | 38 | 27 | 5 | 6 | 83 | 32 | 51 |
| 2 | | 74 | 38 | 21 | 11 | 6 | 73 | 44 | 29 |
| 3 | | 69 | 38 | 20 | 9 | 9 | 68 | 42 | 26 |
| 4 | | 67 | 38 | 19 | 10 | 9 | 58 | 36 | 22 |
| 5 | | 66 | 38 | 20 | 6 | 12 | 68 | 50 | 18 |
| 6 | | 65 | 38 | 19 | 8 | 11 | 62 | 47 | 15 |
| 7 | | 62 | 38 | 18 | 8 | 12 | 68 | 45 | 23 |
| 8 | | 61 | 38 | 18 | 7 | 13 | 55 | 39 | 16 |
| 9 | | 59 | 38 | 18 | 5 | 15 | 62 | 54 | 8 |
| 10 | | 59 | 38 | 17 | 8 | 13 | 47 | 48 | -1 |
| 11 | | 55 | 38 | 16 | 7 | 15 | 55 | 46 | 9 |
| 12 | | 45 | 38 | 12 | 9 | 17 | 46 | 62 | -16 |
| 13 | Wolverhampton Wanderers FC | 45 | 38 | 12 | 9 | 17 | 36 | 52 | -16 |
| 14 | | 44 | 38 | 12 | 8 | 18 | 41 | 66 | -25 |
| 15 | | 43 | 38 | 12 | 7 | 19 | 47 | 68 | -21 |
| 16 | Brighton & Hove Albion FC | 41 | 38 | 9 | 14 | 15 | 40 | 46 | -6 |
| 17 | | 39 | 38 | 10 | 9 | 19 | 33 | 55 | -22 |
| 18 | | 28 | 38 | 5 | 13 | 20 | 27 | 53 | -26 |
| 19 | | 26 | 38 | 5 | 11 | 22 | 35 | 76 | -41 |
| 20 | | 23 | 38 | 7 | 2 | 29 | 20 | 63 | -43 |
Legend
Champions League

Europa League

Relegation

Europa Conference League