Crystal Palace
VS
Manchester City
Crystal Palace FC - Manchester City betting tip & odds comparison 14.03.2022
Gameweek 29 in the Premier League will see the clash between Crystal Palace and Manchester City at Selhurst Park. Kick-off time is at 9:00 PM on Mar 14, 2022, and the match will be refereed by Martin Atkinson. In our preview of Crystal Palace vs. Manchester City we will provide you with all the important facts and stats for this Premier League fixture. Let's start by having a look at the current form of the two teams involved.
Here, you have all Premier League betting tips at a glance. We provide you with detailed forecasts for every matchday. In addition to that, you can also find a comprehensive odds comparison.
Crystal Palace were victorious in 2 of their previous 5 league matches (2 wins, 2 draws, 1 defeat. In the current Premier League season 2021/2022, Crystal Palace were able to win 4 of their 14 games at home, with a total of 6 draws, and 4 defeats (Goal difference 22:17).
Manchester City have won 4 of their last 5 Premier League encounters (4 wins, 0 draws, 1 defeat. The away record in this year's Premier League season for Manchester City reveals the following stats: 11 wins, 2 draws and 1 defeat - Goal difference 28:8.
Out of the last five Premier League encounters between the two teams, Crystal Palace won 1. In 1 match the points between the two sides were shared, and 3 times Manchester City got the win. If we look at the home record of Crystal Palace against Manchester City, the stats are as follows: 0 wins Crystal Palace, 1 draw and 4 wins Manchester City.
Naturally, you can follow our advice and place the same bet free of charge. If you decide to do so at a new bookie, you can benefit from the Betway deposit bonus. We have already tested the offer for you in detail.
With the Premier League battle coming alive in the last few weeks thanks to a Liverpool surge, Man City will be looking to create some separation at the top when they travel to Selhurst Park to take on Crystal Palace on Monday.
The Eagles have looked good lately and will come into this game on the back of an impressive 2-0 win at Wolverhampton Wanderers while Pep Guardiola's men had a massive win over their neighbours United in their last league game.

We fancy an interesting matchup here and we will explore Cyberbet and Greatodds markets and odds for our England Premier League prediction in this preview.  
CRYSTAL PALACE
After looking like they would drop into the relegation dogfight, Palace have seemingly turned around their season and gone on an impressive run that has seen them lose just once in their last 8 matches across all competitions (4W, 3D). They win at the Molineux saw them climb up to 11th on the table, and the possibility of a top-half finish is very much on the table now.

They also saw off Stoke City in the 5th round of the FA Cup to book a lot in the quarterfinal of England's oldest and most decorated cup competition.

Despite the optimism in his side at the moment, coach Vieira will demand a better output in their home games where they have been sub-par to say the least. They have only picked up a point from the last 12 on offer at Selhurst Park and will have done exceedingly well do if they can even afford a point in this game.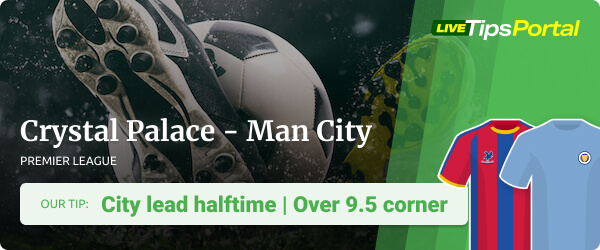 MANCHESTER CITY
After the impressive thrashing of Manchester United at the Etihad, Guardiola as he is wont to do, rang up a lot of changes on his side and picked up a dour 0-0 draw with Portuguese Champions at the same grounds in their midweek Champions League match. That was still enough to see them through to the quarterfinals as they had eased their way to a 5-0 win in Lisbon in the 1st leg.
The Citizens looked to have had the title in the bag midway through the season but Liverpool's impressive run has seen their lead at the top cut down to just three points.

City have been the best away team in the league and they will be looking to continue their impressive away form here that has seen them win eight of their last nine matches on the road.
By the way, if you're from Ghana we got all the information about the Greatodds bonus, like if you need a Greatodds promo code, how the terms are and everything else. Not only because of the bonus offer is this bookie one of the most popular betting companies in Ghana.
POSSIBLE LINEUPS
CRYSTAL PALACE
Guaita
Clyne
Andersen
Guehi
Mitchell
Gallagher
Kouyate
Schlupp
Olise
Mateta
Zaha
MISSING PLAYERS: Ward (Groin strain), Ferguson (Hamstring)
MAN CITY
Ederson
Walker
Stones
Laporte
Zinchenko
Silva
Fernandinho
Gündoğan
Jesus
Foden
Sterling
MISSING PLAYERS: Palmer (Foot injury), Dias (Hamstring), Aké (Hamstring), Steffen (Back injury), Mendy (Disciplinary)
CRYSTAL PALACE VS MAN CITY PREDICTIONS
Having rested his big guns in their midweek Champions League fixture, Guardiola is expected to revert to his strongest starting 11 as they look to create some cushion from Liverpool who have been breathing down their necks in the intensive race for the Premier League title. The Citizens hold a razor-thin margin of just three points and anything less than a win here will be damaging for their chances to defend the title. We fancy them to apply all the early pressure in this game and we are backing them to be ahead at the break @ 1.80 with Cyberbet as our first call.



Crystal Palace have shown they have plenty of attacking threats and can cause the City backline some problems if afforded the opportunities. As much as City is expected to dominate the possession, the Eagles will also try to get something out of this game. As such we expect an open-ended game here that could yield plenty of corners either way. Greatodds have Over 9.5 total corners priced at 1.55 and we feel there is value in picking this as our final betting tip today for this Monday night clash.
Performance
Crystal Palace
Last games
Crystal Palace performance of the last 5 home matches
Manchester City
Last games
Manchester City performance of the last 5 away matches
Current Standing
| POS | TEAM | PTS | MP | W | D | L | GF | GA | GD |
| --- | --- | --- | --- | --- | --- | --- | --- | --- | --- |
| 1 | | 93 | 38 | 29 | 6 | 3 | 99 | 26 | 73 |
| 2 | | 92 | 38 | 28 | 8 | 2 | 94 | 26 | 68 |
| 3 | | 74 | 38 | 21 | 11 | 6 | 76 | 33 | 43 |
| 4 | | 71 | 38 | 22 | 5 | 11 | 69 | 40 | 29 |
| 5 | | 69 | 38 | 22 | 3 | 13 | 61 | 48 | 13 |
| 6 | | 58 | 38 | 16 | 10 | 12 | 57 | 57 | 0 |
| 7 | | 56 | 38 | 16 | 8 | 14 | 60 | 51 | 9 |
| 8 | | 52 | 38 | 14 | 10 | 14 | 62 | 59 | 3 |
| 9 | Brighton & Hove Albion FC | 51 | 38 | 12 | 15 | 11 | 42 | 44 | -2 |
| 10 | Wolverhampton Wanderers FC | 51 | 38 | 15 | 6 | 17 | 38 | 43 | -5 |
| 11 | | 49 | 38 | 13 | 10 | 15 | 44 | 62 | -18 |
| 12 | | 48 | 38 | 11 | 15 | 12 | 50 | 46 | 4 |
| 13 | | 46 | 38 | 13 | 7 | 18 | 48 | 56 | -8 |
| 14 | | 45 | 38 | 13 | 6 | 19 | 52 | 54 | -2 |
| 15 | | 40 | 38 | 9 | 13 | 16 | 43 | 67 | -24 |
| 16 | | 39 | 38 | 11 | 6 | 21 | 43 | 66 | -23 |
| 17 | | 38 | 38 | 9 | 11 | 18 | 42 | 79 | -37 |
| 18 | | 35 | 38 | 7 | 14 | 17 | 34 | 53 | -19 |
| 19 | | 23 | 38 | 6 | 5 | 27 | 34 | 77 | -43 |
| 20 | | 22 | 38 | 5 | 7 | 26 | 23 | 84 | -61 |
Legend
Champions League

Europa League

Europa Conference League Quali.

Relegation