FC Barcelona
VS
Real Madrid
Spotify Camp Nou
Barcelona
FC Barcelona - Real Madrid CF betting tip & odds comparison 24.10.2021
Gameweek 10 in the Primera División will see the clash between FC Barcelona and Real Madrid at Spotify Camp Nou. Kick-off time is at 4:15 PM on Oct 24, 2021. In our preview of FC Barcelona vs. Real Madrid we will provide you with all the important facts and stats for this Primera División fixture. Let's start by having a look at the current form of the two teams involved.
Here, you have all spanish La Liga betting tips at a glance. We provide you with detailed forecasts for every matchday. In addition to that, you can also find a comprehensive odds comparison.
FC Barcelona were victorious in 2 of their previous 5 league matches (2 wins, 2 draws, 1 defeat. In the current Primera División season 2021/2022, FC Barcelona were able to win 4 of their 5 games at home, with a total of 1 draw, and 0 defeats (Goal difference 13:5).
Real Madrid have won 3 of their last 5 Primera División encounters (3 wins, 1 draw, 1 defeat. The away record in this year's Primera División season for Real Madrid reveals the following stats: 3 wins, 1 draw and 1 defeat - Goal difference 11:7.
Out of the last five Primera División encounters between the two teams, FC Barcelona won 1. In 1 match the points between the two sides were shared, and 3 times Real Madrid got the win. If we look at the home record of FC Barcelona against Real Madrid, the stats are as follows: 1 win FC Barcelona, 3 draws and 1 win Real Madrid.
Naturally, you can follow our advice and place the same bet free of charge. If you decide to do so at a new bookie, you can benefit from the Melbet first deposit bonus. We have already tested the offer for you in detail.
Barcelona vs Real Madrid, La Liga, 24.10.2021
Football fans are in for a treat this weekend with massive games across various leagues. In Spain, it doesn't get any bigger than the latest instalment of the El Clasico saga as Barcelona welcomes bitter rivals Real Madrid at their revered Camp Nou on Sunday afternoon.
Both teams missed out on the league title last season as a determined Atletico pipped them and they are both looking to bounce back this season.
Odibet has some terrific betting options for this game and we will cover a couple of them in this preview. Also don't miss out on the Odibets Free Bet after your Odibet signup.
BARCELONA
After a tumultuous summer that saw the exit of their star Lionel Messi to PSG to balance their finances in line with financial fair play requirements, the Catalans started the season slowly but they are still very much within striking distance of the top places.
Worryingly for the Catalan giants is how they came up short when they faced Atletico Madrid earlier this month, as they lost their only league game at the Spanish capital. They did bounce back with a good win over Valencia and a solid win in their midweek Champions League match, their first back-to-back wins of the season.
Coach Ronald Koeman will be looking to build on those here. A win for them will throw a spanner at the top of the table with a crowded chasing pack separated by just two points between Real Madrid in 2nd place and Betis in 8th place on the log.
REAL MADRID
With Barca's summer drama playing out in full view, many pundits looked towards Real Madrid to grab the title race by the throat and ran away with it early but that has not quite materialized. They had a solid start to the campaign but have stumbled in their last two games – a goalless stalemate at home against Villarreal and a shocking loss away at Espanyol in their last league assignment.
Bar these results, Los Bloncos have been playing some of the best attacking and breathtaking football in the league. They have scored 22 goals in their 8 matches. They responded to these setbacks with a fantastic 5 goal rout of Shakhtar away from home in the Champions League.
Having suffered their only defeat in the league, Real cannot afford to cede any more ground here. They have enjoyed success in this fixture in recent years, winning both of last season's league encounters.
Possible Line Ups
BARCELONA
REAL MADRID

ter Stergen
Pique
Mingueza
Lenglet
Alba
Gavi
Busquets
de Jong
Dest
Depay
Aguero
Coach: Ronald Koeman

Courtois
Mendy
Alaba
Militao
Vazquez
Kroos
Casemiro
Modric
Vinicius
Hazard
Benzema
Coach: Carlo Ancelotti

Injured: Pedri (Meniscus), Araujo (Hamstring), Braithwaite (Knee), Wague (Tendon) and Jovic (Ankle), Isco (Back), Carvajal (Calf) Bale (Hamstring), Ceballos (Ankle)
BARCELONA VS REAL MADRID BETTING TIPS
Despite the lack of star power that has been characteristic of past El Clasicos, the passion and fight will certainly be in full display here. Both teams will be looking to this match as one that can kickstart their quest for championship glory when all is said and done. Barcelona haven't quite been at their best, but they have shown some signs of revival. Real meantime will be looking to get back to their dominant selves once again. There is no love lost between these two teams and given the circumstances at play, we expect a close and physical encounter that could see quite a few bookings. 4 of their last 5 H2H encounters have witnessed 6 or more bookings and we are backing a repeat of the same @ 1.72 as the first of our football betting tips today.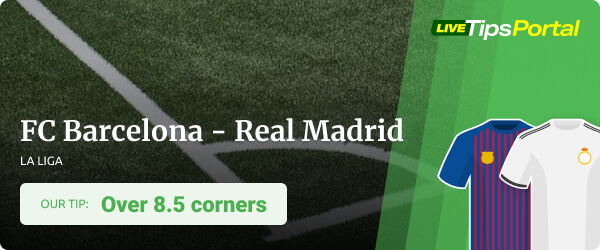 © Livetipsportal
With both teams needing a win, we expect an all-out attacking game here. As a result, the corners market is of great interest. Odibets have priced Over 8.5 Corners @ 1.75 and we feel there is great value here.
Odibets are creating quite a wave in Kenya. Read our review of the bookmakers in Kenya and get to know where else you can get the best offers and promos.
Our tips
Performance
FC Barcelona
Last games
FC Barcelona performance of the last 4 home matches
Real Madrid
Last games
Real Madrid performance of the last 6 away matches
Current Standing
| POS | TEAM | PTS | MP | W | D | L | GF | GA | GD |
| --- | --- | --- | --- | --- | --- | --- | --- | --- | --- |
| 1 | | 86 | 38 | 26 | 8 | 4 | 80 | 31 | 49 |
| 2 | | 73 | 38 | 21 | 10 | 7 | 68 | 38 | 30 |
| 3 | | 71 | 38 | 21 | 8 | 9 | 65 | 43 | 22 |
| 4 | | 70 | 38 | 18 | 16 | 4 | 53 | 30 | 23 |
| 5 | | 65 | 38 | 19 | 8 | 11 | 62 | 40 | 22 |
| 6 | | 62 | 38 | 17 | 11 | 10 | 40 | 37 | 3 |
| 7 | | 59 | 38 | 16 | 11 | 11 | 63 | 37 | 26 |
| 8 | | 55 | 38 | 14 | 13 | 11 | 43 | 36 | 7 |
| 9 | | 48 | 38 | 11 | 15 | 12 | 48 | 53 | -5 |
| 10 | | 47 | 38 | 12 | 11 | 15 | 37 | 51 | -14 |
| 11 | | 46 | 38 | 12 | 10 | 16 | 43 | 43 | 0 |
| 12 | | 42 | 38 | 11 | 9 | 18 | 39 | 50 | -11 |
| 13 | | 42 | 38 | 11 | 9 | 18 | 40 | 52 | -12 |
| 14 | | 42 | 38 | 10 | 12 | 16 | 40 | 53 | -13 |
| 15 | | 39 | 38 | 8 | 15 | 15 | 33 | 41 | -8 |
| 16 | | 39 | 38 | 10 | 9 | 19 | 36 | 63 | -27 |
| 17 | | 39 | 38 | 8 | 15 | 15 | 35 | 51 | -16 |
| 18 | | 38 | 38 | 8 | 14 | 16 | 44 | 61 | -17 |
| 19 | | 35 | 38 | 8 | 11 | 19 | 51 | 76 | -25 |
| 20 | | 31 | 38 | 8 | 7 | 23 | 31 | 65 | -34 |
Legend
Champions League

Europa League

Europa Conference League Quali.

Relegation