FC Barcelona
VS
Real Sociedad
Spotify Camp Nou
Barcelona
FC Barcelona - Real Sociedad de Futbol betting tip & odds comparison 15.08.2021
In gameweek 1 of Primera División, FC Barcelona will host Real Sociedad at Spotify Camp Nou. Kick-off is scheduled for 8:00 PM on Aug 15, 2021 With our match prediction and odds comparison for FC Barcelona vs. Real Sociedad you are guaranteed to get all the important facts and details for this fixture. First and foremost, we will take a close look at the teams' recent performances.
You can't get enough of free La Liga predictions? We provide you with betting tips for every matchday fixture, and additionally, we offer a comprehensive odds comparison.
In their last five Primera División encounters, FC Barcelona managed to get 4 wins against Real Sociedad, while Real Sociedad scored 0 wins. On 1 occasion, there was no winner. If we focus exclusively on the home games that FC Barcelona played against Real Sociedad in the Primera División, we get the following record: 5 wins for FC Barcelona, 0 draws and 0 wins for Real Sociedad.
Have you heard of the Betway signup bonus yet? This offer, which is available to all customers who register for the first time, will allow you to start off with some extra credit.
Barcelona vs Real Sociedad, La Liga, 15.08.2021
A Messi-less era for Barcelona begins this Sunday evening when they welcome Real Sociedad to the Camp Nou in their opening match of the 2021-22 La Liga season.
Ronald Koeman's side finished third in Spain's top flight last term seven points behind champions Atletico Madrid. This particular squad seems seemingly weaker but they will set out to prove the naysayers wrong.
For this preview, we will turn the spotlight on Betfox Ghana prices for the game. Followed up with a friendly reminder that we have top bookies for our non Ghanaian users too. Just check out the best betting sites in Africa.
BARCELONA
It has been a tough couple of weeks for Barcelona following the saga surrounding Messi's exit but the dust is now settling and the Catalan giants are now looking to move onto a future without their former talisman and captain. They begin the season with a relatively tough opener against Real Sociedad who finished 5th in La Liga last season.
Barca started slowly in the league last season and that proved costly as they failed to provide any meaningful challenge to the Madrid-based outfits who took the battle to the wire, needing the final matchday to separate them.
Despite their woes on and off the pitch this summer, the Catalan giants have still managed to bring in new talents like Memphis Depay, Sergio Aguero and Eric Garcia on free transfers. Adding them to the remaining cast still makes them a formidable outfit and they should still be able to challenge for top honors this season.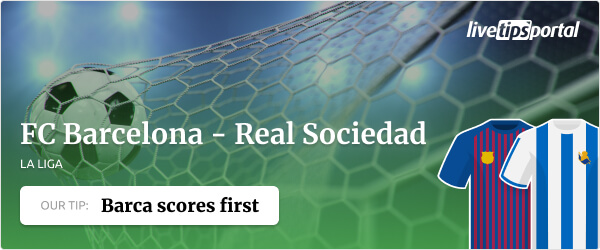 © Livetipsportal
REAL SOCIEDAD
Real Sociedad impressed last season. They flirted with the top three for long stretches of the season before eventually finishing fifth, which was their best ranking since the 2012-13 season. They will be under increased pressure to maintain this level of performance this term with Europa League games increasing their fixture load for this term.
Surprisingly, Sociedad have had a rather uneventful transfer window, bringing in Diego Rico and Mathew Ryan to bolster the squad. They did however manage to keep hold of their star talents which means they are intent on running it back this season with the hope of replicating or bettering last season's output.
Imanol Alguacil's side were quite solid on their travels last season and he will be looking to bring more of the same right from day one.
Possible Line Ups
BARCELONA
REAL SOCIEDAD

Neto
Dest
Araujo
Pique
Alba
Roberto
Busquets
Demir
Griezmann
Depay
Braithewaite
Coach: Ronald Koeman

Ayesa
Zaldua
Rodrigues
Sagnan
Gorosabel
Guridi
Januzaj
Portu
Silva
Isak
Jose
Coach: Imanol Alguacil

Injured: Aguero (Calf), Dembele (Knee), Lenglet (Knee), Mingueza (Muscle), de Jong (Calf), ter Stegen (Knee) and Monreal (Knee), Fernandez (ACL), Ryan (Knee), Rico (Muscle)
BARCELONA VS REAL SOCIEDAD BETTING TIPS
For some reason, bookmakers haven't quite significantly reacted to Messi's departure. Barca are still regarded as the favorites to pick the win here. We however feel this will be a much more even encounter. Real Sociedad are a decent side and on their day are quite capable of causing problems against the top sides. The psychological knowledge of not having to deal with Messi will certainly embolden them to attack a bit more. Barca, even without Messi, still possesses a wealth of talent. We, therefore, feel this game will have goals galore and we are going for Over 2.5 goals @ 1.59 as our first betting prediction.
With all the issues surrounding the club, the Camp Nou faithful will be an agitated crowd. Barca cannot afford a slow start to this game, otherwise, they will compound their already complicated on and off-the-pitch issues. They have looked good in the off-season and we feel they will carry some of that momentum here. They should take charge of the game from the start and we fancy them to open the scoring @ 1.57 as our final pick.
Many bookies have now embraced streaming games as part of their value-adding services. Find out which bookies have this exciting feature by checking our review of the football live streams offered by different bookmakers.
Our tips
Performance
FC Barcelona
Last games
FC Barcelona performance of the last 4 home matches
Real Sociedad
Last games
Real Sociedad performance of the last 6 away matches
Current Standing
| POS | TEAM | PTS | MP | W | D | L | GF | GA | GD |
| --- | --- | --- | --- | --- | --- | --- | --- | --- | --- |
| 1 | | 86 | 38 | 26 | 8 | 4 | 80 | 31 | 49 |
| 2 | | 73 | 38 | 21 | 10 | 7 | 68 | 38 | 30 |
| 3 | | 71 | 38 | 21 | 8 | 9 | 65 | 43 | 22 |
| 4 | | 70 | 38 | 18 | 16 | 4 | 53 | 30 | 23 |
| 5 | | 65 | 38 | 19 | 8 | 11 | 62 | 40 | 22 |
| 6 | | 62 | 38 | 17 | 11 | 10 | 40 | 37 | 3 |
| 7 | | 59 | 38 | 16 | 11 | 11 | 63 | 37 | 26 |
| 8 | | 55 | 38 | 14 | 13 | 11 | 43 | 36 | 7 |
| 9 | | 48 | 38 | 11 | 15 | 12 | 48 | 53 | -5 |
| 10 | | 47 | 38 | 12 | 11 | 15 | 37 | 51 | -14 |
| 11 | | 46 | 38 | 12 | 10 | 16 | 43 | 43 | 0 |
| 12 | | 42 | 38 | 11 | 9 | 18 | 39 | 50 | -11 |
| 13 | | 42 | 38 | 11 | 9 | 18 | 40 | 52 | -12 |
| 14 | | 42 | 38 | 10 | 12 | 16 | 40 | 53 | -13 |
| 15 | | 39 | 38 | 8 | 15 | 15 | 33 | 41 | -8 |
| 16 | | 39 | 38 | 10 | 9 | 19 | 36 | 63 | -27 |
| 17 | | 39 | 38 | 8 | 15 | 15 | 35 | 51 | -16 |
| 18 | | 38 | 38 | 8 | 14 | 16 | 44 | 61 | -17 |
| 19 | | 35 | 38 | 8 | 11 | 19 | 51 | 76 | -25 |
| 20 | | 31 | 38 | 8 | 7 | 23 | 31 | 65 | -34 |
Legend
Champions League

Europa League

Europa Conference League Quali.

Relegation