FC Lorient
VS
Lille OSC
Stade du Moustoir
Lorient
FC Lorient - Lille OSC betting tip & odds comparison 10.09.2021
Gameweek 5 in the Ligue 1 will see the clash between FC Lorient and Lille OSC at Stade du Moustoir. Kick-off time is at 9:00 PM on Sep 10, 2021, and the match will be refereed by Clément Turpin. In our preview of FC Lorient vs. Lille OSC we will provide you with all the important facts and stats for this Ligue 1 fixture. Let's start by having a look at the current form of the two teams involved.
Looking for betting tips? Livetipsportal sports betting and football data is your source of analytical and stats-based betting predictions for the most popular leagues and international competitions.
FC Lorient were victorious in 1 of their previous 5 league matches (1 win, 3 draws, 1 defeat. In the current Ligue 1 season 2021/2022, FC Lorient were able to win 1 of their 1 game at home, with a total of 0 draws, and 0 defeats (Goal difference 1:0).
Lille OSC have won 2 of their last 5 Ligue 1 encounters (2 wins, 2 draws, 1 defeats. The away record in this year's Ligue 1 season for Lille OSC reveals the following stats: 0 wins, 2 draws and 0 defeats - Goal difference 4:4.
Out of the last five Ligue 1 encounters between the two teams, FC Lorient won 2. In 0 matches the points between the two sides were shared, and 3 times Lille OSC got the win. If we look at the home record of FC Lorient against Lille OSC, the stats are as follows: 2 wins FC Lorient, 0 draws and 3 wins Lille OSC.
Naturally, you can follow our advice and place the same bet free of charge. If you decide to do so at a new bookie, you can benefit from the Betway first deposit bonus. We have already tested the offer for you in detail.
Lorient vs. Lille, Ligue 1, 10.09.2021
This game brings together two teams with similar outcomes so far in the league (P4 W1 D2 L1). Lorient may be slightly happier since they faced some tricky fixtures while for Lille, they had to wait until the 4th game to get their first win of the season.
Lille enjoyed this fixture last season, winning big both home and away. They will have to work extra hard this time round if the current results are anything to go by.
We promote the Betway registration bonus in our preview of this game. Speaking about the welcome bonus: Get to know the easiest and fastest way for your Betway registration.
Read more about bonus promotions from the leading bookmakers in the game. Customers from Nigeria, Kenya, Uganda and South Africa will find other great bookies to sign up with.
LORIENT
Lorient go into this match on the back of a strong home showing. They are unbeaten at home in the last 11 matches (W8 D3). Their excellent home performance could be enough to get a positive result here.
Lorient's main problem is their defense, which has conceded in all their last 4 league games this season. An improvement of their defensive performances can help them win more points from their games, starting with this tricky fixture.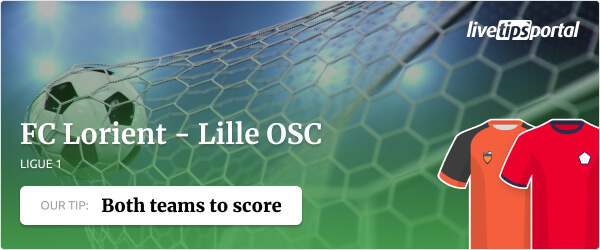 © Livetipsportal
LILLE
It has not been an ideal start to the season for defending champions Lille after just 2 points in their opening 3 league games, Lille finally managed a win when they beat Montpellier 2-1 in their last match. They will look to build on this win to get their season back on track.
Lille will be counting on extending their away unbeaten run of 16 matches, but they could do with some defensive discipline. They have conceded 10 goals in their last 6 games.
Possible Line Ups
LORIENT
LILLE

Nardi
Petrot
Laporte
Fontaine
Silva
Abergel
Lemoine
Monconduit
Le Goff
Moffi
Lauriente
Coach: Christophe Pélissier

Grbic
Mandava
Botman
Fonte
Djaló
Gomes
Xeka
Andre
Yazici
Yilmaz
David
Coach: Jocelyn Gourvennec

Injured: Morel (Thigh), Mouyokolo (ankle), Diarra (Thigh) and Sanches (Knee)
OUR TIP
The two teams seem currently matched in terms of form and the result could go either way. Lorient have shown good home form while Lille have been impressive away.
With both defenses struggling and their respective attacks getting goals, we expect both teams to score in this fixture. For either team, 5 of their last 6 fixtures had both teams scoring.
FOOTBALL BETTING TIP TODAY: Both Teams to Score @ 1.91 odds.
Betway isn't the bookie of your choice? No problem! You can read our article about the best betting companies in Africa to find another bookmaker and bonus offer that fits your needs.
Our tips
Performance
FC Lorient
Last games
FC Lorient performance of the last 5 home matches
Lille OSC
Last games
Lille OSC performance of the last 5 away matches
Current Standing
| POS | TEAM | PTS | MP | W | D | L | GF | GA | GD |
| --- | --- | --- | --- | --- | --- | --- | --- | --- | --- |
| 1 | | 86 | 38 | 26 | 8 | 4 | 90 | 36 | 54 |
| 2 | | 71 | 38 | 21 | 8 | 9 | 63 | 38 | 25 |
| 3 | | 69 | 38 | 20 | 9 | 9 | 65 | 40 | 25 |
| 4 | | 66 | 38 | 20 | 6 | 12 | 82 | 40 | 42 |
| 5 | | 66 | 38 | 20 | 7 | 11 | 52 | 36 | 16 |
| 6 | | 63 | 38 | 17 | 12 | 9 | 60 | 43 | 17 |
| 7 | | 62 | 38 | 17 | 11 | 10 | 62 | 48 | 14 |
| 8 | | 61 | 38 | 17 | 11 | 10 | 66 | 51 | 15 |
| 9 | | 55 | 38 | 15 | 10 | 13 | 55 | 48 | 7 |
| 10 | | 55 | 38 | 14 | 13 | 11 | 48 | 48 | 0 |
| 11 | | 48 | 38 | 13 | 9 | 16 | 49 | 57 | -8 |
| 12 | | 46 | 38 | 11 | 13 | 14 | 43 | 44 | -1 |
| 13 | | 43 | 38 | 12 | 7 | 19 | 49 | 61 | -12 |
| 14 | | 41 | 38 | 10 | 11 | 17 | 44 | 55 | -11 |
| 15 | | 38 | 38 | 9 | 11 | 18 | 37 | 53 | -16 |
| 16 | | 36 | 38 | 8 | 12 | 18 | 35 | 63 | -28 |
| 17 | | 36 | 38 | 9 | 9 | 20 | 38 | 69 | -31 |
| 18 | | 32 | 38 | 7 | 11 | 20 | 42 | 77 | -35 |
| 19 | | 31 | 38 | 6 | 13 | 19 | 35 | 69 | -34 |
| 20 | | 31 | 38 | 6 | 13 | 19 | 52 | 91 | -39 |
Legend
Champions League

Champions League Quali.

Europa League

Europa Conference League Quali.

Relegation play-off

Relegation