FC Schalke 04
VS
Hamburger SV
Veltins-Arena
Gelsenkirchen
FC Schalke 04 - Hamburger SV betting tip & odds comparison 23.07.2021
Matchday 1 in the 2. Bundesliga features the clash between FC Schalke 04 and Hamburger SV at Veltins-Arena. In our preview of FC Schalke 04 vs. Hamburger SV, you will receive all the important details and facts about this 2. Bundesliga fixture. We will begin with an analysis of the current form of the two teams.
Livetipsportal is your expert-level platform for today's betting tips. We offer you the best sports betting predictions for the world's top leagues as well as for the most popular international competitions in football.
A head-to-head comparison of the two teams in their last five 2. Bundesliga clashes shows that FC Schalke 04 managed to get 2 wins, while in 2 matches, Hamburger SV snatched the three points. In 1 encounter between the two teams, the points were shared. If we solely focus on the home record of FC Schalke 04 against Hamburg, the stats are as follows: 2 wins FC Schalke 04, 3 draws and 0 wins for Hamburger SV.
You want to place a bet at a bookie you haven't signed up with yet? In this case, we can recommend the Melbet first deposit bonus for newly customers. We have already tested this offer for you.
Schalke 04 vs Hamburg SV, 2. Bundesliga, 23.07.2021
A fixture which was usually a tantalizing and keenly contested affair in the Bundesliga some years back will now be contested in the 2 Bundesliga when Schalke 04 faces Hamburger SV in the opening match of the German Second Division match of the new season. Read on to find out our recommended betting predictions.
SCHALKE 04
After over 20 years in the Bundesliga and competing in European competitions, Schalke 04 find themselves in an unfamiliar territory of 2 Bundesliga after a poor 2020/2021 season in which they finished bottom of the 18 team league winning a meagre 3 games.
Schalke had 4 managerial changes last season before settling for Dimitrios Grammozis, even though their fortunes did not change during the few matches he was in charge of. The Greek man now has been tasked with the onerous task of leading Schalke 04 back to the Bundesliga. Results in pre-season have been encouraging for the team, and they will be looking to carry that form into the league.
The team scored 25 goals in wins against Wesel-Lackhausen, Hambon 07 and Vitesse while earning respectable scoreless draws against Zenit St Petersburg and Shakhtar Donetsk.
Schalke 04 have added Dominick Drexler from FC Koln and they have also stolen a march on Hamburg for Simon Terodde. Simon Terodde is an experienced campaigner in the 2 Bundesliga, the 33 years old striker who has scored 142 goals in 253 games in this division for various clubs that includes Union Berlin, FC Koln, Vfl Bochum amongst others.
HAMBURG SV
Hamburger SV narrowly missed out on promotion playoff last season from the 2 Bundesliga when they finished 4 points behind the 3rd place team Holstein Kiel. Hamburg are going into their fourth consecutive year in the 2 Bundesliga, after having held the record of not being relegated till the 2017/2018 season.
After missing out on promotion last season, Hamburger SV relieved coach Daniel Thioune off his duties with 3 games to the end of the season and replaced with head of academy Horst Hrubesch. Horst Hrubesch managed a side that were unbeaten in their 4 pre-season games, beating Wacker, Silkeborg and Basel, while drawing 2-2 with Augsburg in preparation for the new season.
Hamburger SV will hope forwards, Manuel Wintzheimer, Robin Meibner, Mikkel Kaufmann and Robert Glatzel can replace 24 goals hero from last season Simon Terodde, who has been sold to Friday's opponents.
Possible Line Ups
SCHALKE 04
HAMBURG SV

Fahrmann
Bulter
Flick
Kaminski
Latza
Mikhailov
Ouwejan
Palsson
Ranftl
Terodde
Thiaw
Coach:Dimitrios Grammozis

Fernandes
David
Glatzel
Gyamerah
Jattah
Kinsombi
Leibold
Meffert
Reis
Schonlau
Wintzheimer
Coach: Horst Hrubesch

Injured: None and None
SCHALKE vs HAMBURG BETTING TIPS AND PREDICTIONS
Both teams have demonstrated their preparedness by posting impressive results in their build-up to the new season. Hamburg, gave a good account of themselves last term but fell short of returning to the German topflight. Schalke, on the other hand, would want to hit the ground running in a bid to return to the Bundesliga after a season. They have both scored aplenty in their last few games and we expect the goalscoring form of both teams to be re-enacted here with both teams scoring at 1.66 on Odibets Review.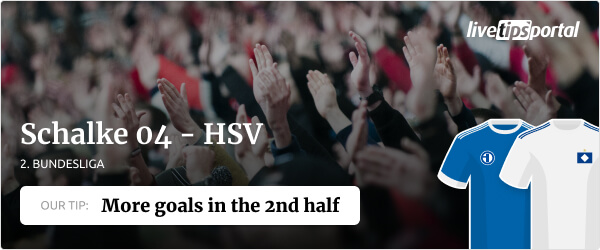 © Livetipsportal
For our second tip, despite the fact both sides are likely to hit the bull's eye, they will be cautious going into the game, as it is the first game of the new campaign. Therefore, we reckon there will be more goals in the second half at 2.08 on Odibets Free Bet Bonus. If you are new to sports betting, you can have a look at our betting strategies to help you in your betting adventure.
Our tips
Performance
FC Schalke 04
Last games
FC Schalke 04 performance of the last 5 home matches
Hamburger SV
Last games
Hamburger SV performance of the last 5 away matches
Current Standing
| POS | TEAM | PTS | MP | W | D | L | GF | GA | GD |
| --- | --- | --- | --- | --- | --- | --- | --- | --- | --- |
| 1 | | 65 | 34 | 20 | 5 | 9 | 72 | 44 | 28 |
| 2 | | 63 | 34 | 18 | 9 | 7 | 65 | 43 | 22 |
| 3 | | 60 | 34 | 16 | 12 | 6 | 67 | 35 | 32 |
| 4 | | 60 | 34 | 18 | 6 | 10 | 71 | 46 | 25 |
| 5 | | 57 | 34 | 16 | 9 | 9 | 61 | 46 | 15 |
| 6 | | 52 | 34 | 15 | 7 | 12 | 43 | 45 | -2 |
| 7 | | 51 | 34 | 13 | 12 | 9 | 56 | 44 | 12 |
| 8 | | 51 | 34 | 14 | 9 | 11 | 49 | 49 | 0 |
| 9 | | 45 | 34 | 12 | 9 | 13 | 46 | 54 | -8 |
| 10 | | 44 | 34 | 11 | 11 | 12 | 45 | 42 | 3 |
| 11 | | 42 | 34 | 11 | 9 | 14 | 35 | 49 | -14 |
| 12 | | 41 | 34 | 9 | 14 | 11 | 54 | 55 | -1 |
| 13 | | 41 | 34 | 10 | 11 | 13 | 41 | 52 | -11 |
| 14 | | 41 | 34 | 10 | 11 | 13 | 42 | 54 | -12 |
| 15 | | 40 | 34 | 10 | 10 | 14 | 50 | 51 | -1 |
| 16 | | 32 | 34 | 7 | 11 | 16 | 33 | 46 | -13 |
| 17 | | 26 | 34 | 6 | 8 | 20 | 32 | 72 | -40 |
| 18 | | 21 | 34 | 4 | 9 | 21 | 30 | 65 | -35 |
Legend
Promotion

Relegation play-off

Relegation play-off

Relegation