Fulham FC – Chelsea FC betting tip & odds comparison 10.09.2022
Matchday 7 in the Premier League features the clash between Fulham FC and Chelsea FC at Craven Cottage. In our preview of Fulham FC vs. Chelsea FC, you will receive all the important details and facts about this Premier League fixture. We will begin with an analysis of the current form of the two teams.
Here, you have all Premier League betting predictions at a glance. We provide you with detailed forecasts for every matchday. In addition to that, you can also find a comprehensive odds comparison.
Fulham FC emerged the winner in 2 of their last 5 league games (2 wins, 1 draw, 2 defeats). In 3 games on home turf in the current Premier League season 2022/2023, Fulham FC have won 2 times, with 1 match ending in a draw while their 2 matches were lost on their travel (Goal difference 9:9).
In their last 5 Premier League fixtures, Chelsea FC have won 2 games (2 wins, 1 draw, 2 defeats). In all previous Premier League matches away from home, Chelsea FC have a negative record: 1 win, 0 draws and 2 defeats – Goal difference 8:9.
A head-to-head comparison of the two teams in their last five Premier League clashes shows that Fulham FC managed to get 0 wins, while in 5 matches, Chelsea FC snatched the three points. In 0 encounters between the two teams, the points were shared. If we solely focus on the home record of Fulham FC against Chelsea, the stats are as follows: 0 wins Fulham FC, 1 draw and 4 wins for Chelsea FC.
Naturally, you can follow our advice and place the same bet free of charge. If you decide to do so at a new bookie, you can benefit from the Melbet first deposit bonus. We have already tested the offer for you in detail.
Fulham FC
Fulham were too tense in their last EPL match with Tottenham with only hope of holding Spurs not to score a single goal. It was not in their favor this time as Pierre-Emile Hojbjerg and Harry Kane managed to storm their nets 2 times before they made up their mind to fightback to finish match with a 2-1 defeat.
Their encounter with Chelsea could be a bit problematic as their guest is still looking for a way to sit in the top four spot of the League. They already have a poor record of winning a match against Chelsea hence keeping a point at home might be just enough for them to maintain their survival on this fixture.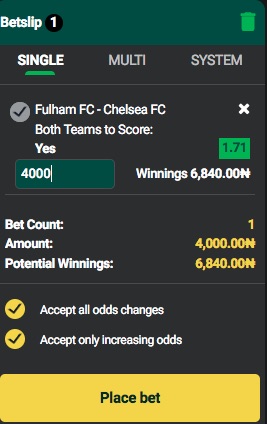 Chelsea FC
Kai Havert managed to score a winning goal for the Blues in a very busy last few minutes during the 6th round of the EPL fixtures last weekend, thanks to VAR which denied the Hammers' goal to make 2-1 win for them. Despite a great win, Chelsea's fans are still very concerned with recent lost games on the road.
Their last away game exposed very poor defending as they failed to defend their only leading goal of the match, which eventually allowed them to drop all 3 points to the Saints. And the Blues struggled again during the week as they lost their opening game of the new Champions League campaign in Zagreb against Dinamo 0:1.
That was too much for the front office of CFC. Manager Thomas Tuchel got sacked just one day after the UCL loss. Zinedine Zidane, Mauricio Pochettino and Brighton & Hove coach Graham Potter are the frontrunners for the suddenly free job. In the meantime assistant coach Anthony Barry will be in charge.
Possible Lineups
Fulham FC
Leno
Tete
Adarabioyo
Ream
Kurzawa
Reed
Palhinha
Reid
Pereira
Kebano
Mitrovic
MISSING PLAYERS: Robinson (Ankle injury), Solomon (Knee injury), Wilson (Knee injury)
Chelsea FC
Mendy
Fofana
Silva
Koulibaly
James
Loftus-Cheek
Gallagher
Kovacic
Cucurella
Sterling
Pulisic
MISSING PLAYERS: Kante (Hamstring), Alonso (Personal)
Our Fulham FC vs Chelsea FC betting tips
Chelsea is the favorite in this game hence we believe a challenging day in office is here for Marco Silva. There is a very minimum chance for the host to break their back-to-back losses to the blues and this can cause them to continue using the same tactics as their previous encounter.
Chelsea and their travelling fans are here to collect 3 points on road. We advise you to bet on Chelsea Win. Download the Melbet Mobile App to witness more actions while you make profit on this week EPL matches.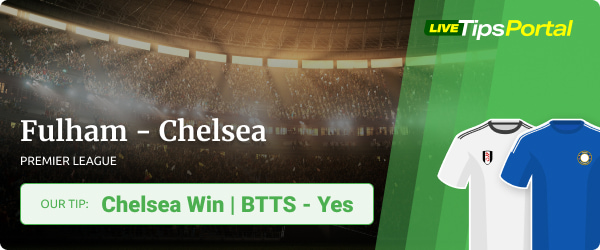 Chelsea away game has been dominated by a poor defending recently and this can be to the advantage of Fulham FC. Yet, the host of this fixture has been showing promising hope to their home fans as they have been firing balls into the nets of their rivals with high confidence.
The chances are Fulham might be prepared to leverage the noted fragile wall of the Blues. This can cause this match to end up with Both Teams to Score at least goal. Our sports betting expert has spotted a very attractive Sahara Games free bet bonus which you can use to your advantage to wager on this market.
Performance
Fulham FC
Last games
Fulham FC performance of the last 4 home matches
Chelsea FC
Last games
Chelsea FC performance of the last 6 away matches
Current Standing
| POS | TEAM | PTS | MP | W | D | L | GF | GA | GD |
| --- | --- | --- | --- | --- | --- | --- | --- | --- | --- |
| 1 | | 19 | 8 | 6 | 1 | 1 | 17 | 7 | 10 |
| 2 | | 18 | 8 | 5 | 3 | 0 | 23 | 6 | 17 |
| 3 | | 18 | 8 | 5 | 3 | 0 | 18 | 7 | 11 |
| 4 | Brighton & Hove Albion FC | 15 | 8 | 4 | 3 | 1 | 11 | 5 | 6 |
| 5 | | 14 | 8 | 4 | 2 | 2 | 8 | 8 | 0 |
| 6 | | 12 | 8 | 3 | 3 | 2 | 12 | 11 | 1 |
| 7 | | 12 | 8 | 3 | 3 | 2 | 8 | 9 | -1 |
| 8 | | 11 | 8 | 2 | 5 | 1 | 15 | 6 | 9 |
| 9 | | 10 | 8 | 2 | 4 | 2 | 15 | 12 | 3 |
| 10 | | 10 | 8 | 2 | 4 | 2 | 10 | 10 | 0 |
| 11 | | 9 | 8 | 1 | 6 | 1 | 8 | 7 | 1 |
| 12 | | 9 | 8 | 2 | 3 | 3 | 6 | 19 | -13 |
| 13 | | 8 | 8 | 1 | 5 | 2 | 5 | 6 | -1 |
| 14 | | 8 | 8 | 1 | 5 | 2 | 7 | 9 | -2 |
| 15 | | 8 | 8 | 2 | 2 | 4 | 7 | 11 | -4 |
| 16 | | 8 | 8 | 2 | 2 | 4 | 6 | 10 | -4 |
| 17 | Wolverhampton Wanderers FC | 7 | 8 | 1 | 4 | 3 | 3 | 7 | -4 |
| 18 | | 5 | 8 | 1 | 2 | 5 | 3 | 9 | -6 |
| 19 | | 5 | 8 | 1 | 2 | 5 | 6 | 17 | -11 |
| 20 | | 2 | 8 | 0 | 2 | 6 | 10 | 22 | -12 |