Internazionale
VS
AC Milan
FC Internazionale Milano - AC Milan betting tip & odds comparison 05.02.2022
In gameweek 24 of Serie A, Internazionale will host AC Milan at Giuseppe Meazza. Kick-off is scheduled for 6:00 PM on Feb 5, 2022 With our match prediction and odds comparison for Internazionale vs. AC Milan you are guaranteed to get all the important facts and details for this fixture. First and foremost, we will take a close look at the teams' recent performances.
Where to find the best multibet predictions? Livetipsportal offers you a vast selection of predictions for the most popular domestic leagues and international competitions.
Internazionale have won 4 of their last 5 league matches (4 wins, 1 draw, 0 defeats. In the previous 11 home games in the Serie A season 2021/2022, Internazionale have won 9 matches, 2 games ended in a draw, and 0 games in defeat. (Goal difference 29:8).
Out of their last 5 Serie A fixtures, AC Milan have won 3 games (3 wins, 1 draw, 1 defeat). The away record in the current Serie A season reads as follows: 8 wins, 2 draws und 1 defeat - Goal difference 27:14.
In their last five Serie A encounters, Internazionale managed to get 3 wins against AC Milan, while Milan scored 1 win. On 1 occasion, there was no winner. If we focus exclusively on the home games that Internazionale played against AC Milan in the Serie A, we get the following record: 4 wins for Internazionale, 0 draws and 1 win for AC Milan.
Have you heard of the Betway bonus yet? This offer, which is available to all customers who register for the first time, will allow you to start off with some extra credit.
The Milan clubs lock horns in this season's Second Derby Della Madonnina as AC Milan aim to reduce the four-point gap to their rivals. Following an incredible campaign in this Serie A season, Inter Milan face one of their sternest tests yet again when they take on cross-town rivals on Sunday. Its worth noting that, the Rossoneri are currently one of the three teams who remain tittle contenders in the Serie A this season.
Don't miss out on the mouthwatering Odibet bonus and GreatOdds bonus for this tips.
INTER MILAN
Simone Inzaghi's side have lost one league game all season and have dropped just two points across their last ten SA matches (W9, D1) so they take formidable form into this historic derby which was first played back in 1909. 'The Nerazzurri' are pulling clear in the all-time H2H stakes too (W84, D68, L77) after losing just one of the last nine competitive meetings (W6, D2).
Although the San Siro won't offer the usual home advantage, it's worth noting that Inter have scored in every home league game this term and netted in November's reverse fixture here (1-1). Both teams have complained about the state of the pitch and although it's been partially re-laid over the winter break, the worst remaining areas have simply been painted green!
AC MILAN
Scoring in five of the last seven H2Hs in which they were the away side suggests 'the Rossoneri' will pose a threat, even if Zlatan Ibrahimović, the oldest scorer in the history of this fixture, is unavailable due to injury.
Also, Milan might be relieved that at least something has been done as their last three league defeats all came at this venue – albeit as the home side. Perhaps approaching this derby as they would a 'normal' away day could help as they've netted an average of 2.45 goals per SA road game this term as part of an impressive road record (W8, D2, L1).
POSSIBLE LINE-UP
INTER MILAN
Handanovic
Skriniar
de Vrij
Bastoni
Darmian
Barella
Brozovic
Calhanoglu
Perisic
Dzeko
Martinez
MISSING PLAYERS: Correa (Hamstring injury), Gosen (Hamstring injury)
AC MILAN
Tatarusanu
Calabria
Conti
Gabbia
Florenzi
Tonali
Kessie
Diaz
Krunic
Leao
Giroud
MISSING PLAYERS: Tomori (Knee injury), Kjear (Cruciate ligament injury), Ibrahimovic (Achilles tendon injury), Ballo (International duty)
OUR INTER MILAN VS. AC MILAN BETTING TIPS
The home fans will be cheering for Inter Milan who are on a superb winning streak in Serie A, making a strong statement to the season. However, AC Milan aren't that far away even though they have had a few ups and downs in the campaign. There's plenty at stake in this game for the Nerazzurri than their rivals in red, as they risk losing further ground in the title race if they lose. As a result, we anticipate an end to end game which would feature more than 9 corners.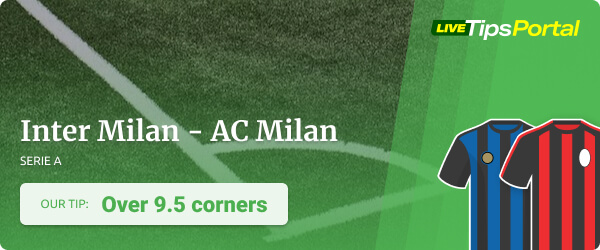 Inzaghi will have a fully fit squad at their disposal, who have shown strength this season and immense quality. This will be a cagey contest but we expect Inter Milan to edge out a crucial win here. Find the best odds with GreatOdds for the betting tips today.
Performance
Internazionale
Last games
Internazionale performance of the last 5 home matches
AC Milan
Last games
AC Milan performance of the last 5 away matches
Current Standing
| POS | TEAM | PTS | MP | W | D | L | GF | GA | GD |
| --- | --- | --- | --- | --- | --- | --- | --- | --- | --- |
| 1 | | 86 | 38 | 26 | 8 | 4 | 69 | 31 | 38 |
| 2 | | 84 | 38 | 25 | 9 | 4 | 84 | 32 | 52 |
| 3 | | 79 | 38 | 24 | 7 | 7 | 74 | 31 | 43 |
| 4 | | 70 | 38 | 20 | 10 | 8 | 57 | 37 | 20 |
| 5 | | 64 | 38 | 18 | 10 | 10 | 77 | 58 | 19 |
| 6 | | 63 | 38 | 18 | 9 | 11 | 59 | 43 | 16 |
| 7 | | 62 | 38 | 19 | 5 | 14 | 59 | 51 | 8 |
| 8 | | 59 | 38 | 16 | 11 | 11 | 65 | 48 | 17 |
| 9 | | 53 | 38 | 14 | 11 | 13 | 65 | 59 | 6 |
| 10 | | 50 | 38 | 13 | 11 | 14 | 46 | 41 | 5 |
| 11 | | 50 | 38 | 13 | 11 | 14 | 64 | 66 | -2 |
| 12 | | 47 | 38 | 11 | 14 | 13 | 61 | 58 | 3 |
| 13 | | 46 | 38 | 12 | 10 | 16 | 44 | 55 | -11 |
| 14 | | 41 | 38 | 10 | 11 | 17 | 50 | 70 | -20 |
| 15 | | 36 | 38 | 10 | 6 | 22 | 46 | 63 | -17 |
| 16 | | 36 | 38 | 10 | 6 | 22 | 41 | 71 | -30 |
| 17 | | 31 | 38 | 7 | 10 | 21 | 33 | 78 | -45 |
| 18 | | 30 | 38 | 6 | 12 | 20 | 34 | 68 | -34 |
| 19 | | 28 | 38 | 4 | 16 | 18 | 27 | 60 | -33 |
| 20 | | 27 | 38 | 6 | 9 | 23 | 34 | 69 | -35 |
Legend
Champions League

Europa League

Europa Conference League Quali.

Relegation