Lille OSC
VS
Saint-Etienne
Stade Pierre Mauroy
Villeneuve d'Ascq
Lille OSC - AS Saint-Étienne betting tip & odds comparison 11.03.2022
Gameweek 28 in the Ligue 1 will see the clash between Lille OSC and Saint-Etienne at Stade Pierre Mauroy. Kick-off time is at 9:00 PM on Mar 11, 2022. In our preview of Lille OSC vs. Saint-Etienne we will provide you with all the important facts and stats for this Ligue 1 fixture. Let's start by having a look at the current form of the two teams involved.
Looking for multibets? Livetipsportal sports betting and football data is your source of analytical and stats-based betting predictions for the most popular leagues and international competitions.
Lille OSC were victorious in 3 of their previous 5 league matches (3 wins, 1 draw, 1 defeat. In the current Ligue 1 season 2021/2022, Lille OSC were able to win 6 of their 13 games at home, with a total of 5 draws, and 2 defeats (Goal difference 19:16).
Saint-Etienne have won 3 of their last 5 Ligue 1 encounters (3 wins, 1 draws, 1 defeats. The away record in this year's Ligue 1 season for Saint-Etienne reveals the following stats: 3 wins, 2 draws and 8 defeats - Goal difference 11:24.
Out of the last five Ligue 1 encounters between the two teams, Lille OSC won 1. In 4 matches the points between the two sides were shared, and 0 times Saint-Etienne got the win. If we look at the home record of Lille OSC against Saint-Etienne, the stats are as follows: 3 wins Lille OSC, 2 draws and 0 wins Saint-Etienne.
Naturally, you can follow our advice and place the same bet free of charge. If you decide to do so at a new bookie, you can benefit from the Betway first deposit bonus. We have already tested the offer for you in detail.
An opening game for a Ligue 1 round 28 brings together Lille and Saint-Etienne on Friday night at Stade Pierre Mauroy having 3 ties in a row while their 1-1 draws during a Ligue 1 encounter being the most recent results. Be updated with the latest preview of this game and their Ligue 1 predictions to earn more than you can expect.
For the Lille vs Saint-Etienne bets, we recommend Ogabet and 22Bet as bookies. For all new users, we've summarized the 22Bet bonus terms and conditions.
Lille
It is practically impossible to see Lille as title defender right now but their race to join the Champions League qualifier is more valid as they managed to secure 2 back-to-back wins against Olympique Lyonnais and Clermont Foot 63. Losing just 1 game in their last 4 Ligue 1 matches played at home, Lille is set to continue positioning themselves in the perfect spot as an insurance policy to appear in the UCL list.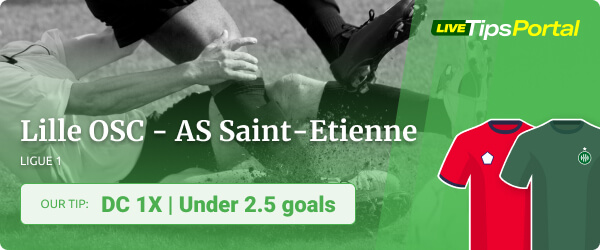 Saint-Etienne
Etienne's performance on their travel is a bit shaky, and still, they never had a win against Lille for the past 6 matches in a row. Following a 1-0 win against Metz, Etienne has successfully left the danger zones and all focus will now be on maintaining their current ranking. They do have a few injuries in the recovery room but this can never be an accuse for the technical bench not to repeat their last result with Lille.
Possible Lineups
Lille OSC
Jardim
Celik
Fonte
Botman
Djalo
Sanchez
Andre
Xeka
Bamba
David
Ben Arfa
COACH: Jocelyn Gourvennec
AS Saint-Etienne
Bernardoni
Sacko
Mangala
Nade
Thioub
Camara
Youssouf
Kolodziejczak
Boudebouz
Nordin
Bouanga
MISSING PLAYERS: Sow (Injury), Macon (Injury), Crivelli (Muscle Injury), Hamounma (Wrist Injury)
Our Lille OSC vs. Saint-Etienne betting tips
Lille is the favorite team in this match and we believe they can never let this fixture pass without keeping a point at home. The most accurate betting strategy of this encounter would be the marking of the 7th undefeated game in a row for Lille that is the selections of Double Chance Lille/Draw will give you chance to effectively use the current Ogabet offers for winning tickets.
In their recent 5 matches in a row, we have seen 4 games recording no more than 2 goals on the scoreboard while most goals being scored by the hosts; this is an interesting pattern that you can not let go of as the chance of winning is higher while the profit-making figure is even higher. 22bet Mobile App will ease your selection at 1.83 odds while putting the whole world of betting in your pocket.
Performance
Lille OSC
Last games
Lille OSC performance of the last 5 home matches
Saint-Etienne
Last games
Saint-Etienne performance of the last 5 away matches
Current Standing
| POS | TEAM | PTS | MP | W | D | L | GF | GA | GD |
| --- | --- | --- | --- | --- | --- | --- | --- | --- | --- |
| 1 | | 86 | 38 | 26 | 8 | 4 | 90 | 36 | 54 |
| 2 | | 71 | 38 | 21 | 8 | 9 | 63 | 38 | 25 |
| 3 | | 69 | 38 | 20 | 9 | 9 | 65 | 40 | 25 |
| 4 | | 66 | 38 | 20 | 6 | 12 | 82 | 40 | 42 |
| 5 | | 66 | 38 | 20 | 7 | 11 | 52 | 36 | 16 |
| 6 | | 63 | 38 | 17 | 12 | 9 | 60 | 43 | 17 |
| 7 | | 62 | 38 | 17 | 11 | 10 | 62 | 48 | 14 |
| 8 | | 61 | 38 | 17 | 11 | 10 | 66 | 51 | 15 |
| 9 | | 55 | 38 | 15 | 10 | 13 | 55 | 48 | 7 |
| 10 | | 55 | 38 | 14 | 13 | 11 | 48 | 48 | 0 |
| 11 | | 48 | 38 | 13 | 9 | 16 | 49 | 57 | -8 |
| 12 | | 46 | 38 | 11 | 13 | 14 | 43 | 44 | -1 |
| 13 | | 43 | 38 | 12 | 7 | 19 | 49 | 61 | -12 |
| 14 | | 41 | 38 | 10 | 11 | 17 | 44 | 55 | -11 |
| 15 | | 38 | 38 | 9 | 11 | 18 | 37 | 53 | -16 |
| 16 | | 36 | 38 | 8 | 12 | 18 | 35 | 63 | -28 |
| 17 | | 36 | 38 | 9 | 9 | 20 | 38 | 69 | -31 |
| 18 | | 32 | 38 | 7 | 11 | 20 | 42 | 77 | -35 |
| 19 | | 31 | 38 | 6 | 13 | 19 | 35 | 69 | -34 |
| 20 | | 31 | 38 | 6 | 13 | 19 | 52 | 91 | -39 |
Legend
Champions League

Champions League Quali.

Europa League

Europa Conference League Quali.

Relegation play-off

Relegation