Manchester City
VS
Fulham FC
Etihad Stadium
Manchester
2022-11-05: Betting Tip Manchester City vs. Fulham FC (9418705)
In gameweek 15 of Premier League, Manchester City will host Fulham FC at Etihad Stadium. Kick-off is scheduled for 4:00 PM on Nov 5, 2022 With our match prediction and odds comparison for Manchester City vs. Fulham FC you are guaranteed to get all the important facts and details for this fixture. First and foremost, we will take a close look at the teams' recent performances.
Manchester City have won 3 of their last 5 league matches (3 wins, 1 draw, 1 defeat. In the previous 6 home games in the Premier League season 2022/2023, Manchester City have won 5 matches, 1 game ended in a draw, and 0 games in defeat. (Goal difference 24:5).
Out of their last 5 Premier League fixtures, Fulham FC have won 2 games (2 wins, 1 draw, 2 defeats). The away record in the current Premier League season reads as follows: 1 win, 1 draw und 3 defeats – Goal difference 6:9.
In their last five Premier League encounters, Manchester City has 19 wins, while Fulham has 4 and 9 ended draw in the 32 matches between them. On average 3.31 goals were scored by both sides per match and City won 4-1 in their last meeting.
In our extensive bonus review you can read all about the 22Bet bonus terms and conditions.
MANCHESTER CITY
Pep Guardioula will hope to bag third win in a roll, straight off a 1-0 win over struggling side Leicester, Manchester City will look forward to remain within reach of the Championship of the EPL. A win at Leicester took them top of the table but that was before the gunners 5-0 win regained them the first place, making City second with two points gap. De Brune was man of the moment as he scored the only important goal to claim all three points.
Manchester City will want to maintain their unbeaten home record in six games, were they scored at least 2 goals above in each game, with the most recent win in the EPL at home against Brighton.
The last overall performances for the citizens' calls for improvement, they have failed to score in three games of which they also failed to win, recording two wins, two draws and a loss.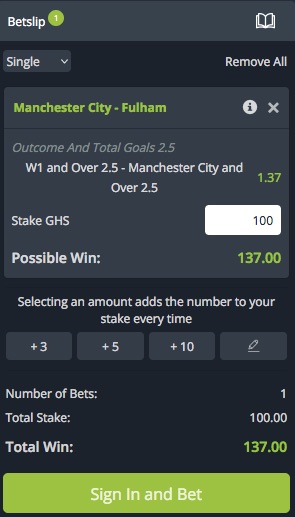 If you want to gather a few informations before you register, check out our review of the Betboro welcome offer.
FULHAM
Fulham will want a much more improved result after a goalless draw against Everton in their recent match, before then they picked two back-to-back wins, a 3-0 victory against Aston Villa and a 3-2 win over Leeds, but that momentum was short lived as Everton made sure they shared the spoils as Fulham went on the 7th spot on the table.
Fulham has produced mixed results when playing away from home in the last six games, they however, stole the show over Leeds with 3-2 victory, that made it a second win on the road and four losses.Five of the away matches saw Fulham score and scored against, its only a single game where they failed to score.
Overall results for Fulham in the recent five matches has recorded some improvement as they picked up two draws, two wins and a loss, scoring in four games and they will be looking forward to strike of goals in this encounter.
POSSIBLE LINE-UPS
MANCHESTER CITY
Ederson
Cancelo
Laporte
Akanji
Stones
Gundogan
Rodri
De Bruyne
Grealish
Alvarez
Silva
MISSING PLAYERS: Haaland, Mendy, Philips, Walker
FULHAM
Leno
Reid
Diop
Ream
Robinson
Reed
Paihinha
Kebano
Pereira
William
Mitriovic
MISSING PLAYERS: Kurzawa, Solomon
OUR PREVIEW AND PREDICITIONS FOR MANCHESTER CITY VS FULHAM
City has been keen at home, with a 100% win when playing in front of their crowd its immaterial to say they will sleep up here, meanwhile they visitors have shown some resilience in front of goals, but a win here is unthinkable on paper, but football is game chances and without fear we say Fulham will score at least a goal here.
TIP 1: Fulham Over 0.5 Goals – odd@1.82
Fulham has not clinched a win against City since 2009. The last 8 meetings has ended in favor of the Citizens taking all three points. Fulham has however, improved making this fixture interesting, their last time out ended 4-1, we are with the idea that can be repeated, with care we say Manchester City will win and over 3 goals will be scored.
TIP 2: Man City win and Over 2.5 Goals – odd@1.35
Where to find the best beting tips for today? Livetipsportal offers you a vast selection of predictions for the most popular domestic leagues and international competitions.
Performance
Manchester City
Last games
Manchester City performance of the last 7 home matches
Fulham FC
Last games
Fulham FC performance of the last 3 away matches
Current Standing
| POS | TEAM | PTS | MP | W | D | L | GF | GA | GD |
| --- | --- | --- | --- | --- | --- | --- | --- | --- | --- |
| 1 | | 38 | 15 | 12 | 2 | 1 | 33 | 11 | 22 |
| 2 | | 32 | 14 | 10 | 2 | 2 | 40 | 14 | 26 |
| 3 | | 31 | 16 | 8 | 7 | 1 | 29 | 11 | 18 |
| 4 | | 29 | 15 | 9 | 2 | 4 | 31 | 21 | 10 |
| 5 | | 28 | 16 | 8 | 4 | 4 | 20 | 20 | 0 |
| 6 | | 24 | 16 | 6 | 6 | 4 | 28 | 17 | 11 |
| 7 | Brighton & Hove Albion FC | 23 | 16 | 6 | 5 | 5 | 23 | 19 | 4 |
| 8 | | 22 | 15 | 6 | 4 | 5 | 17 | 17 | 0 |
| 9 | | 21 | 16 | 5 | 6 | 5 | 15 | 18 | -3 |
| 10 | | 20 | 16 | 4 | 8 | 4 | 23 | 25 | -2 |
| 11 | | 19 | 15 | 5 | 4 | 6 | 24 | 26 | -2 |
| 12 | | 19 | 16 | 5 | 4 | 7 | 16 | 22 | -6 |
| 13 | | 18 | 16 | 5 | 3 | 8 | 25 | 25 | 0 |
| 14 | | 17 | 16 | 4 | 5 | 7 | 22 | 26 | -4 |
| 15 | | 17 | 16 | 4 | 5 | 7 | 18 | 32 | -14 |
| 16 | | 15 | 16 | 4 | 3 | 9 | 12 | 17 | -5 |
| 17 | | 15 | 16 | 3 | 6 | 7 | 11 | 17 | -6 |
| 18 | | 14 | 16 | 3 | 5 | 8 | 11 | 30 | -19 |
| 19 | | 13 | 16 | 3 | 4 | 9 | 13 | 27 | -14 |
| 20 | Wolverhampton Wanderers FC | 11 | 16 | 2 | 5 | 9 | 8 | 24 | -16 |