Manchester United
VS
Burnley FC
Manchester United FC - Burnley FC betting tip & odds comparison 18.04.2021
Gameweek 32 in the Premier League will see the clash between Manchester United and Burnley FC at Old Trafford. Kick-off time is at 5:00 PM on Apr 18, 2021. In our preview of Manchester United vs. Burnley FC we will provide you with all the important facts and stats for this Premier League fixture. Let's start by having a look at the current form of the two teams involved.
Here, you have all free Premier League predictions at a glance. We provide you with detailed forecasts for every matchday. In addition to that, you can also find a comprehensive odds comparison.
Manchester United were victorious in 4 of their previous 5 league matches (4 wins, 1 draw, 0 defeats. In the current Premier League season 2020/2021, Manchester United were able to win 8 of their 15 games at home, with a total of 3 draws, and 4 defeats (Goal difference 31:20).
Burnley FC have won 1 of their last 5 Premier League encounters (1 wins, 2 draws, 2 defeats. The away record in this year's Premier League season for Burnley FC reveals the following stats: 4 wins, 3 draws and 8 defeats - Goal difference 12:24.
Out of the last five Premier League encounters between the two teams, Manchester United won 3. In 1 match the points between the two sides were shared, and 1 time Burnley FC got the win. If we look at the home record of Manchester United against Burnley FC, the stats are as follows: 1 win Manchester United, 3 draws and 1 win Burnley FC.
Naturally, you can follow our advice and place the same bet free of charge. If you decide to do so at a new bookie, you can benefit from the 1xbet deposit bonus. We have already tested the offer for you in detail.
Manchester United – Burnley FC, EPL 18.04.2021
Manchester United is head high after qualifying to the semi-finals of the Europa League. This came after thrashing Granada 2tches. -0 at both home and away match. This is really a big boost to the team. As it may, they can't be able to overtake their noisy neighbors Manchester City and take the title, but a second-place finish will definitely illustrate the progress made at made by the Red Devils.
Burnley's recent form has been very disappointing, as they have lost their last two games, including a recent home defeat against Newcastle United. They have also only won 2 games in their last 10 matches. Burnley is looking to service this season as they are only 7 points to the relegation zone.
You can continue and review our other betting tips for this match and bonus promotions from the leading bookmakers in the game.
MANCHESTER UNITED
The Red Devils have really done well and with them proceeding to the semi-finals it was a big plus for them. They have actually won their last 4 straight league games.
Their most recent league victory came away from home, where they defeated Tottenham Hotspur 3-1. Fred equalized for the Red Devils before Edinson Cavani and Mason Greenwood ensured the three points will be returned to Old Trafford. We should see other few goals heading to this match, and win for them will put a huge smile on their fans.
BURNLEY
Burnley have lost their two recent league matches, having lost to Newcastle 1-2 at home. They have to very focus or else they would find themselves in the relegation zone.
As they head to this much they are considered the underdog, but they have all the reasons to fight for this match. While they are unlikely to be relegated, Sean Dyche would like concerned and be able to walk with better results going into the final few games of the season.
Possible Line Ups
MANCHESTER UNITED
BURNLEY

Henderson
Wan-Bissaka
Lindelof
Maguire
Shaw
Pogba
Fred
Rashford
Fernandes
Greenwood
Cavani
Coach: Ole Gunnar Solskjaer

Peacock-Farrell
Lowton
Tarkowski
Mee
Pieters
Gudmundsson
Westwood
Brownhill
McNeil
Vydra
Wood
Coach: Sean Dyche

Injured: Bailly (COVID-19), Martial (Knee), Jones (Knee) and Brady (Muscle), Barnes (Thigh)
OUR TIP
In the previous weekend and in their last match, we saw Manchester winning both games effortlessly. Manchester United took a significant step defeating Tottenham and beating Granada. After beating Tottenham, they cut the lead from Manchester City to 8 points, since Man city lost to Leeds. We definitely do not expect City to collapse, but Ole Gunnar Solskjaer would want to finish as close to Pep Guardiola's side as possible in terms of points.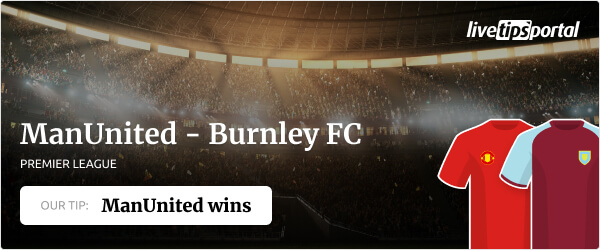 © livetipsportal.com
Get to know more on our betting strategies page for insights into betting.
Burnley on the other hand, apart from their poor performance in the last 10 games, facing Manchester United is a big challenge. They will need to give it all but still, they are not a threat to them. This should be an easy walk in the park for Manchester United. We, therefore, go for Manchester United to win at an odd of 1.38 as our prediction for this match.
Our tips
Performance
Manchester United
Last games
Manchester United performance of the last 6 home matches
Burnley FC
Last games
Burnley FC performance of the last 4 away matches
Current Standing
| POS | TEAM | PTS | MP | W | D | L | GF | GA | GD |
| --- | --- | --- | --- | --- | --- | --- | --- | --- | --- |
| 1 | | 86 | 38 | 27 | 5 | 6 | 83 | 32 | 51 |
| 2 | | 74 | 38 | 21 | 11 | 6 | 73 | 44 | 29 |
| 3 | | 69 | 38 | 20 | 9 | 9 | 68 | 42 | 26 |
| 4 | | 67 | 38 | 19 | 10 | 9 | 58 | 36 | 22 |
| 5 | | 66 | 38 | 20 | 6 | 12 | 68 | 50 | 18 |
| 6 | | 65 | 38 | 19 | 8 | 11 | 62 | 47 | 15 |
| 7 | | 62 | 38 | 18 | 8 | 12 | 68 | 45 | 23 |
| 8 | | 61 | 38 | 18 | 7 | 13 | 55 | 39 | 16 |
| 9 | | 59 | 38 | 18 | 5 | 15 | 62 | 54 | 8 |
| 10 | | 59 | 38 | 17 | 8 | 13 | 47 | 48 | -1 |
| 11 | | 55 | 38 | 16 | 7 | 15 | 55 | 46 | 9 |
| 12 | | 45 | 38 | 12 | 9 | 17 | 46 | 62 | -16 |
| 13 | Wolverhampton Wanderers FC | 45 | 38 | 12 | 9 | 17 | 36 | 52 | -16 |
| 14 | | 44 | 38 | 12 | 8 | 18 | 41 | 66 | -25 |
| 15 | | 43 | 38 | 12 | 7 | 19 | 47 | 68 | -21 |
| 16 | Brighton & Hove Albion FC | 41 | 38 | 9 | 14 | 15 | 40 | 46 | -6 |
| 17 | | 39 | 38 | 10 | 9 | 19 | 33 | 55 | -22 |
| 18 | | 28 | 38 | 5 | 13 | 20 | 27 | 53 | -26 |
| 19 | | 26 | 38 | 5 | 11 | 22 | 35 | 76 | -41 |
| 20 | | 23 | 38 | 7 | 2 | 29 | 20 | 63 | -43 |
Legend
Champions League

Europa League

Abstieg

Europa Conference League